Tuesday night brings the second episode of the new CBC sitcom Son of a Critch. Titled, "Lordy, Lordy, Look Who's Dead," it opens with a favourite family activity for the Critch clan: attending funerals.
That's where, among other things like paying respects, sandwiches can be obtained and hoarded. "Pops" (Malcolm McDowell), is an old pro at these gatherings, arriving early, bringing along neatly folded tin foil in which to place and preserve the lunchables.
It also turnes out to be a great place to meet girls as young Mark (Benjamin Evan Ainsworth) discovers.
We also learn that Mark's mom Mary (Claire Rankin) is not much of a driver.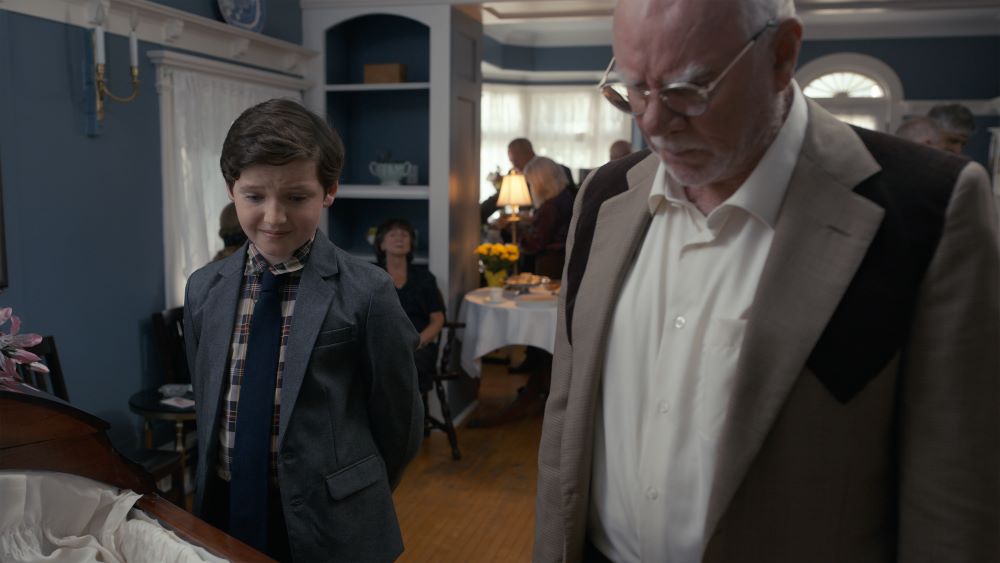 It's a sweet, funny episode, co-written, along with Mark Critch, by this week's guest on brioux.tv the podcast: Tim McAuliffe. The Montreal native talks about everything Son of as Critch as well as his own road to Hollywood, one that put him in writing rooms for The Office, The Last Man on Earth and Late Night with Jimmy Fallon.
The Fallon adventure was an early break, one that began in the most unlikely, Canadian manner ever. McAuliffe, without a manager or agent or even a Green Card, simply traveled to Manhattan, walked up to the front desk at 30 Rockefeller Plaza, and dropped off a parcel of jokes addressed to Fallon and the show's head writer at the time. By the time he got back to his hotel room there was a message to come in for an interview. Days later he was creating sketches inside the temple of comedy skyscrapers.
Listen to my conversation with McAuliffe here and check out the second episode of Son of a Critch tonight at 8:30 p.m. (9 NT) on CBC and CBC Gem.