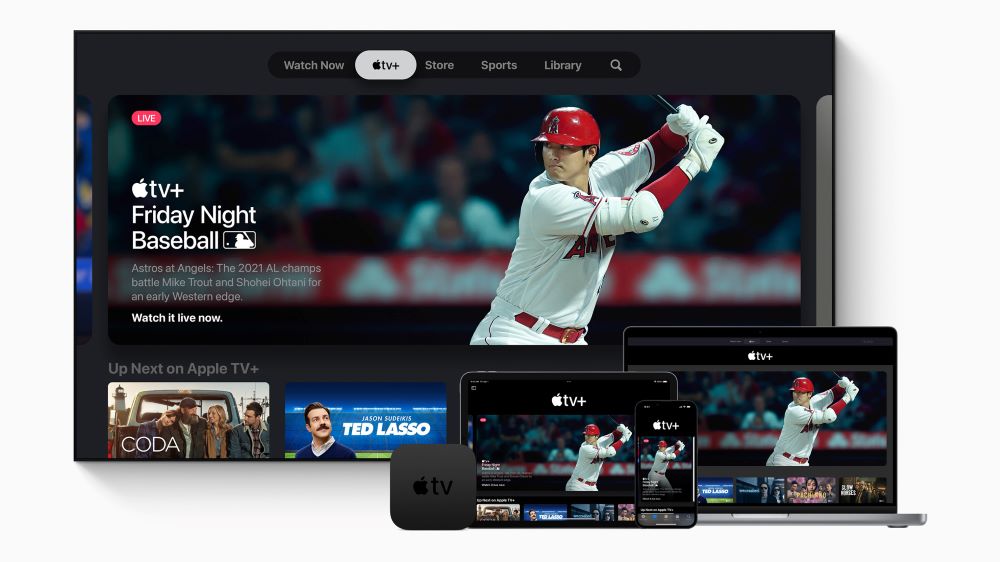 The 2022 Major League Baseball season is finally underway — and there's a new player in the mix.
AppleTV+ becomes the first streaming service to offer a full schedule of MLB games. For a limited time, you won't even need an AppleTV+ subscription to watch their new Friday Night Baseball coverage. Anyone in Canada, America, Australia, Mexico, the UK and several other regions with Internet access and an iPhone, iPad, Mac, Apple TV or an Apple set top box, can watch. Follow this link to tv.apple.com to check it out.
Tonight, April 8 starting at 7pm ET, the first double header on AppleTV+ will feature the New York Mets at the Washington Nationals. Melanie Newman – the second woman to lead play-by-play duties for a national broadcast team – will be in the booth with Chris Young and Hannah Keyser as analysts.
That game will be followed by the Houston Astros at the Los Angeles Angels with Stephen Nelson handling the play-by-play.
Next weekend, on April 15, MLB will commemorate Jackie Robinson Day marking the 75th anniversary of the Hall of Famer's major league debut. The opening game will feature reigning American League Jackie Robinson Rookie of the Year Randy Arozarena and the Tampa Bay Rays visiting the Chicago White Sox. The Los Angeles Dodgers host the Cincinnati Reds in the night cap.
Further into the season, on May 27, The Toronto Blue Jays will play the back half of the doubleheader against their American League rivals the LA Angeles.
Each week, fans can also watch live, pre-and post-game coverage hosted by Lauren Gardner and featuring a rotating group of analysts.
Apple also promises plenty of cool new innovations to go along with their streaming coverage. Besides extra camera angles and other extras, there will also be exclusive playlists of batters' walk-up songs on Apple Music. Fans can also watch full games, as well as condensed versions of game replays, on demand on AppleTV+ after each live broadcast.
A full look at the AppleTV+ Friday doubleheader schedule through the first 12 weeks of the season can be found here.
Meanwhile, fans of the Toronto Blue Jays can watch their team begin what looks to be a promising 46th season Friday night at home against the Texas Rangers. First pitch is scheduled for 7:07pm and will be live on Sportsnet East, Ontario, West and Pacific. Play ball!