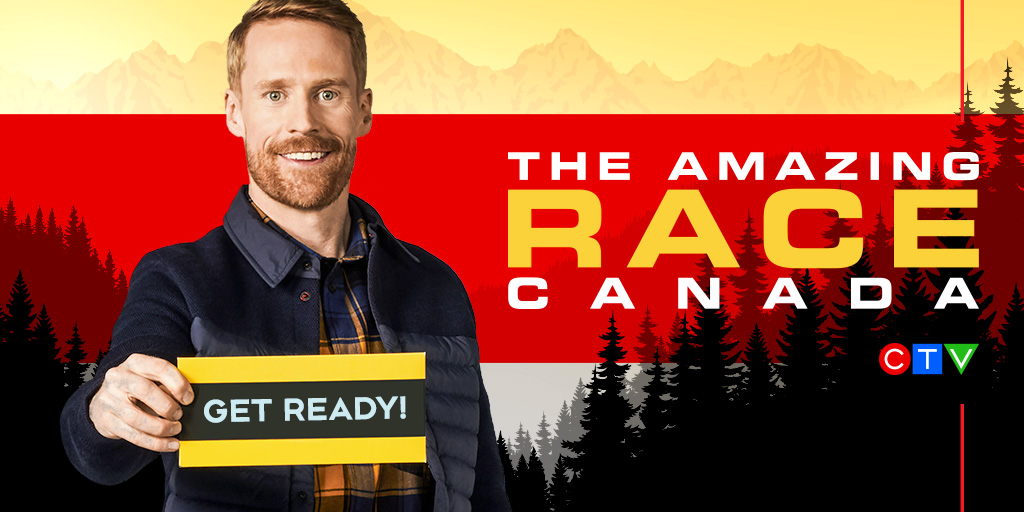 UPDATE: The Amazing Race Canada — the nation's most-watched summer series for a half-dozen years prior to the pandemic — will return to CTV this summer.
The globe trotting TV competition, hosted by Canadian Olympian Jon Montgomery, has been left at the starting gate since 2019 due to the outbreak of COVID-19. Producers vowed to return in 2022 a year ago after the last cancelation.
Keeping that promise hasn't been easy. The series is normally produced in April with camera crews following ten teams across Canada and internationally, with Vietnam, Beijing, Indonesia and Chile being ports of call in recent years.
Late Wednesday, however, CTV publicist Matthew Almeida did confirm that The Amazing Race will return this summer. Exactly when, and in what form, "will be announced soon," he said.
Confirmation came after a report that the long-delayed eighth season is finally in production. A two-person team, along with a film crew, was spotted collecting food items just days ago at a night market in Richmond, BC.
In the past, the series has return early in the first week of July. An August start at the earliest, however, seems more likely given the late production start and the tremendous challenge of editing many hours of race action into 44-minute episodes.
The original, American version of The Amazing Race did return to CBS this Winter/Spring. Will Season 8 of the Canadian series cross any borders? Will there b fewer episodes? More will be learned June 9 in Toronto when CTV hosts an in-person upfront for the ad community in Toronto.
In the meantime, viewers may find there is less on than usual this summer on broadscast TV. At the US upfronts announced earlier this month in New York, several shows originally scheduled for summer runs were held back for the fall. The second season of the reboot of Fantasy Island, for example, was yanked off Fox's summer schedule art the last minute, playing havoc with Global's plans; they were set to run it starting May 31.
Also off the summer schedule at Fox is Lego Masters, which, like Fantasy Island, is now being held until fall.
On Wednesday, CTV's summer schedule release highlighted several shows other than The Amazing Race Canada, including the new competition series Dancing with Myself (May 31) featuring Shakira, Nick Jonas, and Liza Koshy. There's also a new comedy game show called Generation Gap (July 7) from Jimmy Kimmel and Mark Burnett; and a revival of the old favourite Password with Kekee Palmer and Jimmy Fallon.