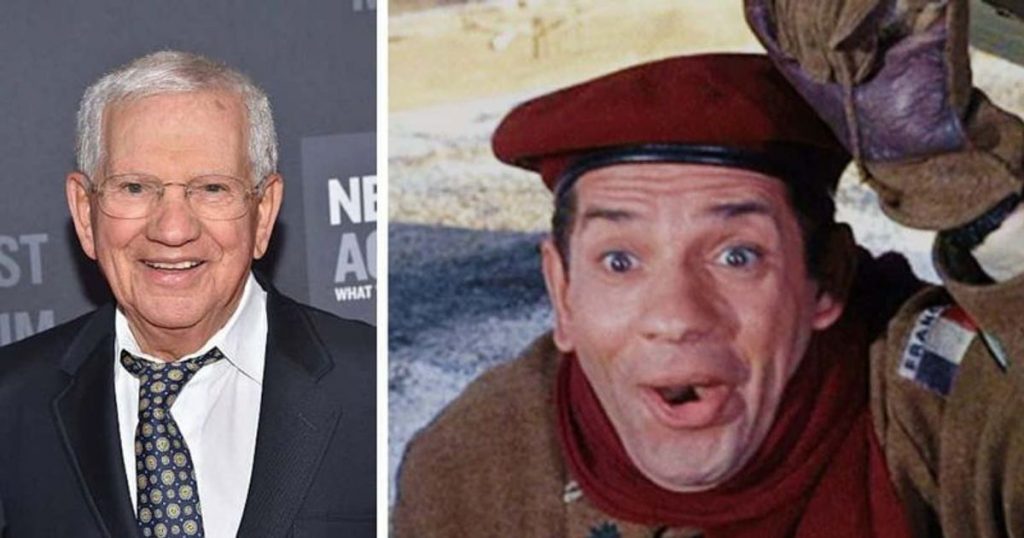 Imagine if this fall CBS or Netflix or anybody had launched a sitcom about a group of office workers in one of the upper floors of the World Trade Center — and had set it in the year 2001.
No one would dare, right? Yet, in 1965, just twenty years after the end of World War II, CBS launched Hogan's Heroes, a sitcom set at a German P.O.W. camp.
Bob Crane played the lead, cavalier American Col. Robert Hogan, while Werner Klemperer played (and won two Emmys) as the dum-dum Nazi in charge, Col. Klink.
The mid-sixties, it must be remembered, was a time of intense escapism on television. While the real war in Vietnam escalating, viewers at home watched Rat Patrol and Combat! as well as McHale's Navy and, eventually, Gomer Pyle USMC. Witches and genies and James Bond spoofs, as well as Munsters, Monkees, and comic book heroes, filled timeslots on other channels.
Hogan's Heroes was a hit its first season, finishing 9th overall in America. Helping it to a six-season run was the exceptional ensemble cast, with Robert Clary among the standouts. Richard Dawson (Corporal Peter Newkirk), Ivan Dixon (Staff Sergeant James Kinchloe), and Larry Hovis (Technical Sergeant Andrew Carter) rounded out the resourceful band of hand-picked POWs.
Originally from Paris, Clary passed away November 16 in Los Angeles at the age of 96. He was the last of the original cast regulars, although Kenneth Washington, 76, who joined in the final season (basically replacing Dixon's character), is now technically the last "Hero."
Clary, who played French POW Corporal Louis LeBeau, played the diminutive gourmet chef among the captives. He was often seen popping out from under dog kennels as part of his secret entrances at the camp. Normally I try to link these obits to a personal encounter with the subject. This time I only wish I had met and interviewed Clary. His story, however, is one-of-a-kind and bears repeating here.
The astonishing thing about Clary was that, in real life, he was a holocaust survivor. From 1942 to 1945 he lived through nightmare after nightmare in actual Nazi concentration camps. Starting at age 16, he was in Ottmuth, Blechhammer, Gross-Rosen, and Buchenwald. On his left forearm, marked for life, he was tattooed with the identification number "A5714."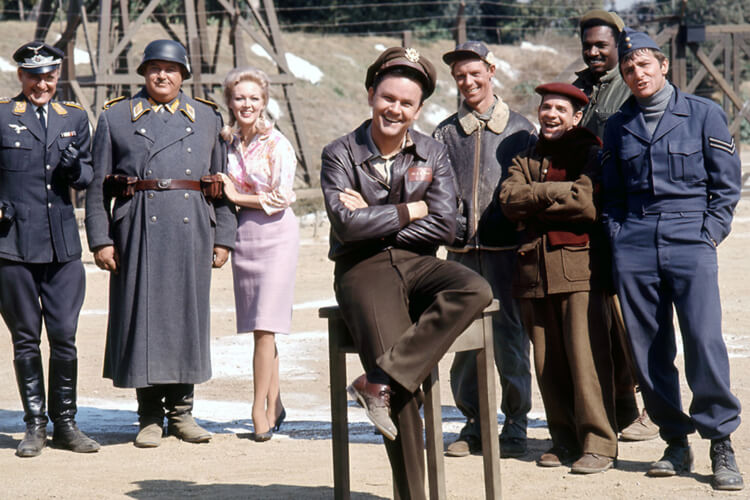 His survival was miraculous. The youngest of 14 children in a Jewish family, he lost ten siblings and both parents who all died at the hands of the Nazis. He survived, he said in interviews, by singing and dancing for his captors. He did this despite the grim reality of life in the camps. Clary opened up about many of the horrors in a 2001 memoir titled, "From the Holocaust to Hogan's Heroes: The Autobiography of Robert Clary."
Among those who praised the book was Dick Van Dyke. "I would like to implore anyone of a younger generation who doubts the reality of the Holocaust to read this book," he wrote. "It touched me deeply."
After Hogan's Heroes went off the air in 1971, Clary remained friends with fellow cast members Klemperer, John Banner (Sgt. Schultz) and Leon Askin (General Burkhalter), who all had their own connections to the Holocaust.
He went on to have success on Broadway and on television. He enjoyed runs on three daytime soaps: Days of Our Lives, The Young and the Restless and The Bold and the Beautiful." Among his film credits was 1975's "The Hindenburg."
Entertainment greats such as Carl Reiner and Mel Brooks spoke of Clary with great admiration. For those who have a hard time reconciling Clary's life story with his role on Hogan's Heroes, I get it. The actor would always point out that the POW characters on the sitcom were at a stalag, a very different experience than a death camp.
I was not even ten years old when the series became wildly popular. While Sergeant Schultz and Col. Klink worked on a cartoon level and made youngsters laugh, there was a tone on the series that seemed to me anyway much more sombre than others sitcoms at the time.
Among the producers walking that line was Albert S. Ruddy. Now 92, Ruddy, a Canadian-American film and TV producer originally from Montreal, launched his long and successful career as co-creator (with Bernard Fein) of Hogan's Heroes. (The series was also a product, to bring in possibly the least likely source, of Bing Crosby Productions.)
Ruddy, who went on to win Oscars for producing such films as "The Godfather" and "Million Dollar Baby," must have had to deal with a lot of notes on Hogan's Heroes. Himself a Jew, Ruddy must have been convinced that a German POW camp was as relevant as a Boston bar or a New York Taxi depot as a setting for a comedy. Casting a concentration camp survivor such as Clary in such a key role on the series seems very deliberate today. especially for a series best remembered for the catch phrase, "I know nothing."