Tonight is your last chance to hop aboard the James Corden late night minivan.
The 44-year-old British stage and screen entertainer bows out after eight seasons that seemed to go by rather quickly. Hand-picked to take over Craig Ferguson's 12:37 a.m. timeslot by former CBS CEO Les Moonves, Corden was an enormous success on social media — especially in those all-star "Carpool Karaoke" segments — but not so much in the broadcast field. The Late Late Show with James Corden never really seemed to break out despite all the YouTube success, and seemed left behind as the late night field got more competitive each year.
Corden's arrival just as Trump became president may have hindered his impact. Things got a lot more political in late night, with Corden's CBS lead-in colleague Stephen Colbert as well as Jimmy Kimmel at ABC and The Daily Show's Trevor Noah forming an unofficial opposition to the ex-president. Corden and NBC's Tonight Show host Jimmy Fallon seemed out of step at times with their more showbiz-heavy, fun-and-games approaches.
Corden stuck with his goal of a "much warmer approach." One thing I liked about his series was the throwback to a longer couch where guests remained throughout the show. Bandleader Reggie Watts added a spark as well. You can read my original review here.
Broadcast impact aside, Corden's digital space track record is impressive. CBS claims that Corden's Late Late Show boasts five of the 10 most-watched late night clips currently available on YouTube. They include "Adele Carpool Karaoke" (259 million views), "One Direction Carpool Karaoke" (194 million views) and "Justin Bieber Carpool Karaoke" (158 million views). The series has also amassed over 45 million followers/subscribers across YouTube, TikTok, Instagram, Facebook and Twitter.
For me the high point was Corden's jolly holiday in London with Paul McCartney. Corden calls Paul on his cellphone and tells him, "I need some Help. Yeah, I need somebody. Not just anybody." The candid, joyous, extended romp was a high point for fans of the ex-Beatle. Sixty-eight million viewers have gone along for the ride so far.
CBS invited critics to the set of Corden's late night series about eight years ago. The series was just establishing a footing with Carpool Karaoke, but when I asked Corden if McCartney might be high on his passenger seat wish list, he poo-pooed the idea. Was he downplaying this "dream get" in case it never came true or just goofing with me?
The answer might have something to do with the fact that Corden has, at times, come across as defensive with critics. Other late night hosts might have snapped back with a, "Sure, why don't you book him?" retort or, "Ringo maybe," or a much better joke.
It was fun attending the taping, however, which took place inside CBS's former and fabled "Television City" broadcast center in Los Angeles. At one point Corden went into the audience to do a bit, barging along a row in the back where some of us were sitting. Those that blinked missed my appearance on The Late Late Show.
Tonight, CBS will send him off with two hours of programming. Up first is The Last Late Late Show with James Corden Karaoke Special, which airs in prime time beginning at 10 p.m. ET/PT. The last movie star, Tom Cruise, has been booked to appear in a Lion King sketch.
Then in his usual timeslot after midnight, the final episode of The Late Late Show with James Corden will feature Harry Styles and Will Ferrell. Both hours will also be streamable on Paramount+. CTV will simulcast both hours in Canada.
Also on-going are 20-plus hours of "best of" segments appearing on Tik Tok Live.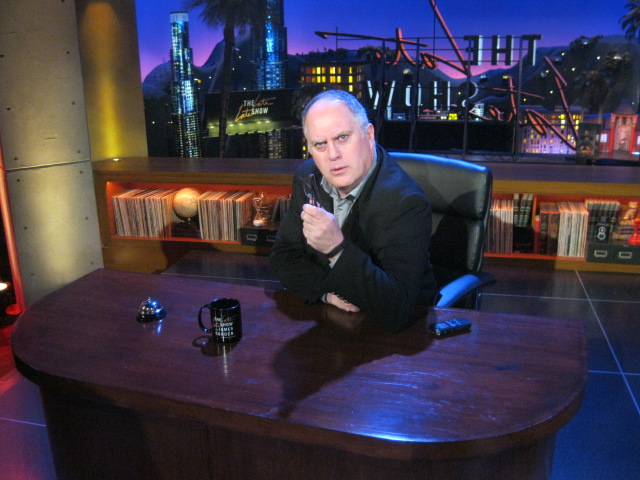 CBS has announced that they won't be sticking with the talk show format when they program the late, late hour next season. So don't look for another one-person host, despite the fact that they already have this perfectly adequate photo of me behind Corden's talk show desk.