Final thoughts, as Jerry Springer used to say, on Jerry Springer.
When the news broke Thursday that the 79-year-old former syndicated TV host had died of cancer, requests came in from CTV News (see that report with Marcia MacMillan here), CP24, NewsTalk 1010 (listen to that conversation with Jim Richards here) and CHML. They all sought to put his contributions to the growth in reality television in context.
Back when I wrote for The Toronto Sun, I remember arriving for an interview with Springer. This was 20 years or so ago when he made a promotional stop in Toronto.
Upon my arrival at the designated hotel, there was no chair tossing, only warmth and good humour. My memory is that Springer, who was born in The UK, was a very reasonable, relaxed, happy millionaire who had tapped into the secret of attracting mass audiences on television: shame.
Springer embraced what a lot of us didn't want to accept — that viewers never get tired of seeing other people humiliated on television. The series made him rich and also gave him the opportunity to goof on his own image on The Simpsons and in "Austin Powers: The Spy Who Shagged Me" (1999) and even just last season on The Masked Singer.
At its peak, The Jerry Springer Show was a daily dose of catharsis. For many viewers, it seems, it came along just as seething anger had begun to reach a boiling point. Springer, I believe, probably felt that he was helping people let off steam and therefore he was providing a public service. While he once apologized for "ruining the culture," he looked to me to be a man who slept well at night and who was A-OK with being the P.T. Barnum of the freak show that was America's underbelly.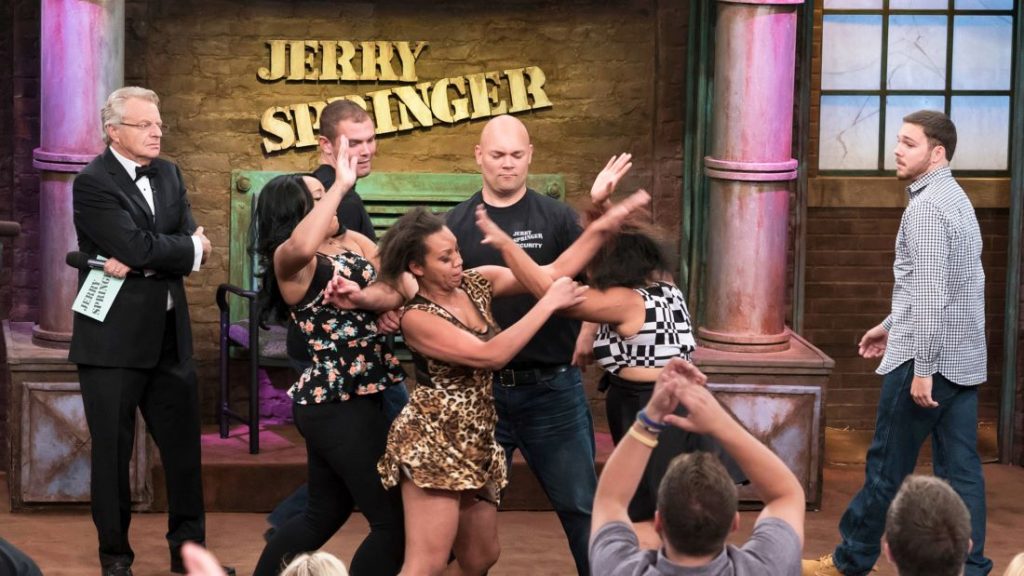 Since, as Fred Allen once observed, imitation is the sincerest form of television, the immediate impact of Springer's success was a flurry of popular, competitive, prime time reality shows where people were in conflict — shows such as Survivor, Temptation Island, The Bachelor and dozens of others.
What the Springer show also may have inadvertently led to was the political rise of Donald Trump. In Springer, you had a former mayor of Cincinnati down in the muck with America's riffraff and not getting any of the icky stuff on him. It showed that the anti-elite, the great unwashed, were looking for a leader and that if you were their guy, you could go far.
Think of it this way: there is a through line from, "Jerry! Jerry! Jerry!" to "Lock 'er up! Lock 'er up! Lock 'er up!" Springer gave voice daily to millions of frustrated, disenfranchised viewers. He was the anti-Oprah, preaching to groups who were in many ways fed up with the usual sermon about empowerment and enlightenment.
The daily Springer mob who hooted and hurled obscenities had no place to go after his series left the air after 27 seasons in 2016. Is it far fetched to suggest that some of them went to the U.S. Capitol on January 6, 2021?
Springer, who made a failed run at a congressional seat before serving one term as Cincinnati's mayor, once ruled out a run for the senate as he felt his notoriety would capsize his campaign. Today, he would seem a pillar of decorum in a congress where notoriety is rocket fuel. Marjorie Taylor Greene and other gun-toting lawmakers are rarely out of the headlines. Lauren Boebert, who recently boasted about becoming a grandmother at 36, today seems the perfect Springer guest.
Did Jerry make this happen? Again, I found him to be a man of great humour and humility. Would that he was available for an interview today. Best to remember him then with the phrase he always uttered to close each episode: "Until next time, take care of yourself, and each other."