It really isn't fair to review a late night talk show after one episode. It took Conan O'Brien six months to a year to find his rhythm. Larry Wilmore new Comedy Central series continues to evolve.
Still, if Corden's mission was to establish himself as a clear alternative Monday it was pretty much mission accomplished. The Late Late Show with James Corden seems like what it is: a hybrid of late night chat shows from The UK and the US.
Corden stated before the launch his goal was to provide a "warmer" environment. (Read more in this story I wrote last week for The Canadian Press.) That was quickly established Monday night as Corden thanked his predecessor, Craig Ferguson, and told his studio audience even he was surprised to get this gig. He joked he looked like Andy Richter and joked he was chubby. He went on to introduce band leader Reggie Watts (who sports an even fuller 'fro than Jimmy Fallon's Questlove) and then waved to his parents in the front row.
In more cynical hands, Corden's parents would have been played by the Osbournes. Instead, well, you could not cast this host's parents any better or any cuter than Corden's real parents.
In the style of Jimmy Kimmel there was an epic, all-star comedy sketch segment. Corden answered how he got the series with an elaborate concoction featuring CBS CEO Leslie Moonves as some sort of Willy Wonka broadcast boss, picking hosts based on whoever finds a golden wrapper in a chocolate bar. Simon Cowell, Joel McHale, George Lopez, Lena Dunham, Billy Crystal, Katie Couric, Chris Rock and Chelsea Handler all take part in the bit. It's fun, but between Kimmel and Fallon we've seen a lot of these A-list sketch bits by now.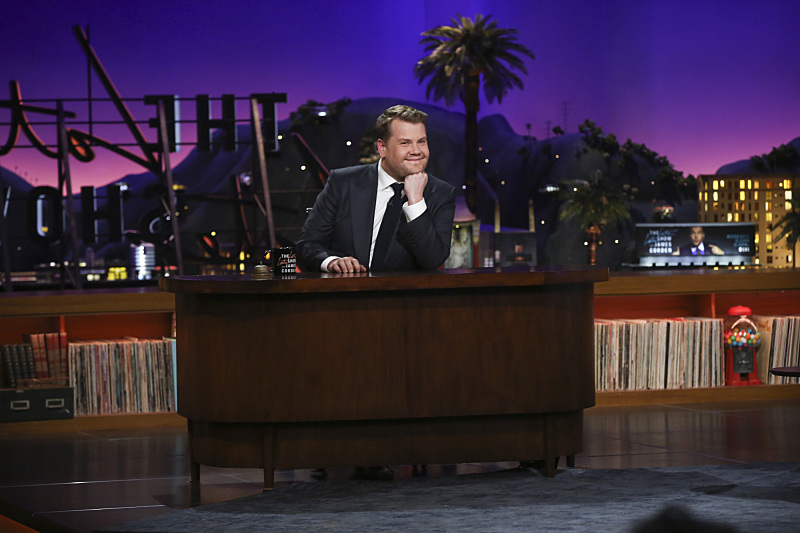 The bit doesn't really take off until Corden meets up with his CBS host coach–Jay Leno. So, what–Dave wouldn't do it? Between this and Episodes Leno may be gunning for a CSI drama lead. He's nasty-funny here in a take off of J.K. Simmons' role in "Whiplash." Leno tries to slap some talk show sense into Corden, at one point throwing a chair at the Brit.
Then there's Arnold Schwarzenegger trying to pump him up and Meryl Streep as an angel–it's impressive, but a bit much. By the time Allison Janney from Mom shows up it's starting to feel like a CBS promo. Check out the clip, above.
More loose and silly was Corden's attempt to act out, with first guest Tom Hanks, all of Hanks' movies in 8 minutes. The two stood in front of a blue screen and mugged through one or two lines from "Big," "Bachelor Party," "Forrest Gump," Captain Phillips," "The Terminal," You've Got Mail," "Mr. Banks"–even "The Da Vinci Code," with Corden as the Mona Lisa. All three "Toy Story" films were saluted in the big finish.
The interview segment was very Graham Norton with Corden on the left in a simple chair and Hanks and second guest Mila Kunis together on the couch. Hanks and Kunis seemed a bit uptight and could have used a few drinks. A bit where Watts asks a goofy question will get old fast.
I like the references to Corden's new California home, CBS Television City. The mid-century, cube-shaped TV plant should be as iconic as New York's 30 Rock.
Corden signed off with a moment at the piano that put a musical spin on Ferguson's old "What have we learned on the show tonight" ending.
Despite talk of a radically new approach, the first hour struck a nice balance between the tried-and-true desk-monologue-couch format and a few informal innovations. Patricia Arquette, Chris Pine and Modest Mouse guest Tuesday night with Kevin Hart, Will Ferrell and Leon Bridges hitting Corden's couch Wednesday.
In short, it's still a great day for America because a new outsider has brought a fresh, sunny perspective. Weeknights at 12:37 a.m. on CBS and CTV Two.