The word of the day is "sad."
Paul Reubens, the actor/producer/comedian who made Pee-wee Herman a household name in the '80s has passed away. He was 70.
Reubens, according to early reports, had been coping with cancer for six years.
He played Herman, a man-child in a grey suit and red bow tie, with equal parts innocence and mischief. Pee-wee saw the world in primary colours, especially in the 1985 Tim Burton film, "Pee-wee's Big Adventure" and in an astonishing CBS Saturday morning television series, Pee-wee's Playhouse (1986-90).
The series, which won 15 Emmys, was must see every Saturday morning back when I was covering television in Los Angeles for TV Guide Canada. From its cleverly animated opening and sing-along theme song to its showy, bicycle fly-past of the lone cypress, the hour-long episodes were sheer delights. When it launched early in 1986, it was paired with Ralph Bakshi's equally odd and almost as fabulous animated re-boot of Mighty Mouse. That both were shown on the network of Murder, She Wrote and Matlock, and during the Reagan years, made the experience even more of a trip.
It all might not have happened had Reubens not barely missed the cut to become one of the Not Ready for Prime Time Players at a 1980 audition to join the cast of Saturday Night Live. Instead, he poured his energy into developing the Pee-wee character he came up with while a member of the LA-based improv group The Groundlings. He gave the character more of an adult spin at first, in stage shows as captured in an early HBO comedy special, The Pee-wee Herman Show.
For the CBS series, he surrounded himself with remarkable talent, both before and behind the camera. Among people contributing music for the series were Mark Mothersbaugh, Danny Elfman, Todd Rundgren, Dweezel Zappa, Mark Snow and George S. Clinton. In terms of design, the list of names includes Wayne White, Gary Panter, Craig Bartlett, Nick Park and Richard Goleszowski.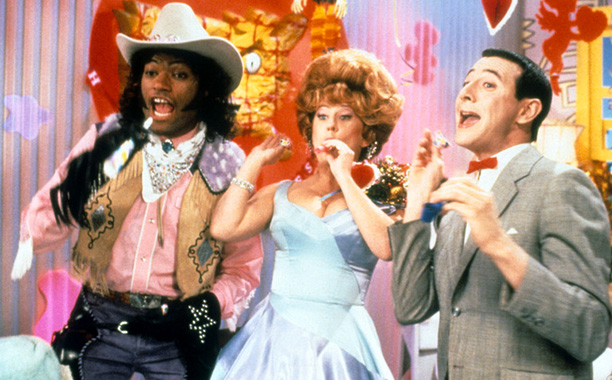 Playing human characters or operating and voicing puppets on the show were several ex-Groundlings, including Phil Hartman (Captain Carl), John Paragaon (Jambi the Genie), Lynne Marie Stewart (Miss Yvonne), Lawrence Fishburne (Cowboy Curtis) and S. Epatha Merkerson (Reba the mail lady).
The guest star list for a special 1988 Christmas episode got even campier. Among those making cameos were Cher, Zsa Zsa Gabor, Charo, Little Richard, Grace Jones, k.d. lang, Annette Funicello and Frankie Avalon.
Not cartoon-y enough? Some of the animation, especially on the fun "Penny" cartoons, was done by Aardman Animations, who went on to make Wallace & Gromit shorts and features.
The Betty Boop-like theme song rendition was billed as being sung by Ellen Shaw but Cindy Lauper admitted years later that it was really her voice inviting viewers to Pee-wee's playhouse.
Shortly after the series ended in first-run on CBS, Reubens was caught with his pants down – literally — in a Sarasota, Fla., adult cinema. As a result of the headline-making arrest, Pee-wee disappeared from the public eye for several years. Reubens' director pal Tim Burton, however, helped revitalize his career with roles as Penguin's father in "Batman Returns" (1992) and as the character Lock in "The Nightmare Before Christmas" (1993). Roles on Murphy Brown and in "Mystery Men" (1999) and "Blow" (2001) followed.
Reubens eventually returned as Pee-wee, in a new feature film and in a Netflix follow-up as well as in a series of live performances, including a run on Broadway, recreating the old series. I saw a performance in 2010 in Los Angeles at Club Nokia, part of the downtown LA Live entertainment complex right next to the Staples Center. I was joined by a few other TV critics, including colleague and pal Rob Salem of The Toronto Star.
It was very cool to see Reubens again as Pee-wee, in living grey and white, complete with little red bow tie and rouge. The original Miss Yvonne (Stewart) was there, too, as was Jambi (Paragon, who helped pen this update of Reuben's original Groundlings Pee-wee production). Fishburne could no longer squeeze into his Cowboy Curtis duds, so former Mad-TV comedian Phil LaMarr got roped into it. Reba, the original mail lady (played by Merkerson) was replaced with mailman Mike (John Moody).
That crazy Formica countertop-patterned set got a well deserved ovation from fans of the TV series (including many who arrived in costume complete with Pee-wee doll). It was all there—the talking window, Chairy, Globey, Magic Screen, Conky the robot (now the Conky 3000), the talking fish, the singing daisies, the zig-zag vinyl door; even Randy and Pterry dangling down from the rafters.
Well, okay, it wasn't all there. Missing from the 90-minute show were the wonderful animated miniatures that added so much to the series. No ant farm, no food parties in the fridge. The dinosaur family must have moves out of the floorboards.
Cowntess the cow was also absent, as was that big-headed door-to-door salesman who used to make Pee-wee nuts.
The King of Cartoons (played by late "Blacula" legend William Marshall but on stage in LA by Lance Roberts) did show up and share a clip from the early '30s Ub Iwerks' oddity "Balloonland." One of those hilarious Cornet Films on hygiene and manners was also projected onto a large, descending screen.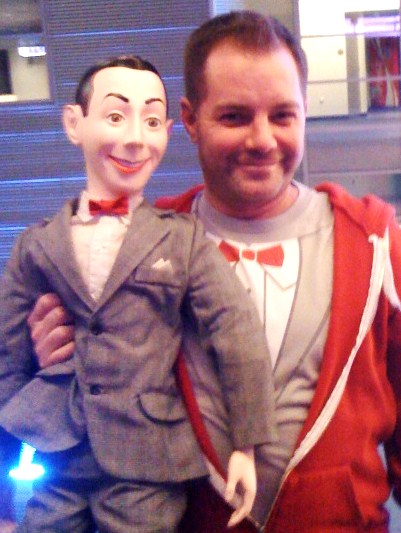 This being LA there were stars in the audience. How I Met Your Mother's Neil Patrick Harris was at the show and agreed with Salem later that more new material would have been welcome. A new Sham Wow puppet, for example, soaked up a few the laughs but also proved that being topical and current doesn't always translate years later in a 2023 obituary.
And that was the beauty of Pee-wee's Playhouse: born of the '90s, the fact that it was really rooted in television from the '50s kept it fairly timeless. The Playhouse owed more to The Mickey Mouse Club, Soupy Sales, Captain Kangaroo and dozens of local kiddle shows than it did to the culture that produced Madonna, Michael Jackson, WHAM and Live Aid. Pee-wee was the local kiddie hero I grew up with in Toronto — Kiddo the Clown — except the per episode price was US$325,000 instead of thirty-two dollars and fifty cents Canadian.
Reubens, who grew up in Peekskill, N.Y., clearly watched a lot of Rocky and Bullwinkle and Howdy Doody as a child. His father was a famous pilot for the Israeli air force and his mother was a lawyer and a human rights advocate. It all went into a melting pot that helped create this incredibly colour-blind, non-judgemental, outrageously entertaining and inclusive road map for children on their mom and dad's favourite TV station. Reubens' gave the '50s a campy, colourful spin, creating a woke world long before that was a thing. This was a boomer at his best.
Reubens leaves behind Jambi, the King of Cartoons, Chairy, Miss Yvonne, Globey, Cowboy Curtis, Conky, Captain Carl, Pterry, a magic screen and one talking window.
He also leaves behind 46 episodes of one of the most wonderful TV shows ever made, plus the magic words to bring it all back again: "Mecca lecca hi, mecca hiney ho…"