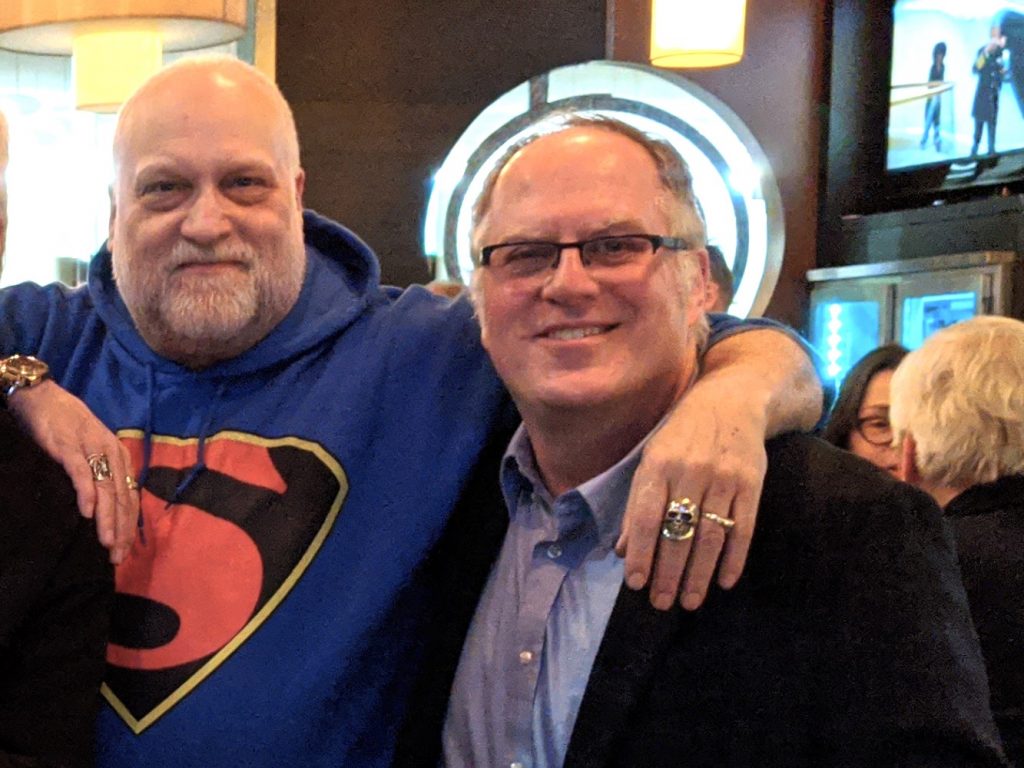 From time to time, Toronto Newstalk 1010's Jim Richards will ask me and former Toronto Star TV critic Rob Salem to weigh in on the critical issues of the day. Such as: What was a better cartoon kiddie show — Rocky & Bullwinkle or The Flintstones?
This searing debate usually is heard Tuesday nights over 1010, and this Tuesday we made the case for our favourite Saturday morning animated shows. We ruled out modern 'toon shows such as The Simpsons and Family Guy. We sorta ruled out classical theatrical animation but then we both sorta snuck some of it in anyway.
Trouble is, both Rob and I love this stuff. I have most of the shows we mention on large metal reels of 16mm film. Rob forces future film students to watch them in his Humber College graduate course on clips pulled from YouTube and other sources.
Truth is, we both could have named 90 animated children's shows and so we tend to shout over each other in the brief time between ads on Richards' program. You can hear for yourself at this link.
Here, however, are the shows I singled out:
The Adventures of Rocky & Bullwinkle (1959-64). Written for adults, these Cold War capers still stand out today and must have made an impression on Matt Groening, creator of The Simpsons. I had a professor at OCA tell me that, back in his design days at an ad agency, work came to a halt whenever Rocky and Friends came on. Jay Ward was the eccentric producer, (I met him once in Los Angeles and he denied it was him.) Bill Scott wrote and voiced Bullwinkle the moose, Rocky the flying squirrel was the great June Foray. From Boris and Natasha to the Fractured Fairy Tales, never was so much wild imagination crammed into such limited animation.
The Adventures of Jonny Quest. (1964-65). This one-season wonder, as Rob pointed out, has one of the greatest theme songs ever. It also featured a graphic style a notch above other Hanna-Barbera animated TV shows at the time, thanks to design help from genuine comic book illustrators hired for this project. Listen to my recent "From the vault" podcast episode, a 1986 conversation I had with producer Joe Barbera, who loved this series. Young Jonny was voiced by young Tim Matheson. Dr. Quest and Race Bannon? Who knows, but certainly the folks behind Indiana Jones had to have been Jonny Quest fans.
The Bugs Bunny/Road Runner Hour (1960 – ). Packed full of lavishly animated theatrical shorts from the 1940s and '50s, with an all-star Warners cartoon cast singing an "Overture" most boomers can at least still whistle, this is about the best way to spend an hour doing anything. Heavy on Chuck Jones and Friz Freleng directed 'toons, never a bad thing.
Mrs. Munger's Class (1997-98). When my two kids were young, ABC's One Saturday Morning was must see TV in our house. Wedged between Pepper Ann and Recess was this bizarre, 90-second, SNL-like animated sketch short called, Mrs. Munger's Class. It was basically a static page out of a yearbook of head shots of a class full of kids and their teacher. The faces were slightly photo shopped and the names and voices sorta changed to protect the innocent. What went on was hysterical. "Simmer! Simmer!" demanded Munger, who always lost control. "We're not twins!" shouted two kids named George who looked identical. Slow-witted Mahoot only ever said, "Whaat?"
You had to see it, and a few of the adults who were the actual kids in those photos did, and they brought a class action suit against the producers and that shut everything down. Nothing was cleared! Talk about Mrs. Munger's Class action suit.
There have been almost zero-animated shows before, such as Clutch Cargo (where human lips were super imposed over still drawings), and, let's face it, Roger Ramjet. This one was the silliest. Whichever programmer looked the other way when Mrs. Munger snuck on the air in the late nineties — thank you.
Tales of the Wizard of Oz (1961). "They're three sad souls, o mi o my/No brain no heart, he's much too shy…" A great theme song could overcome even the most limited animation. This early effort from Rankin-Bass, who went on to create the annual "Rudolph the Red-nosed Reindeer" Christmas special, is way funnier than you remember it. It is also elevated by a great voice cast, drawn mainly from the same Toronto-based radio bench that made "Rudolph" fly: Carl Banas, Bernard Cowan, Paul Kingman, Alfie Scopp, Corinne Conley and Larry Mann.