I realize Bill Maher is a polarizing figure. That makes him a lot like many of the politicians he roasts on Real Time with Bill Maher. That doesn't mean he's bad television — quite the opposite. Of all the commentators and talk show hosts who were sidelined during the 148 day writers' strike, his was the weekly show I missed the most.
That's because Maher, who probably wouldn't object to being labeled an "Old School Liberal," says what he thinks and does not adhere to one agenda, creed or point of view. Maher looks at an issue, takes a side, puts it out there, and literally invites other points of view on his show.
For me then it was great to see him back in his regular Friday night HBO pulpit, Real Time with Bill Maher. His podcast show, Club Random with Bill Maher, was a poor substitute, especially the video version. Watching Maher slumming in a Wayne's World meets Between Two Pot Plants setting, was not enhanced by whatever intoxicants were consumed. It was a bummer, man (although even that platform has its moments, especially Maher's recent, illuminating chat with Julian Lennon).
Maher going back on TV and coming up with Ruth Bader Biden — that is the power of television. You can hurl thunderbolts on Real Time and they explode all over Twitter within hours. Does it have the power of Walter Cronkite, early in 1968, telling CBS News viewers that America — specifically LBJ — cannot win in Vietnam? Maybe. You didn't have to subscribe to HBO to hear Uncle Walt take a stand in '68. You also, however, didn't get it sent to your iPhone or on YouTube the next morning.
Regular viewers will know Maher has been a steadfast supporter of this aging American president. Friday, however, he very succinctly made the argument for why Biden, at 80, must step aside for a younger Democratic presidential candidate in 2024. The Ruth Bader Ginsberg comparison is the banana peel on the down ramp of Air Force One.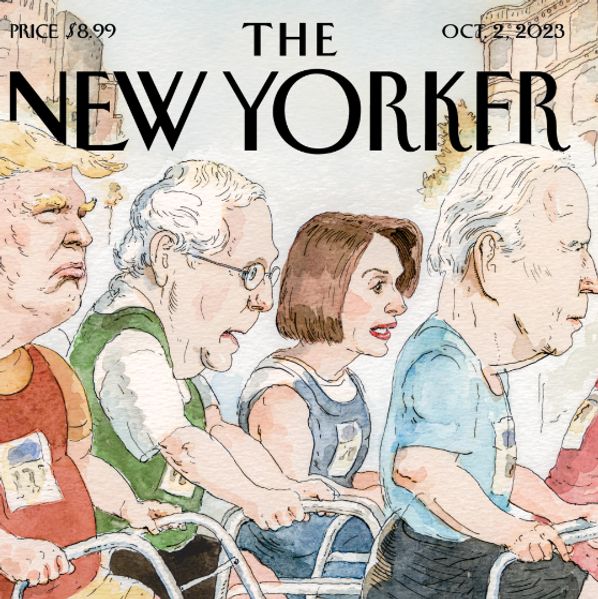 As Maher also said, he's also been crusading against ageism for years on Real Time. The comedian, however, isn't the only one wondering how Biden might do in a head-to-head presidential TV debate against Trump, or whether several other key politicians haven't passed their best before date. Republican Senator Mitt Romney just announced he will not run for re-election in 2024, suggesting that boomers need to back off and allow younger candidates to forge the future of America. Barry Blitt's spot-on cover illustration for the New Yorker, depicting Biden and Trump, as well as Nancy Pelosi and Mitch McConnell, all racing with walkers, recently hit the same nerve.
Maher's cruelest jabs Friday were aimed at McConnell, especially the crack about, "when he starts buffering during a speech…" Ouch!
Then there's the, "perception becomes reality" take, made vividly hilarious by comparing Trump to Kiss's Gene Simmons. As Maher joked, "He puts on the face paint and the wig and he looks the same as he did in 1978."
Jokes can sting, especially when they deliver an element of truth. This is what Maher does best, and I'm glad he's back.