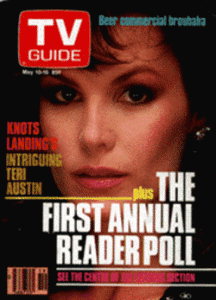 CORRECTION: An earlier version of this post reported Bell Media pulled the plug on TV Guide Canada. That is incorrect. The decision to end TV Guide Canada was made by TC Media. Bell Media's TheLoop was a content partner but Bell had no role in TV Guide Canada's demise. Brioux.TV regrets the error.
News this week that TC Media had mothballed TV Guide was not totally unexpected. The print version of the magazine was shut down in 2006. If you have followed TV Guide on-line, it was becoming increasingly difficult to find that little red logo, as stories about television at the site were more and more identified as being part of "TheLoop." The Loop is what you put over TheNeck right before you pull TheLever.
Imagine if Apple decided to stop putting their logo on their laptops or iPhones, or McDonald's gave up on its golden arches. You'd have to work hard to submerge one of the world's leading brands. That's what happened to TV Guide.
As someone who began their career following and reporting on television 30 years ago at TV Guide, the end of this era is felt. It was once the largest-selling magazine in the world, topping 25 million copies a week in the U.S. and well over a million in Canada. It was a money machine, supported weekly well into the '80s with its own TV ad campaign.
When crafty Walter Annenberg sold it at just the right time in the early '90s to Rupert Murdoch, TV Guide and the rest of Triangle's assets fetched $3 billion dollars.  More recently, the U.S. edition was snapped up for $100 million at CBS. A TV Guide cable channel continues to spread the brand Stateside.
The Canadian edition was born in 1976 when the government imposed stricter ownership rules on publications. Telemedia founder Phillipe de Gaspe Beaubien stepped in and made a lot of money.
What might surprise some today–before entertainment coverage went all Kardashian–is that TV Guide was a writer's magazine. I remember copy coming in–typed on sheets of paper–from Pierre Berton, movie critic Clyde Gilmour, witty newspaper scribe Alan Abel and others. The early, one (Digest-sized) page reviews from Cleveland Amory in the '60s remain blueprints for how to encapsule a TV show, an art Matt Roush also mastered. Great staff writers such as Dwight Whitney, Glenn Esterly and Ray Bennett were inspirations for those of us who followed.
TV Guide treated television seriously. You got the scoop (at one point on yellow paper in the front pages identified as "Teletype"), but you also got insight into issues such as television and parenting and the impact of violence. An editorial from TV Guide had weight, and not always for a good cause, as when Annenberg–buddies with Richard Nixon–defamed the Smothers Brothers towards the end of their run in the late '60s as below the standards of CBS.
When I went to interview Tommy and Dick Smothers in Toronto 20 years after they were fired at the height of their variety show fame, Tommy refused to speak with me at first because of my association with the U.S. Guide. Dick had to talk him into it. Tommy was still reluctant, waving off my protest that I was from the Canadian edition. "Did your magazine pick up the editorial?" he asked.
Today there is no way to answer that question. Every quarter, TV Guide used to bind copies of the magazine in separate "Lake Ontario" and other editions. These leather bound books were then carefully cataloged and stored in the library on Holly St. and later at its current Sheppard Ave. address. Some numskull decided to toss all of it–bound books dating back to 1953–to clear the shelves and stop paying storage.
What was lost was a unique time capsule of our times. Which Canadian network carried The Ed Sullivan Show, or Romper Room, or Bonanza or All in the Family or Taxi? Were they always simulcasts? What was written, from a Canadian perspective, of the coverage of the Kennedy funeral and the moon landing?
TV Guide was knocked for years (especially by Canadian publicists) for having an American content bias and not doing enough to support Canadian-made fare. This has always been a lie. Nowhere else has Canadian television been so supported and championed. I lost track of all the cover stories, inside features about fourth or fifth-billed cast members, food stories or whatever on shows such as The Royal Canadian Air Farce, Night Heat, Street Legal, Anne of Green Gables or even such forgettable fluff as Check it Out, Learning the Ropes or T 'n' T. If a Canadian was cast on Knots Landing or Cagney & Lacey, they wound up on the cover of TV Guide Canada.
That tradition of support was especially true in recent years at the digital version of TV Guide, where shows such as Motive, Rookie Blue, Murdoch Mysteries, Seed, Orphan Black, Spun Out, Bitten, Package Deal and especially reality shows such as Masterchef Canada, Big Brother Canada and The Amazing Race Canada got tons of attention. Last December, Canadian shows were celebrated in a "Best of" ranking that was the beginning of a nice annual tradition. Feedback from Canadian showrunners and talent towards TV Guide's flag-waving efforts was very positive and building.
Sometimes support from Canadian TV Guide even helped Americans. Lenny Clarke, Denis Leary's pal from Rescue Me, was thrown into a Roseanne clone in the early '90s about a blue collar dad. TV Guide Canada put him on the cover. Clarke took the cover to his bank and secured a loan on his house–even though his show was canceled after six weeks!
The killer for TV Guide was what made it gold in the first place–those listings. There are just not enough trees in the world to print up today's ever-changing schedules, especially strung out on five time zones across Canada. Still, today's TV-anywhere, on-demand viewer still needs to know what's worth watching tonight. TV Guide' Canada's big mistake was giving up that golden point-of-purchase rack beside every supermarket cash register. A guide to what's worth watching this week would still be valued, even if all that was racked was a lottery ticket-sized code you could swipe and load onto your phone.
It wouldn't even have to cost very much–for decades, TV Guide's cover price was fifteen cents. Those nickles and dimes added up to $3 billion bucks for crafty old Annenberg.
Good luck today to colleagues Amber Dowling, Greg David and Emily Gagne as–like the rest of us–they try to figure out what's next. All I can tell you kids is that it helps having a Guide to get you started.