Scott Thompson was away this week, so it was Jamie West asking the TV questions on Wednesday's CHML AM900 radio chat.
Jamie wanted to know about season two of Masters of Sex, a Showtime original airing in Canada on The Movie Network/Movie Central.  Season Two is airing Sunday nights s on those East-West Canada premium specialty channels.
Critics were shuttled to the set of the series during the recent TCA press tour. The car Michael Sheen drives as sex study pioneer William Masters–a white, 1959 MG convertible–was parked right outside the soundstage. A car like that does help in the study of sex.
Inside, the mid-century house set was one cool Masters of Sex pad, complete with all the latest copper kitchen appliances, an early dishwasher, an old tube set in the raised living room and the doctor's typewriter and notes.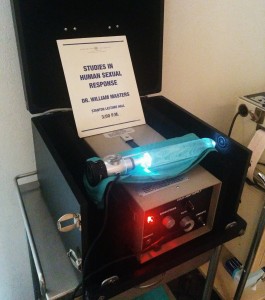 There was also his medical supplies out front in a special case, complete with the glass thing-a-magig he used for his probing examinations. Beau Bridges got an eyeful peeking through this thing in an early Season One episode. (It must have scared him off; Bridges has departed Masters for the relative safety of The Millers.)
Andrew Jackness is the production designer for Masters of Sex and he's earned an Emmy nomination for, among other things, his great gasp of St. Louis in the '60s.
Jamie also asks about Gotham, the upcoming Batman prequel coming to Fox and CTV this September, and we go on about all the period pieces on TV today.
They include Outlander, the romantic saga set in 17th century Scotland and starting in August on Showcase. You can jump ahead into the 1920s in the final season of Boardwalk Empire, which returns to HBO and BO Canada in September.
For the entire CHML podcast, you can listen in here.