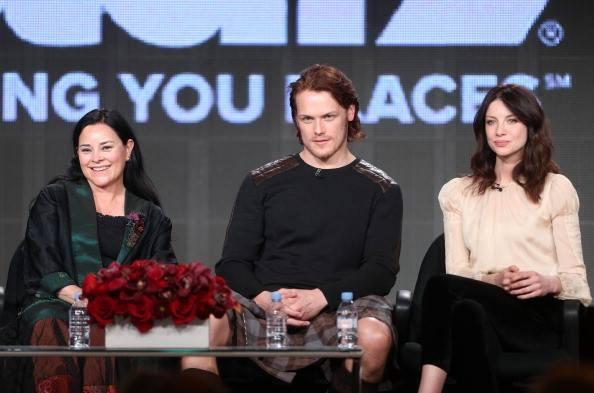 It has taken Canada a few extra weeks, but Outlander in finally here. The bodice-ripping sci-fi/historical romance begins Sunday at 10 p.m. ET on Showcase.
I was on the set of the series in Scotland back in February along with a few other reporters. We were taken to the production location, a converted factory/studio, as well as a few very cool exterior locations.  Outlander is mainly set in the 18th century and the main group of highlanders call Doune Castle home. If this 14th century castle looks familiar, it was used extensively in Monty Pyton and the Holy Grail. There's even a tiny gift shop at the castle where they till sell Monty Python beer.
The series is based on the Outlander series of novels written by Diana Gabaldon. She was at the studio during the press visit and was made up and in costume for a cameo. Gabaldon is frank and funny and very matter-of-fact about her literary career, which she claims came about by accident. Read more about that in this feature I wrote this week for The Canadian Press.
Gabaldon's novels, which have sold 25 million copies in North America, are barely known in Europe. None of the mainly UK-born cast members had read any of the books before taking on their roles. Caitriona Balfe, the Irish-born lead as spirited time traveling nurse Claire Randall, says she was buying the first novel in a bookstore in Los Angeles—where she now lives—when the store owner told her it was being made into a series. "I thought it was a nice little omen," says Balfe, who didn't have the heart to tell him she was about to audition.