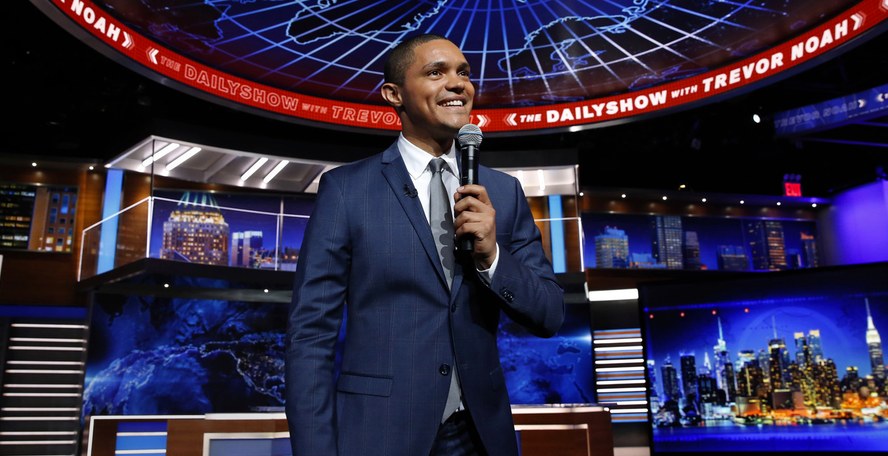 NEW YORK–If you've got a few hours before that Broadway show, try and book yourself into a taping of The Daily Show with Trevor Noah.
I attended the taping Thursday afternoon, where Ricky Gervais was the guest. The studio is way over on the West side, on 11th Avenue and 52nd Street, in the exact same venue where Jon Stewart held court for 14 seasons. I had been to a Stewart taping years earlier and the holding pen has lost none of its doctors-waiting-room charm.
You do have to wait, too. I understand why these live talk shows ask guests to arrive very early. There are the bathroom breaks before hand and a few instructions, as well as the now mandatory security scans. Still, it would seem this could all get done in an hour, not 90-plus minutes.
The staff at The Daily Show have their act down and once you are in your seat everything moves very efficiently. The warm up dude is bright and effective although he couldn't move on from me fast enough after asking what I did for a living. So here's a tip: always answer "TV critic" if you don't want to get picked on.
Noah himself does a quick Q&A before the show starts. He is genial and impressive in person, bursting with sunny energy. He aced the opening monologue, which, unlike his predecessor, he delivers standing. Thursday's was all about Trump and Cruz, two gifts that never stop giving for comedians during this presidential election. Stirring things up was John Boehner ripping into Ted Cruz, calling him "Lucifer in the flesh." Noah mocked Cruz for naming a running mate, then skewered Carly Fiorina by showing a clip where she called Cruz a liar.
Stewart's eyes would have rolled back into his head with the mugging. Noah's simply look of astonishment is just as effective.
The next segment had "special rap correspondent" Roy Wood, Jr., doing a bit as "Black Trump," using real Trumpisms as rap lyrics. Meh.
Between segments, Noah turned to the crowd and expressed his astonishment with the goofy circus that is the race for the White House. "Yesterday I asked myself for the first time," said Noah, "Is this a real election?"
A south African, Noah brings the refreshing outsiders perspective that differentiates him from just about everybody else in late night these days. Canadian viewers probably relate to him more than Americans do as a result.
He was fun and frisky with Gervais, who can be a tricky guest because his shtick basically is to behave like an ass. Noah milked the whole awkward vibe and turned their five-minute set into a nice bit of improv. Gervais seemed only too willing to play along.
By 7 p.m., the show was over and anybody with theatre tickets had plenty of time to make their next curtain call. At "free," attending a Daily Show taping is one of the best entertainment bargains in New York.
The show tapes Mon. to Thurs. and you can go here for tickets. Or you can watch at home weeknights at 11 p.m. ET on The Comedy Network (simulcast with Comedy Central in the U.S.) as well as midnights on CTV.