Like Art Linkletter, Alan Young was one of those Canadians embraced as all American in the early days of U.S. network television. He died earlier this week at 96.
Born in England, his family moved to Scotland and then, when he was six-years-old, West Vancouver, He got hooked on radio as a lad due to severe asthma which kept him bedridden. By the time he was in high school, he had his own CBC radio comedy show. After a stint in the Canadian Navy during WWII, Young settled in Toronto where he resumed his radio career. By the mid-'40s he was off to New York and radio and film work.
By 1950, his successful radio series was formatted for television. Jim Backus was part of a cast performing sketch comedy (the series later morphed into a true sitcom). Young won a Emmy for his efforts.
Other film work followed, including a couple of fantasy films with producer George Pal. Young is best remembered, however, for the sitcom he did in the early '60s–Mister Ed. (You can get the complete series in one big DVD box set–or individual seasons–here at Shout! Factory.)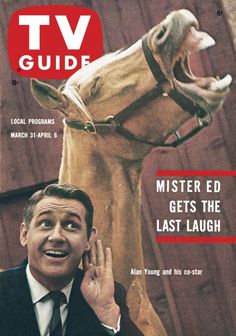 There, as Wilbur Post, he more or less played straight man to a talking horse. They say never work with children or animals but Young held his own for six seasons opposite a laid-back palomino (memorably voiced by western actor Allan Lane). One of the charms of the series was the theme song ("A horse is a horse, of course, of course…"), still worming its way through Boomer brains.
I spoke with Young several times over the years, at press events but also at those Hollywood autograph shows. Once, in the late '80s, I encountered him as one of several "Golden Age" stars who left their hand prints in cement at the Disney Studios theme park in Florida. ("Buffalo" Bob Smith, Morey Amsterdam and Rose Marie, Imogene Coca and Edie Adams were all part of that group.)
Young would tell stories about how the horse always hit his mark and would even let the cast and director know when he needed a bathroom break.
The series began in syndication before getting picked up in season two by CBS. George Burns staked the money to make the pilot and was a producer on the series. He appeared once as a guest star, as did Mae West, Zsa Zsa Gabor, Leo Durocher, Jack LaLanne, Clint Eastwood, and Donna Douglas and Irene Ryan from The Beverly Hillbillies.
When Ed went off the air in '66 Young shot the pilot for a series called Mr. Terrific, giving him the record for starring in TV shows with "Mister" in the title. He did not stick with the series when it went to series, however, giving way to Stephen Strimpell as Stanley Beamish. The superhero spoof  lasted less than a season.
Young kept working (he did a memorable episode of ER) but mainly as a voice actor. By the time I first interviewed him, he was already well into a career providing the voice of Scrooge McDuck for Duck Tales and other Disney animated projects, including "The Great Mouse Detective." Young, whose real name was Angus, did not have to fake McDuck's Scottish burr.
Very likable on- and off-screen, Young was proud of his Canadian roots. He lived to be 96 years young, not a bad run, laddie.