Day Two of Upfront Canada Week began bright and early Wednesday at 8 a.m. in Toronto. CTV likes to get journalists fresh off a punishing commute along the Gardiner before turning them loose on their executives.
The reward was some Canadian bacon (nice) and artery-choking sausages and plenty of fresh fruit. There were some delicious fruit beverages. Again, though, as with the Rogers' upfront, the egg thingy looked like it was dragged through a kale field. Please, just crack them into a pan and fry them–pretend they're Canadian showrunners.
I was two bites into my second sausage when I was plunked down beside Tracey Pearce, CTV's Senior Vice President, Specialty and Pay. Pearce was so friendly and chatty she made me forget I was speaking with a network executive. (She killed later, by the way, at the big ad upfront at the Sony Centre.)
Pearce gets to cherry pick all the cool cable shows–stuff from HBO, Showtime and Syfy–so no wonder she is so jolly. We talked about the looming challenge of pick 'n' pay and she said it has given her a chance to really kick tires on all the specialty brands. Discovery and Space are going to be just fine, she says. Some others, not so much.
We also talked about how Russell Peters new show Russell Peters is The Indian Detective is the perfect next step in CraveTV's comedy development. The four hour-long episodes will be produced and written by Frank Spotnitz.
Mike Cosentino, CTV's Senior Vice President, Programming,  talked about Peters, too. Yes, they tried to get him to do a network series before. The timing just worked out right now.
Cos waved off a suggestion posited her and in other places that Netflix was the gorilla in the room at the Hollywood screenings. He said CTV was never going to lose out on the new Kiefer Sutherland series Designated Survivor. "Did you have to pay more for the show than you expected?" I asked. "Interesting question," said Mike. (He did.)
Worth every Canadian dime, however, he feels. Cos singles out Kiefer's show and the emotional family drama This is Us are his two big gets from the States. He feels he stole some of Global's thunder by coming home with several shows that will appeal strongly to women.
As for CBS's new Star Trek re-boot, set for a January, 2017 launch, Cos said there's nothing to announce yet. Sure we want it, he says, but so does everybody else. Making the series less tantalizing is the fact any Canadian broadcaster would have to follow CBS's lead and only broadcast the pilot episode OTA. Everything else would be strictly digital in Canada as it will be in the U.S. The series, therefore, would boldly go onto CraveTV or on-demand if CTV picked it up. As Spock would say, highly illogical.
The rest of the morning was one scheduled interview after another as CTV presented their usual busload of series talent. They haven't done those stiff, downstairs press conferences for two years and nobody misses them.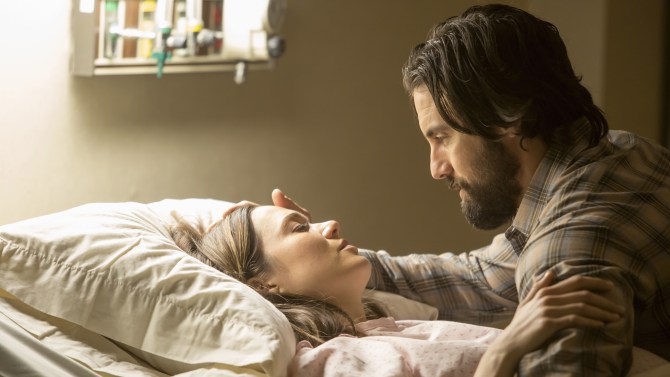 I motored through 14 one-on-one interviews, including my ol' Republic of Doyle pal Allan Hawco and his cast mates Jessica Matten and Landon Liboiron from the upcoming fur trapper drama Frontier. Production wrapped a few months ago in St. John's. I also grabbed some time with Jaimie Alexander from Blindspot, Shawn Ashmore and Eddie Cahill from the new law drama Conviction, promising newcomer Justin Cornwell (Training Day) and Milo Ventimiglia from This is Us.
Did you know one of Ventimiglia's first jobs was playing a young Ken Olin in Paul Haggis' ridiculously short-lived, way ahead of it's time EZ Streets? I did not know that. I also didn't know that the trailer for the NBC newcomer has already generated over 70 million views on Facebook and other social media sites. Carumba!
Besides Ashmore, CTV did a good job of pulling Canadian actors north, including Giacomo Gianniotti from Grey's Anatomy. The engaging Humber grad lives in LA now but still misses those Apache burgers in Etobicoke. Likable Peterborough son Benjamin Hollingsworth (from Code Black) and Quebec star Karine Vanasse (starring opposite Billy Campbell in the new cop drama Cardinal) also took questions, as did Vancouver's sultry Jessica Lucas (Gotham). Caught up with Josh Bowman (Time After Time) later at the Sony Centre. He's not Canadian but his girlfriend is (Port Perry, Ont.-native and Scandal star Emily VanCamp).
It was all hands on deck as CTV's crack PR team was augmented with some helpful folks from other departments, allowing each reporter to have their own Sherpa guide. Bianca was a big help to me. All the staffers were trained to look after priority No. 1: keeping an eye on Tony Wong in case he started hogging all the sandwiches.