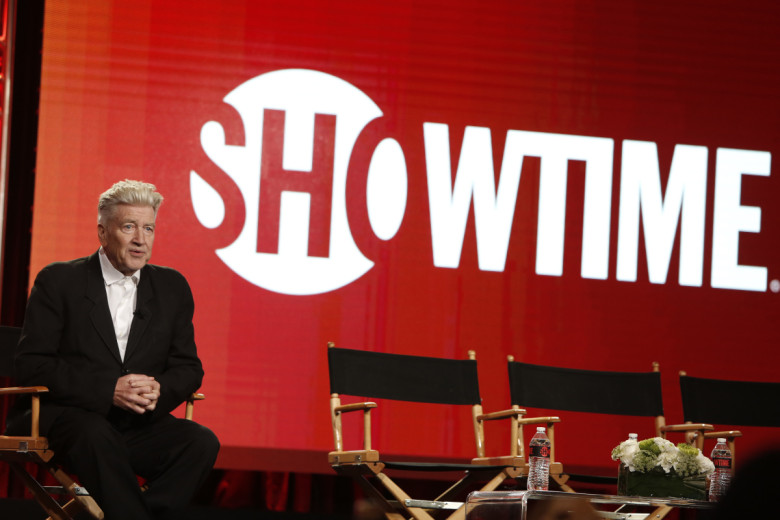 PASADENA, Calif. — Weird sells at TCA. Take Monday's Showtime session featuring David Lynch.
The 70-year-old director was in the house to promote the re-boot of his early '90s TV sensation, Twin Peaks. Showtime boss Gary Levine surprised reporters by bringing Lynch — to the stirring Angelo Badalamenti theme — on stage at the start of Peaks' press session.
Other than not walking in backwards as the house lights strobed, Lynch did not disappoint. With that crazy tower of white hair reaching for the ceiling, he sounded like a combination of Alfred Hitchcock and Chauncey Gardner from "Being There."
He spent 10 delightful minutes giving as few details as possible about the new 18-hour series. It premieres May 21 on Showtime and in Canada on CraveTV.
Straight off, Lynch was asked by a reporter about his working relationship with Peaks' co-creator Mark Frost. Lynch slowly took us straight into a kind of children's story about the wilderness, and mountains. "When we rounded the mountain," he said, "we entered a deep forest, and going through the forest for a time, the trees began to thin." All this lead to Twin Peaks we were told, a world of mysteries which led to other mysteries.
QUESTION:  How did you and Mark work together?

DAVID LYNCH:  Pardon?

QUESTION:  How do you divide the labor of it?

DAVID LYNCH:  We work together on Skype.
That was about as specific as things got, although it was all entertaining. Blunt, single sentence answers such as "Always we're filled with doubt," "Both the same and different," "No I don't," came in rapid succession.  What we also got was, "I'm not really at liberty to talk about that."
That extended to questions about him reportedly quitting the project at one point. Lynch simply said he loved working with Showtime execs Levine, David Nevins and Robin Gurney. "I'm very, very happy being at Showtime."
Told a Showtime executive described this new take as "a pure heroin version of David Lynch," the director replied, "I hear heroin is a very popular drug these days."
Lynch shared that he really loved the original pilot for Twin Peaks. Have to say it is one of the best pilots I've ever seen. As Lynch said, it set the tone and made that world and those characters. "I felt really good about that mood and that story, those characters," said Lynch. "Just fell in love, deep, deep love."
What he didn't love so much was how the series quickly lost its way. "Who killed Laura Palmer was a question that we did not ever want to answer," he said, suggesting it was network notes that rushed that storyline along.
We also heard that he loves Laura Dern, who broke out in Lynch films "Blue Velvet" and "Wild at Heart" but was not in the original Peaks. Back in the re-boot are Kyle MacLachlan, Mädchen Amick, Miguel Ferrer and Kimmy Robertson.  Robert Forster takes over as Sheriff Harry S. Truman from Michael Ontkean, who has apparently retired from acting.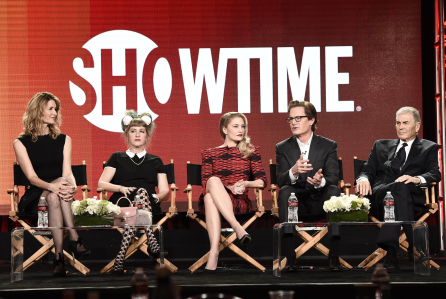 Forster told us he "missed the great ride" of working on the original when he honoured a previous acting commitment. The instruction he got from Lynch about facing the critics here at press tour Monday was to "get on that panel  but don't tell them anything."
Mission accomplished, although MacLachlan thought Lynch shared more than expected. Said MacLachlan: "You guys got a lot."