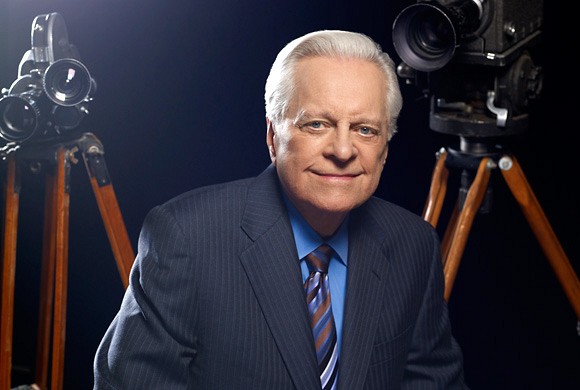 Turner Classic Movies almost never takes part in the semi-annual Television Critics Association press tours. I'm always a little disappointed about this, because it is one of my favourite channels.
Around ten years ago, TCM cracked open the vault and hosted an evening event outdoors at the Beverly Hilton. They brought a few movie stars from Hollywood's golden past; I remember Tony Curtis, for one, was holding court in one corner.
The star many of us wanted to talk to, however, was Robert Osborne. A former actor and long time contributor to The Hollywood Reporter, the knowledgeable and genial movie host was the face of TCM. He passed away this week at 84 after a lengthy illness.
Osborne lived in New York but taped his TCM intros at Turner's headquarters in Atlanta, Ga. Seeing him finally at TCA, a few of us made a point to tell him how much we enjoyed his set ups to the movies. He was a true broadcaster and had an easy-going style that made it seem as if he was just speaking to you and definitely not reading off a Teleprompter. This knack is way harder than it looks and is really mastered by so few at that level.
After about a dozen reporters stopped to give him the thumbs up, Osborne — taller than I expected — seemed to get a little embarrassed. He said something to the effect of, "Next time my ego needs a boost I'll visit you guys again."
Fellow TCM host Ben Mankiewicz was also at the event and I remember him being sincerely deferential towards the elder movie buff, praising him as "The Man" at the network.
Osborne was such a presence on TCM his absences over the past six or seven years have really stood out. Especially over the past year plus, when he was never seen save for those ubiquitous, "subscribe to our viewers guide" spots. There were times one wished the network would simply tell us how he was.
He had the kind of run, late in life, you don't see on TV anymore. Besides sharing his vast knowledge of the movies, Osborne demonstrated the great value in allowing older voices to shine as experts on television. Osborne carried The Movies in his head, just as my old pal from Hamilton, Ont., TV Guide Canada contributor Harry Purvis did. Both men could not only tell you who was eighth, ninth and tenth billed on any movie from 1937. They could also tell you what theatre they saw it in, and what else was on the double bill.
That also was always part of the appeal, for me anyway, of Siskel & Ebert. Even when they were reviewing films clearly aimed at viewers at least half their age, you wanted to hear their expert take on the movie experience.
That knowledge base will be missed at TCM but so will Osborne's genuine love of movies. It seemed to keep him young, and also kept the viewing experience for viewers at home fresh and original. I know I always stuck around till the end of each movie, just to see what Robert Osborne would say.