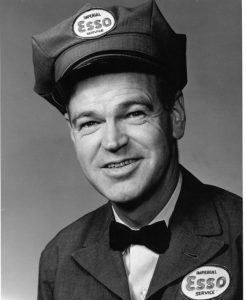 Some giants in the world of entertainment have passed away recently. Aretha Franklin, the Queen of Soul. Neil Simon, the prolific playwright behind "The Odd Couple" and one of the legendary writers of the sketch series that started it all, "Your Show of Shows." Robin Leach, the often imitated host of the giddy celebrity distraction of the '80s, Lifestyles of the Rich and Famous.
All three impacted me as a fan, listener or viewer. Simon set the template for urban comedies throughout the last half of the 20th century. Franklin's voice could silence every other sound. Leach's voice could also shatter glass — but for the wrong reason!
Murray Westgate was not Neil Simon or Aretha Franklin. He was a Canadian actor best known for playing one part: a service station "gas jockey" who bore the "Esso" brand on his hat and jacket.
What makes him significant to me is that I watched him every Saturday night, sitting with my dad, glued to Hockey Night in Canada until I was eventually told to go to bed. Back in the black and white days of television, CBC would join HNiC "already in progress" mid-way through the first period. The network, I guess, had little faith viewers would sit through an entire game.
Westgate's presence on HNiC was, in some ways, as iconic as the voice of Foster Hewitt calling the play-by-play, or Ward Cornell hosting the intermission segments (usually joined by quietly effective commentator and former Toronto Maple Leafs/Detroit Red Wing defenceman Bob Goldham). Back then, Esso and Molson's pretty much co-sponsored HNiC. You always saw their commercials at least a few times every broadcast.
Westgate, identified by his own name on the spots, was like Milton Berle's "merry Texaco-men" all rolled into one. Totally identified with the program, he seemed dad-like and trust-worthy, somebody you'd allow under the hood of the family's '62 Ford Fairlane. He had the added benefit of that perfect, CBC announcer diction.
Murray played the role starting with the launch of Hockey Night in Canada in 1952 straight through to 1968. That's six years longer than the 10-year-run currently enjoyed by Stephanie Courtney as Flo, the Progressive Insurance lady. GEICO's current mascot, the GEICO gecko, has run longer, however: 18 years and counting. Probably the most recognizable Canadian in TV ads today is Paul Constable, who plays "Gary the Canadian Tire Guy" in dozens of spots for the retail giant.
Westgate continued to act in dozens of TV shows long after he hung up his Esso hat. His credits include appearances on The Forest Rangers, Quentin Durgens, M.P., The Littlest Hobo, Seeing Things and Adderly. Can you get more Canadian than that?
Esso brought him back in 1991 to shoot a nice, nostalgic gas station ad in colour (with black and white clips). It might have been at that point that I spoke with him on the phone for TV Guide. He sounded just as humble, friendly and sincere as his memorable TV character, a throwback to an innocent time when carefree motoring was actually a thing.
The Regina native passed away in Toronto earlier this week having reached the age of 100. Think of him the next time you fill 'er up.