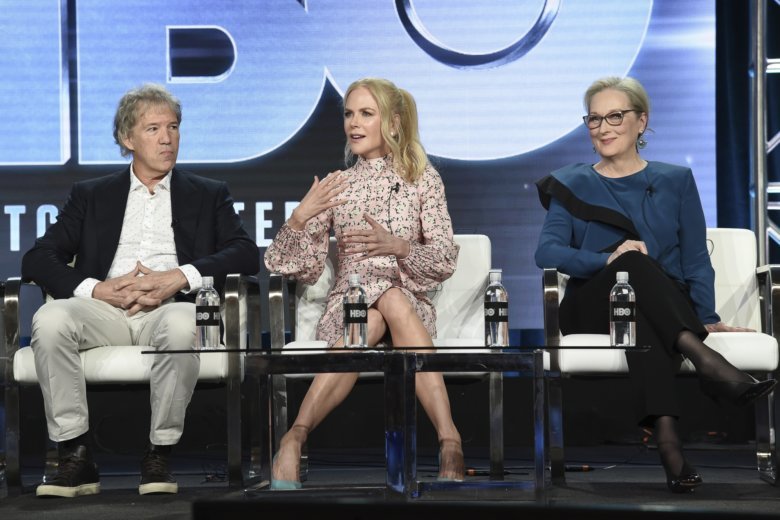 PASADENA, Calif. — Here's the truth: Nicole Kidman is proud to be back for season 2 of Big Little Lies. As she told reporters gathered for HBO sessions Thursday, "I don't know another show that has six female leads."
Well, there was Orange is the New Black, but Lies has leads with bigger names, including Kidman, Reece Witherspoon, Laura Dean, Zoe Kravitz and Shailene Woodley. Add Oscar icon Meryl Streep to the cast and you have the poster show for the #timesup movement.
Together the formed an impressive power panel Thursday at the Television Critics Association's winter home, the Langham Huntington hotel in Pasadena.
The series centres on three emotionally troubled women living in Monterey, Calif. Streep says she loved watching the first season of the show. "I was addicted to it," she told reporters. I thought it was an amazing exercise in what we know and what we don't know about people."
A reporter asked executive producer David E. Kelley if there were many female writers in the writers room. This got a rise out of a few of the actresses. Kelley, it turns out, has no writers room. No lie: he writes every word of the Big Little Lies scripts.
One part of the series he stopped writing was the Greek chorus; it's been dropped for season two. Also gone is French Canadian director Jean-Marc Vallee, beloved by the actresses over the course of the first season.
There was some discussion about how the entertainment business is becoming less of a man's world, although Streep says the changes aren't coming fast enough. She looked around the room and remarked how every reporter was male back in the day and while she was happy to see gender changes in the room, she also said her toughest critics were women.
Streep says she got particularly singed by the late, great Pauline Kael from the New Yorker. Kael once dismissed The Oscar winner's on-screen presence as "bloodless," adding, "I can't visualize her from the neck down."
HBO announced Thursday that the second season of Big Little Lies will premiere in June.