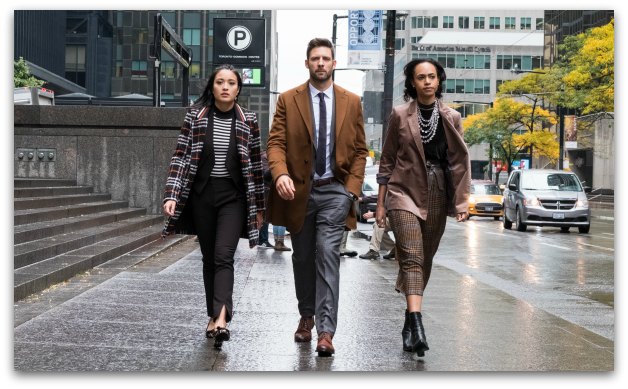 On Monday, Week Two of CBC's retro drama Street Legal (starring Yvonne Chapman, Steve Lund and Cara Ricketts, above) drew an overnight, estimated audience of 341,000 viewers, down slightly from 375,000 the week before.
The drop was expected for several reasons: historically, most new shows lose up to 20 per cent of their audience in their second week. Also, after opening behind the season finale of CBC's No. 1 show — Murdoch Mysteries — the week before, the second episode was only protected by a Murdoch rerun (pulling 420,000 in the overnights).
Again, the soft Monday night numbers did nothing for The National (440,000 and 334,000 in the two half hours). The highest-rated CBC show of the night in same day viewing? Centuries old Coronation Street (450,000 at 7 p.m.).
CTV won the night with back-to-back repeats of Big Bang Theory at 8 (795,000 and 855,000) followed by Magnum, P.I. (1,025,000) and the very healthy season finale of The Good Doctor (2,005,000). The other networks divided what was left of the audience pretty much evenly: CTV Two reached 597,000 with a two-hour blast of The Voice. Citytv welcomed 571,000 to a two-hour episode of The Bachelor. Global's mix of comedies and dramas went like this: The Neighbourhood (581,000), Man with a Plan (596,000), NCIS New Orleans (595,000) and Seal Team (a rerun, watched by 392,000).
Sports coverage was the top specialty draw: A Leafs/Tampa Bay blow out was watched by 571,000 on Sportsnet Ontario. A national prime time edition of Sportsdesk drew 391,000 on Sportsnet's main network. TSN netted 322,000 for Raptor's/Cleveland tilt. WWE Raw on Sportsnet 360 body slammed 253,000.
Elsewhere on specialty Monday: History's Oak Island (278,000); Food's Kid Baking Championship (259,000); Discovery's Gold Rush (243,000). Way over on YesTV at 7: Wheel of Fortune (307,000) and Jeopardy! (433,000 concerned Trebek fans).