You've been locked inside your house for what seems like months. You're screaming for the outdoors but you can't escape your living room. Wouldn't you love to take a four hour boat ride down the Rideau canal?
You can, Friday, as TVO presents "Tripping the Rideau Canal." The four-hour documentary captures, pretty much in real time, what it would be like to ride one of those beautiful wooden inboard beauties for a 27-kilometer stretch from the village of Manotick to the Parliament buildings in downtown Ottawa.
It doesn't hurt that the canal is a UNESCO World Heritage site, one of the prettiest waterways in Canada.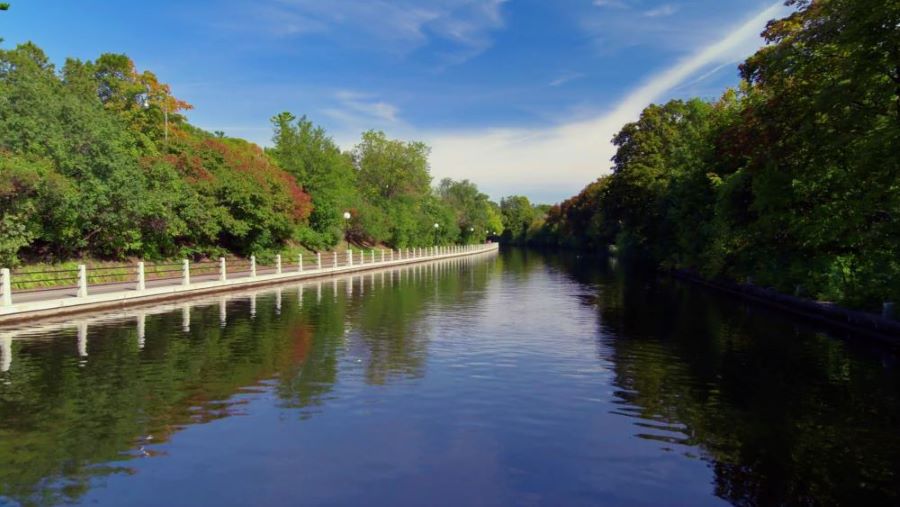 There's no narration, no music. Just the putt-putt of the motor and the occasional loon or ducks. It sounds boring, but the calming sounds of nature provide the perfect soundtrack for our quarantined times. Like those Autonomous Sensory Meridian Response (ASMR) videos people are leaning into on YouTube, it's what the world needs now to calm everybody down.
This virtual reality river journey was the brain child of Mitch Azaria, executive producer of Good Earth Productions. The Hot Doc Award winner and his crew deliberately scheduled the journey to take place late last summer, in September, at a time when the weather was still warm but the traffic on the waterway was light.
"We wanted to really try and keep the water from being broken by other boats," says Azaria, "because we thought if we're going to hold people for that period of time we thought we should get them in that kaleidoscope where they can't tell if it's reflection or water or sky."
The wind had to be under seven kilometers per hour to reduce ripple. A special camera mount, the only one of its kind in Canada, was obtained to allow Director of Photography Peter Warren the same fluid mobility to look from shore to shore as he does with his eyes.
Even the speed of the boat was calculated to make the journey, including passing through eight lift locks, in exactly four hours.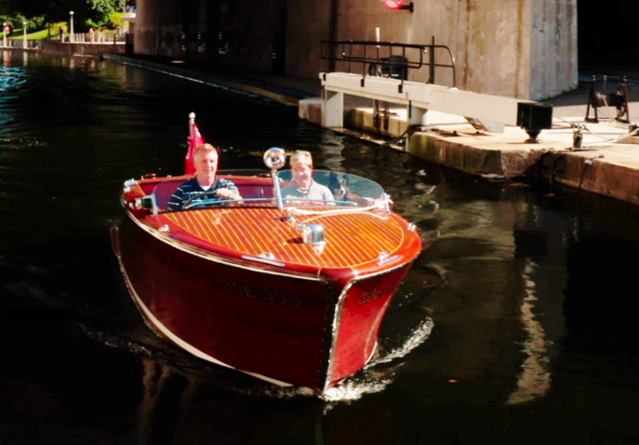 Then there was the boat itself. You first set eyes on it off the top, in a slowly descending drone shot. You get a better look at it as it's docked and goes through the lift locks, and occasionally jumps ahead of the camera's point of view. It is a 1948 Shepherd Delux sports boat christened "Miss Geneva."
These glorious mahogany runabouts were made in a family-owned factory in southern Ontario's St. Catherines/Niagara area from the late- '20s into the early '60s. My dad had a smaller one, a 16-foot outboard. His weighed nearly half a ton but the V-hull construction allowed these boats to cut through a lake or river like a knife through butter.
One thing with wooden boats though — you really have to like sanding and painting. Dad spent more time working on the boat in his garage every spring than he did on a lake.
Azaria sought a vintage Shepherd because, as he says, "if you're gonna go down this incredibly beautiful landscape, we're going to put the viewer into it. We thought they should be comfortable and think they're in something that's elegant and fun." A search made in the canal area took the producers to the Manotick Classic Boat Club. The club folks said, "Just go window shopping on our website and tell us which boat you like." The boat they singled out belongs to Randy and Dawn McKendry, and they're the ones occasionally glimpsed piloting it along the canal.
Instead of narration, the filmmakers incorporated a "Pop-Up Video"-like effect on the river journey, with bits of information, as well as charts and graphs, appearing on screen — often using the surface of the water as liquid blackboard. That's how we learn that "The Rideau Canal is the oldest continuously operated canal in North America," or that — should the Americans ever attack again — the canal was built by the British after the war of 1812 as a way to transport troops and supplies from Kingston to Ottawa. That enormous job took three thousand men and six years to complete at a cost of $2 million — well over a billion today in labour costs alone.
The locks are engineering marvels. Ninety per cent of them were built before 1832, with metal and chain components operating unchanged for almost 200 years. They drop boats large and small, sometimes over eight stories at a time.
They're operated by Canada Parks and the rangers go about their business, hand-cranking open and closed these tremendous wooden gates. They steal the show with a high level of efficiency and Canadian friendliness.
Each time the boat passes through one of the locks the moment provides a natural break in the journey, all part of the narrative. The ride cruises past cedars and mosquitos and under bridges and through lift locks until it ends with an urban glide towards Canada's parliament.
It's a great, virus-free voyage for a long Easter weekend in these isolating times, and one the whole family can enjoy. "Tripping the Rideau Canal" airs Friday, April 10 starting at 7 p.m., without commercial interruption of course on TVO. It repeats on Easter Sunday, also starting at 7. And, yes, you can also stream this river journey; it will be up and flowing starting with the Friday night viewing and available at tvo.org.