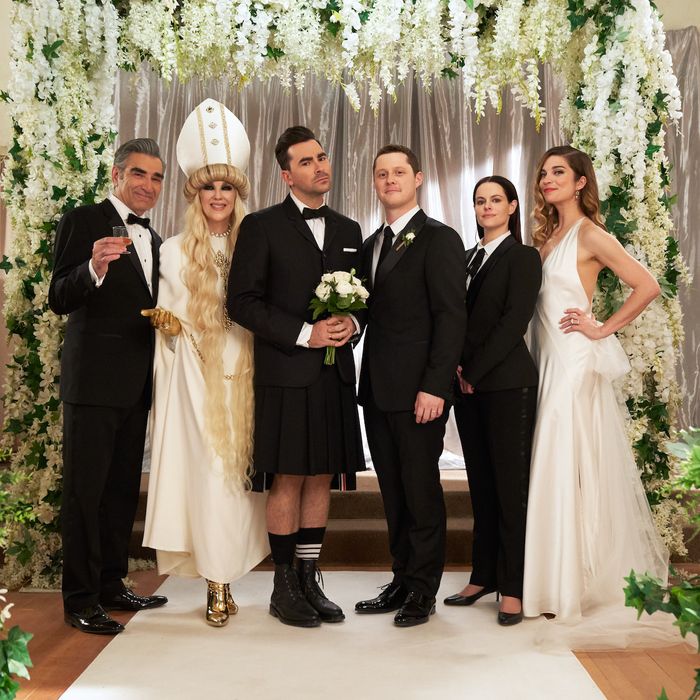 Tuesday night's final episode of Schitt's Creek drew an overnight, estimated CBC audience of 1,017,000 viewers. It was the sitcom's highest overnight tally since the first season and CBC's strongest draw in weeks.
The hour-long farewell special that followed, "Best Wishes, Warmest Regards," drew an additional 743,000 live, unconfirmed viewers from 8:30 p.m. ET to 9:30 p.m. Tuesday's season final of Workin' Moms ended the night well back with 244,000 estimated CBC viewers.
The Schitt's retrospective, which took viewers on a behind-the-scenes look at the final season, was not the usual, forgettable clip show. This was a well made, brilliantly edited coda for fans of the series. A diverse group of celebrities professed their love of the show including Carol Burnett, Cameron Crowe, Mariah Carey, Ellen DeGeneres, Amy Sedaris and NBA star Steph Curry.
Schitt's Creek normally enjoys a strong lift in viewership from people who "bank" the show or stream it and watch it up to seven days later. Expect the final, Live+7 totals to be significantly higher. You can stream the restrospectic now here at CBC Gem.
The final Schitt's Creek episode proved a stronger live draw than the return Monday of the acclaimed CTV drama Cardinal. That series, starring CSA Award winners Billy Campbell and Karine Vanasse, was watched by an overnight, estimated audience of 662,000 CTV viewers on Monday night.
While impressively crafted and acted, it just may be that the investigation of a grizzly murder — one that occurs in the dead of winter — is a bit brutal for these times.
Cardinal followed a strong night of programming Monday with 8 p.m. comedy imports The Conners (1,105,000) and Bob (Hearts) Abishola (1,011,000) leading into the rookie NBC legal drama All Rise (985,000).
Opposite Cardinal at 10 p.m. was Bull on Global (908,000) and The National on CBC (556,000).
News numbers continue to rise across Canada this week. The CTV National News Monday drew an estimated 1,516,000 viewers. Earlier, at 6:30 p.m., the CTV Evening News was estimated at 2,178,000 viewers.