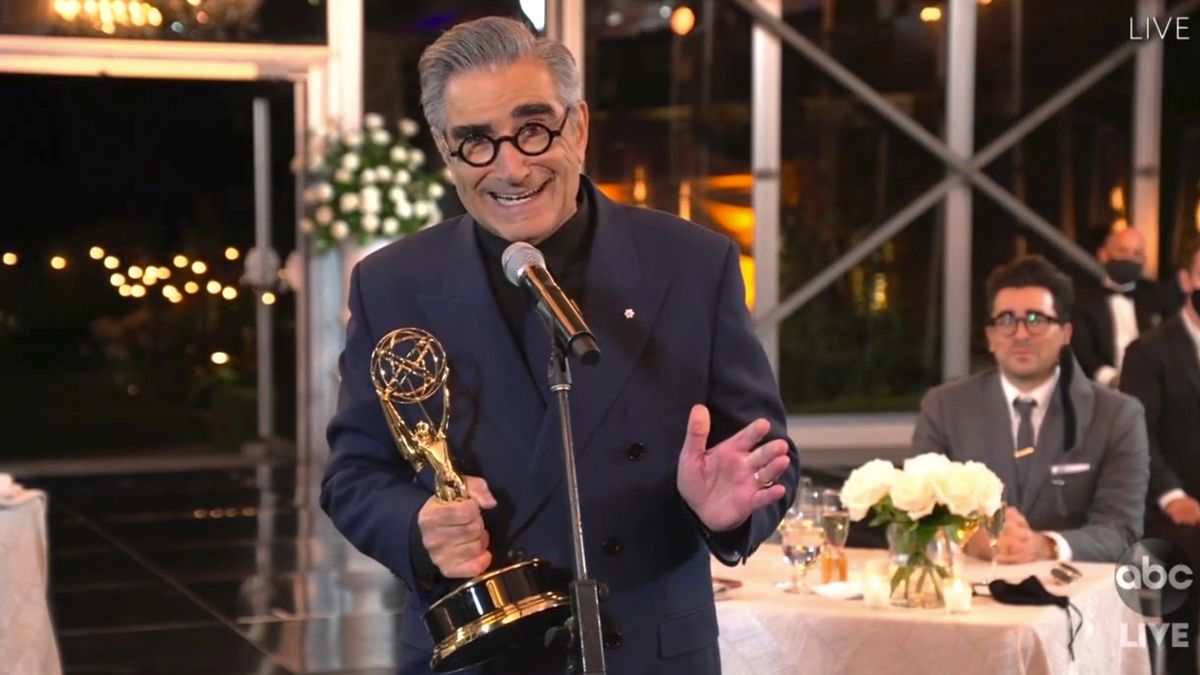 Sunday night's Emmy Awards were the best Emmys Ever — especially for a Canadian.
The so-called "PandEmmys" were over an hour old before anything other than Schitt's Creek claimed an award. The shot-in-Toronto series swept all the major primetime comedy awards — the first time this has ever happened — on its way to becoming the winningest Canadian-produced series in Emmy history.
Catherine O'Hara's award for Best Actress in a sitcom seemed like a foregone conclusion. Moira Rose has been lauded all over America of late. Then Schitt's won the second award of the night, which went to Eugene Levy for Best Actor. Then Dan Levy won — three times– for co-starring, writing and directing. Then Annie Murphy wins and it is an acting sweep. Then Schitt's made it seven in a row as the year's Best Comedy. By then, several American critics friends were already beginning to tweet, "Hey, I like this show, but this much?"
A pretty good night for a show ABC would not allow spoken on air without constantly putting up a super of the title.
The CBC/Pop TV series won so often and so was lauded for so long the Bell tech-y working the "Watch this winner now on Crave" switch napped for an hour.
It was a good thing Eugene Levy rented that big party tent that was set up outside Casa Loma in Toronto. Everybody came ready to celebrate O'Hara, and they all got Emmys as party favours.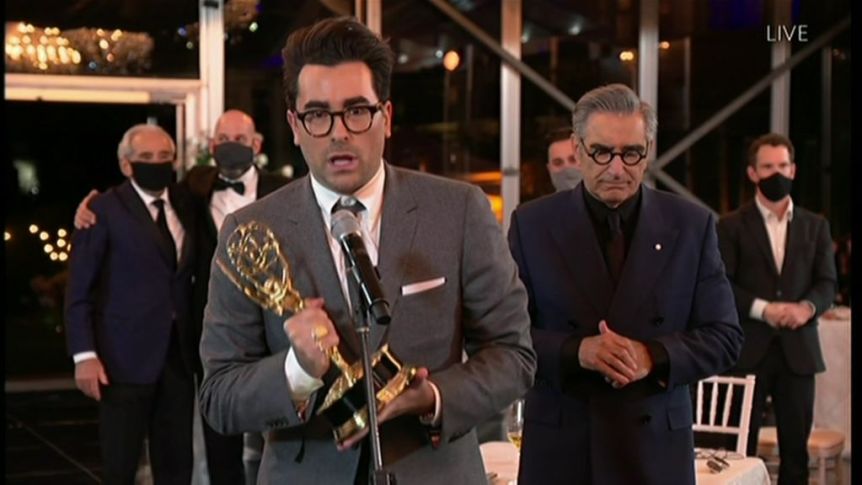 The only fear was that Ontario premier Doug Ford might show up and shut the party down for having more than 10 people at a gathering (although, technically it was a tent, so outdoors, right?)
Eugene joked that if he'd known you get an Emmy for playing the straight man he would have switched long ago. (He and O'Hara already have Emmys awarded 40 years ago for their brilliant writing and performing work on SCTV).
After the seventh statue was awarded, Kimmel stood on stage with what looked like a digital image of a Stanley Cup and joked that this was America's punishment for not allowing a Canadian team to win hockey's top trophy in decades. If Schitt's gives three or four trophies back, can the Leafs at least make the playoffs?
The sitcom picked up a couple of awards on previous nights, one for my ol' grade school chum Jon Comerford and his former partner Lisa Parasyn, for casting. That brings the total to nine Emmys for the series — by far a Canadian show record.
Even of you weren't Canadian, Sunday night's show was live TV at its finest. Host Jimmy Kimmel walked out and, as he tweeted, put "mono" in the monologue, doing jokes to thousands in the theatre. Except the joke was on us — these were old clips, and there was no one on the theatre except the occasional cardboard figure.
Of course no one was there, Kimmel cracked. "This isn't a MAGA rally, it's the Emmys."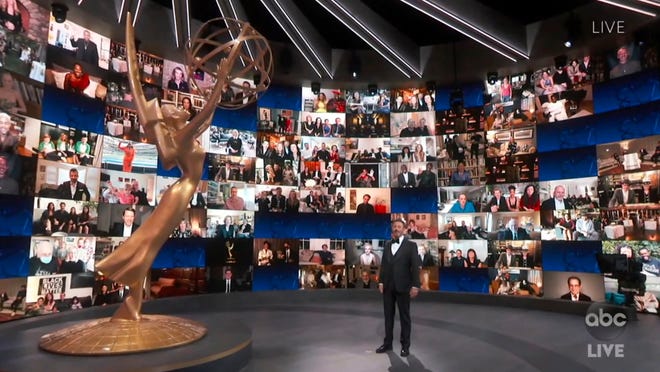 As another critic pal tweeted, there were about a million things that could have gone wrong Sunday night but didn't. The producers sent over 100 cars to the homes of various nominees — even to those who didn't win. A delivery "penguin" (tux, get it?), broke in and handed an award if the resident won. So we got to peek inside everyone's party and see some genuine family reactions, as well as a lot of people wearing masks. We're talking live feeds from over 100 places.
Credit technical production whiz Dave Taylor for such a smooth night; he handles Oscars and even TCA events and is a total pro.
The night never waned. There was even a brilliant David Letterman moment. Dave gets out of a limo in a field in a tux and starts reading jokes from the pocket. He last wore the tux hosting his own awards show, he said, so, jokes from 1986. Damn funny ones too.
Jennifer Aniston joined Jimmy live on stage for a very funny bit. Kimmel lit an envelope on fire in a basket and Aniston, in full ball gown, made like a safety salamander and put it out with a fire extinguisher. Well, almost put it out — it looked for a moment like the theatre could go up in flames.
Kimmel — who worked this show hard and made it all look effortless — told her to rush home because there was only nine hours before her category. Actually the show ended on time (well, five minutes over). That alone is reason to celebrate.
When we next saw Aniston, she was glammed down and in her robe and joined by her female co-stars from Friends, Lisa Kudrow and Courteney Cox. Plus Jason Bateman, who kept horning into the night. (We caught a glimpse of him at home at one point with his adorable daughter.)
The other big plus: no stupid red carpet show. At all. None of that three hour who are you wearing bullshit. Just a lot of Schitt's Creek. Kudos to Kimmel, the Levys and everyone involved.