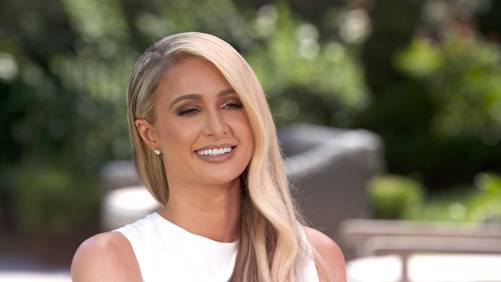 Paris Hilton turns 40 in February. This will shake some of us who remember her as the "celebutante" who never heard of Wal-Mart. She said things such as, "That's hot!" a lot at the start of the century on a momentary object of fascination known as The Simple Life.
She has stuck around and made her own fortune, with various retail endeavors, in-demand, international DJ gigs and other reality ventures — including a cooking show — as one of the leading icons and influencers of the "famous for being famous" era.
Her latest fame venture, a YouTube Originals documentary, is titled This Is Paris. In it, Hilton for the first time details physical and emotional abuses she alleges that she suffered while attending boarding school as a teenager. [Authorities at Provo Canyon School claim the licensed facility, which today is described as an intensive, psychiatric residential treatment centre for youth between 8 and 18 — say the place changed ownership in 2000 and that the new owners "do not condone or promote any form of abuse."]
The documentary was promoted way back in January on the final TCA live and in-person press tour in Pasadena, Calif. It was originally set to premiere last May. The world has changed since then, and the story of a poor little rich girl-woman may not be as alluring in a world of distancing and social isolation — even social butterfly isolation.
Or maybe people have more time now for Paris. Hilton told reporters back in January that she turned this project down at first.
"I was very reluctant to do it. And I didn't really want to take the meeting, because I wasn't ready to really show myself. So it was something very hard, because in this film I really show who I truly am."
Now, for some viewers, it will be hard to shake the image of Hilton as a fame-seeking missile. Even she admits to playing a character for so long it's hard to tell fake Paris from real Paris.
I've told this story before: about ten years ago, on another LA-based press tour, I was sick as a dog but soldiering on, gathering quotes at an evening events where a room full of talent is there for the notebook filling. I spotted Hilton and approached but warned her: I had a bad cold and she should keep at least two meters apart. Today I'd be arrested for COVID spreading, I was that sick and showed it.
Hilton insisted on doing the interview and cheerfully sat down right next to me, staying for all my questions and joining in for a goofy photo op afterwards. She could not have been more accommodating and gracious. I've thought well of her ever since.
She was equally accessible in January on stage in an after-session press scrum with me and a few fellow reporters. The documentary's executive producer Aaron Saidman and director Alexandra Dean were by her side. Here's how that went:
How has making this documentary changed you?

I've discovered so much about myself that I didn't even know. It was almost like a therapeutic experience, especially working with Alex. He's such an amazing director and he became so close that it was like talking to my sister. So I really just felt so comfortable to talk about everything even in very uncomfortable moments.

You talked about playing this "character," Paris Hilton. Do you think all of us play characters in one form or another, especially now on social media?

Depends on who it is, but you know with social media. I think that people always love to show the happy perfect side and, you know, it's not always like that. I think most people just want to show the good moments and then there are other people who show everything, so it really depends on the person. I don't think a lot of people are playing a character when they're doing this on social media because everyone's building a brand on their own and doing something different, but, yeah, I think on social media you don't really see the true person most of the time.

Is that always such a bad thing?

I think it's good and bad. I think it's sometimes difficult for people to show who they truly are. But then there are people that really do show their true selves and I really applaud them for that. There's so many expectations and unrealistic views, and you know with all these new apps, all these young girls are thinking that they need to be this perfect way when they don't realize that it's not like that. So I think something like this film is good to show all of it which I never in my life have done before so it's something very new to me and I'm happy that I was brave enough to do that.

Were there any restrictions placed on the documentary filmmakers?

HILTON: Nothing was off limits.

SAIDMAN: It was in some ways a condition of agreeing to make it in the first place … that there would be nothing off limits. We didn't want some carefully crafted message that we've come to expect in some ways from Paris and we wanted to do the opposite. That was one of the first real heart-to-hearts we had about this. If we're gonna do this, we want to go all the way and we want to see you vulnerable and we're not gonna tell you exactly what we're doing … and you don't get any control over the editorial. So, that was the first challenge — earning her trust in being able to go on that journey.

Was it hard to talk so freely about your life?

Definitely because we speak about subjects that have never ever been publicly discussed. I've never even spoken about with my family or any of my close friends and it was almost with talking like a diary like of my most secret intimate moments like traumatic experiences that I've went through in life and I'm so used to portraying, you know, perfect kind of like Barbie doll life and so used to being in control of all of that, with any other thing I've ever done, The Simple Life or any other show. I've always had complete creative control. I always had editing approval and with this film I had no control whatsoever. Really just trusted Alex, Aaron and everyone at YouTube and really just gave my all.

Where do you see yourself in ten years?

I'm gonna continue just expanding my brand and empire all around the world. I have 19 product lines, have just released my 25th fragrance, we have three more in the works. I just shot two music videos last week that are coming out in the next few months. I'm going on tour playing at Tomorrowland again as a DJ. I have my own real estate property, so I'm falling in my family's footsteps and getting more involved in real estate and also tech. I have my apps the glam app and Roxy and some other tech ventures, so I'm really driving into that virtual reality world. And I'm writing another book. I think I need to literally make some clones. Thank god I travel so much or I wouldn't get much sleep.

This is the most private thing I've ever done in my life, so I'm very nervous but also very excited. For my legacy for what I want to be remembered for it's not the character. I think that the whole world is gonna see that there's a lot more to me than you think.
This Is Paris is streaming now on YouTube. Premiering Sept. 13, it has accumulated 10,598,630 views at the time of this posting.