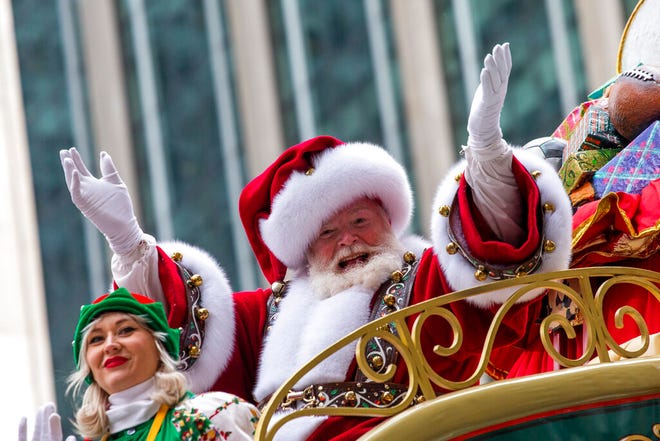 It is Thanksgiving Day in America, so pass the turkey and turn up the football.
It is a bit weird seeing those giant balloons and marching bands parade past Macy's in Manhattan in front of no one except NBC cameras. Not to mention Rockettes wearing matching masks, or Santa waving madly at absolutely no one, but, hey, COVID times.
Bell will proceed December 5 with a two-hour Original Santa Claus Parade airing exclusively on CTV and CTV2. Here, too, things will be different. The parade will travel along a closed route at nighttime at Canada's Wonderland. Adhering to all local health and safety protocols, Santa will land safely into the homes of Canadians across the country for a 116th year. More on that in a future post.
The US Thanksgiving holiday used to mark the unofficial start to the season, but that seems to have been moved up at least a week. On Saturday, for example, I glimpsed another annual showing on CBC of the 1964 Rankin-Bass animated special, Rudolph the Red-nosed Reindeer. (By the way, the 1966 Chuck Jones classic Dr. Seuss' How The Grinch Stole Christmas, featuring the voice of Boris Karloff, airs Friday returns Friday night on NBC.)
It doesn't seem to matter if stores are open or closed. The ones left open are ready to ship, so the holiday TV movies and specials are already in full gear. That rings true at Super Channel, like CTV one of the valued sponsors here at brioux.tv. Their annual "Heart & Home" Christmas holiday guide is already out, with two of their 20 new movie premieres already airing this past weekend.
That leave's 18 more festive feature premieres on Super Channel. A lot of these movies feature Canadians and are shot in Canada. That includes "Christmas Crush" airing this Saturday, November 28 and starring Private Eyes' Cindy Sampson as a holiday fanatic who makes a wish that somehow goes awry.
For a full list of Super Channel's 2020 Holiday Guide, which includes over 100 festive flicks, follow this link.
Corus has also loaded up a sleigh full of holiday fare, including 39 exclusive premieres. You can find all the new Hallmark holiday movie titles on W Network, including many movies shot and produced by Canadian casts and crews.
This year, they include Love, Lights, Hanukkah!, Starring Christmas, Heart of the Holidays, and Jingle Bell Bride. Hallmark Canadian favourites Paul Campbell, Benjamin Ayres, Brendan Penny, Luke Macfarlane and others are back among the misteltoe. Campbell's "Christmas by Starlight" premieres tonight, Thurs., Nov. 26.
W Network movies can also be accessed via the new Global TV App and these movies can also be streamed on demand on STACK TV. You can download the entire Corus Holiday Movie Premiere Checklist by following this link.
CBC also has a robust schedule of holiday movies and specials already underway. Among their gems — many airing on CBC Gem — is "The Great Christmas Bake Off," the 2019 British special airing Sunday, Nov. 29 as well as Wednesday, Dec. 16. Plus, yes, Schitt's Creek and Murdoch Mysteries Christmas episodes and another helping of Merry Christmas, Mr. Bean (Dec. 8). Visit cbc.ca to download their entire holiday programming guide.