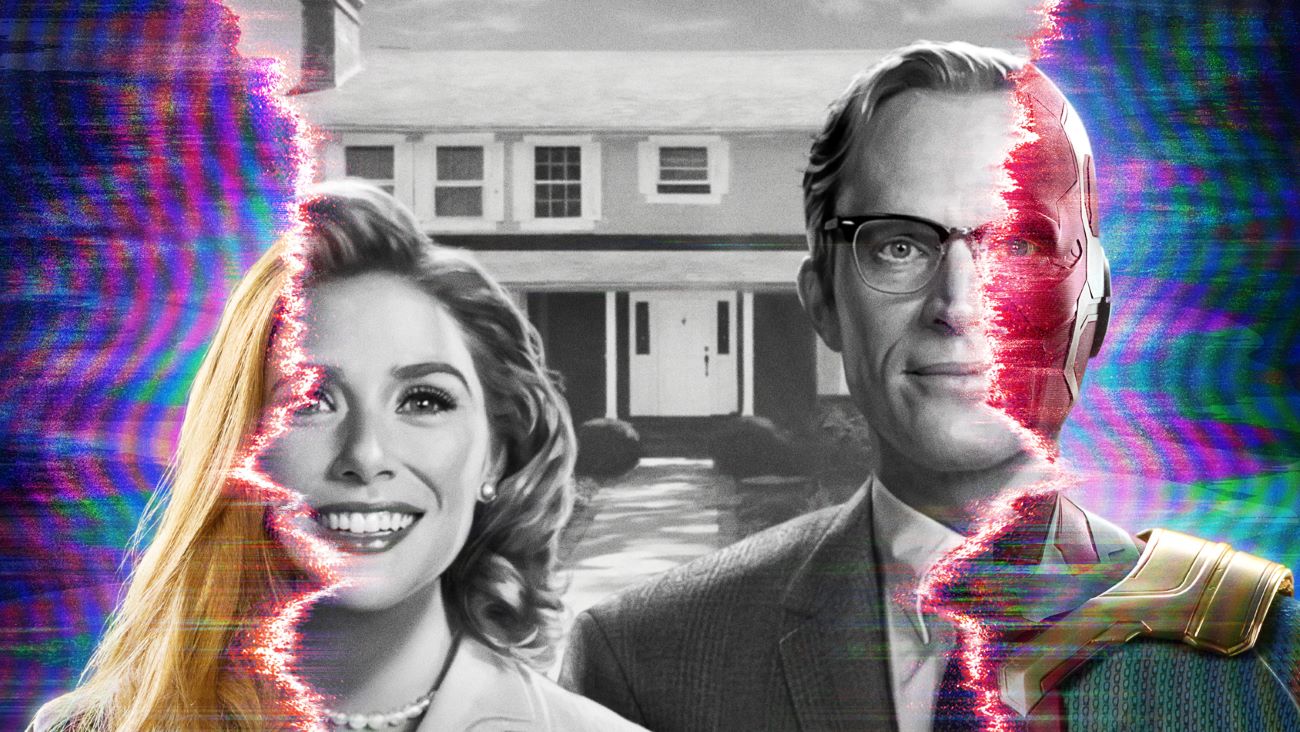 Friday, Disney+ tosses decades of sitcoms into a sci-fi blender with WandaVision. The big budget series brings Disney and Marvel heft to the blend, and the results, after three episodes screened, are intriguing.
The six-episode first season stars Elizabeth Olsen (younger sister of Full House sitcom toddlers Kate and Ashley Olsen) and English actor Paul Bettany as a suburban couple who seems plucked from another era of programming. That's the fun of the series, which seems to hop a decade each episode. The duo start off in a black and white world. They live in a TV house that looks very Rob and Laura Petrie, right down to the slatted window through to the dining room over the sink in the kitchen.
Rob Petrie, however, did not have a titanium skull. Bettany's character, Vision, is a cyborg underneath that Bottany 500 suit. Wanda's special powers tips us off that she's a Samantha Stevens'-like domestic witch.
The couple seem happy but they're puzzled by all the TV tropes that don't really make any sense to them. "What is it we really do at work?" Vision asks a co-worker — a question Ward Cleaver could easily have asked Lumpy Rutherford's dad Fred at any moment on Leave it to Beaver. A job was very often just a stage direction on a '50s or '60s sitcom.
There's a laugh track and a nosy neighbour (Kathryn Hahn, delightfully Millie-esque) and everything but an ottoman. There's even a fake, '60s commercial for a toaster in Episode One; future ads also are carefully designed to reflect the era of the episode.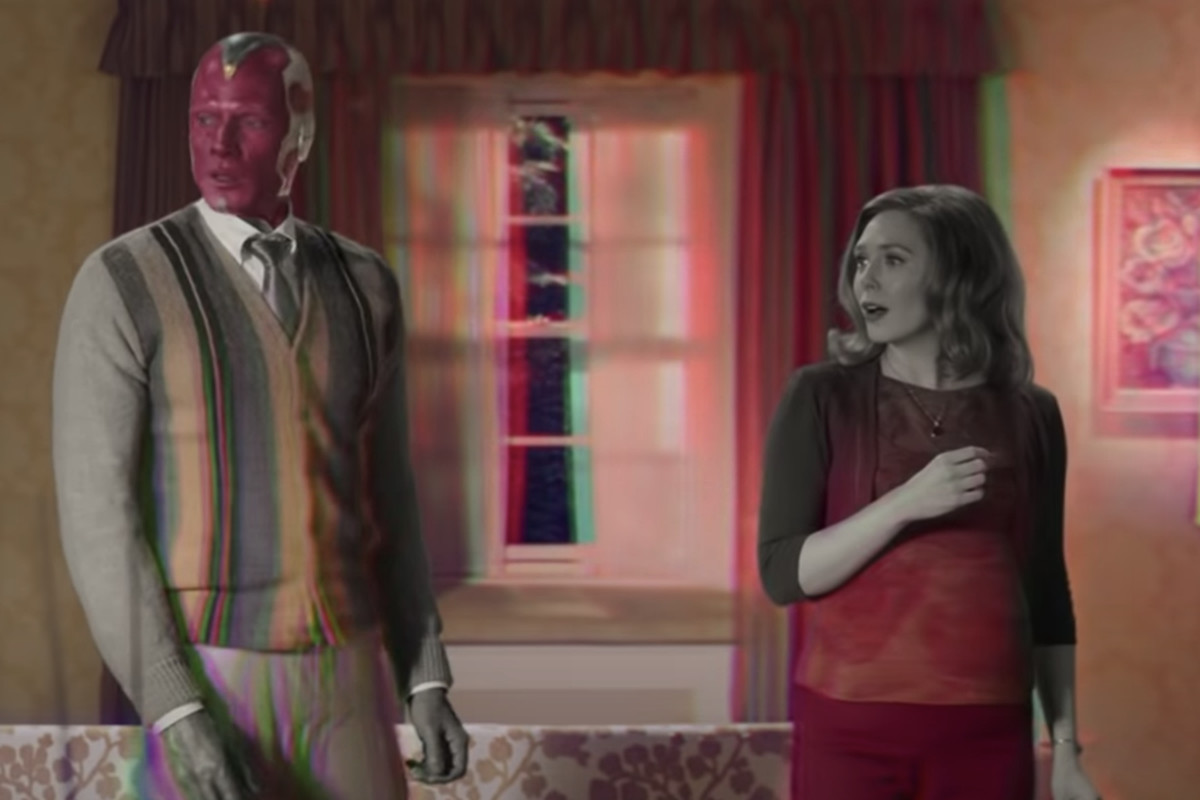 There are hints, however that something a little off, maybe even sinister, is lurking beneath the surface. The toaster in the black and white ad has a soft red light. That never happened on my parent's 18-inch Marconi. Wanda also seems to have the ability to change the narrative if the story veers a little too Twilight Zone.
By the second episode, the house and the animated opening credits have been Bewitched. This new house has a staircase with white posts, floor to ceiling windows and a dining room-kitchen area screaming out for Larry Tate or Uncle Arthur. By the end of the episode, everything changes from black and white to colour — just as it did early on in the eight-season run of Bewitched.
By season three, the colour gets cranked just as it did on The Brady Bunch in 1969. Hats off to the team behind sets, costumes makeup and effects on WandaVision.
Fans of Marvel films and comics know that Vision and Wanda Maximoff/Scarlett Witch are part of the Avengers universe. Coming into the series with that knowledge will likely tip off some viewers as to what is behind all this sitcom chicanery. If you're not Marvel experienced, however, you can still, like Vision, get quickly up to speed.
The series is directed by Matt Shakman with Jac Schaeffer the head writer. Both had a hand in Marvel's Avenger films. Besides Hahn, Teyonah Parris, Randall Park and Kat Dennings are regulars. That '70s Show standout Debra Jo Rupp adds sass to her scenes as a boss's wife from the '60s.
As someone who grew up with '60s and '70s television (and who still collects 16mm prints of The Dick Van Dyke Show and Bewitched), it was easy to get into this world. Things would quickly get dull, however, if WandaVision stayed in a retro rut. Even a brand new four-camera sitcom can seem like a relic from another era. (See Call Me Kat.)
WandaVision does for sitcoms what The Mandalorian did for "Star Wars" — it re-wires the old tropes for a new generation.