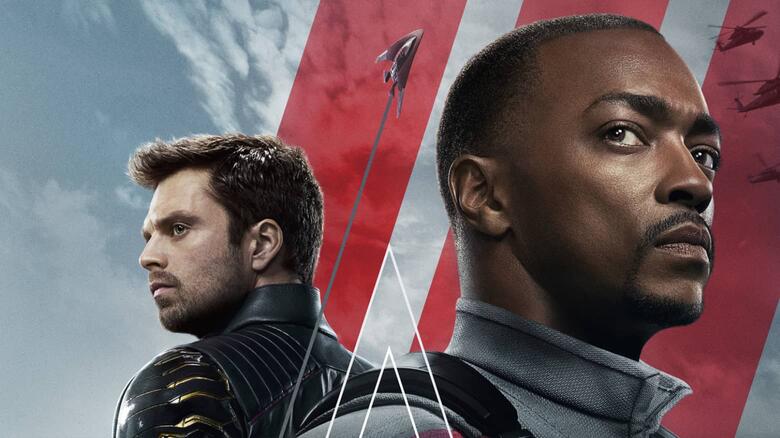 There are many different ways to measure success in television these days. At brioux.tv, we take a weekly look at the Numeris Top 30 which looks at broadcast and specialty. Left out of the conversation is streaming and digital subscription-based services. Viewership numbers are not shared by Netflix, Disney+ and others, but there are ways to look at what shows are trending or are most in demand.
One global service that claims to offer a more "holistic" and "unbiased" approach is UK-based Parrot Analytics. The look at audience behaviour through "taste clusters" well ahead of premieres, including advance buzz on social media platforms. Demand, according to Parrot, drives monitization.
The company has just published a 75 page report examining how SVOD platforns have fared with their digital original offerings around the world. Some interesting findings:
In the first quarter of 2021, the global platform demand for digital originals is still dominated by Netflix. As the chart below shows, their originals still enjoy slightly more than half the overall global demand by viewers. Prime Video is second with 12.2 per cent, followed by Hulu at 6.1 and Disney at 6.0. AppleTV+ (4.7), HBO Max (4.1) and Paramount+ (3.2) follow.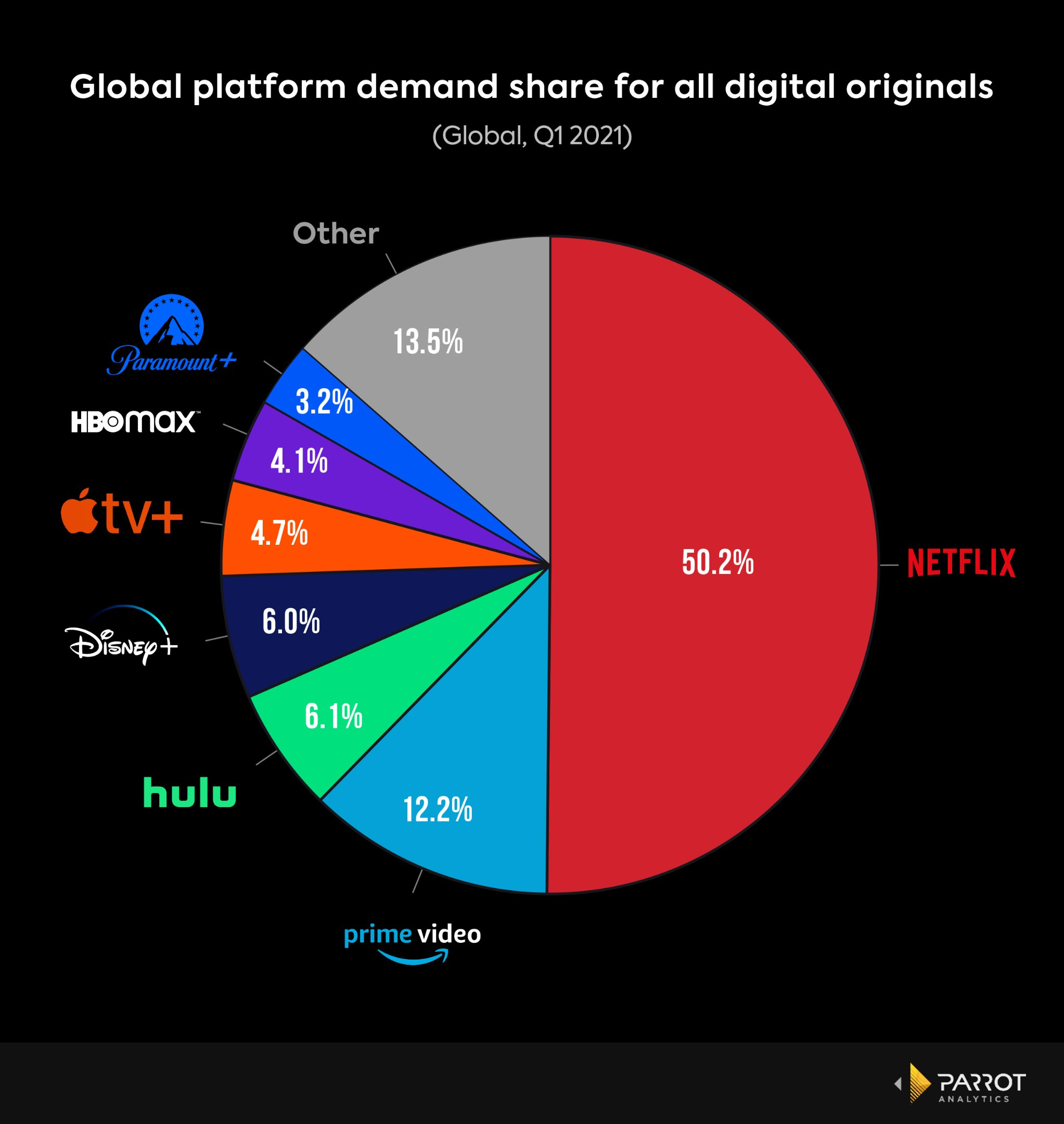 Driving that demand, according to Parrot, is Cobra Kai, the most in-demand digital original series in the US from January 1 to March 31, 2021. According to their metrics, it averaged over 50 times higher in terms of demand than the average TV series. In second and third spots are Disney+ originals The Mandalorian (season 2) and WandaVision.
Parrot did show that global demand for all other SVOD services has caught and passed demand for Netflix in the first quarter of 2021. Still, Netflix shows growth despite a lot of gang-tackling competition.
Because the analysis is about shows, not platforms, the findings seem to underplay the fact that Disney+ has gone from zero to over 100 million subscribers in the past year-and-a-half. Disney has key titles driving demand, as the chart below shows, but Netrflix is still in the Top-10 with Cobra Kai, Stranger Things and The Crown and just has so many titles their demand share swells beyond all other services.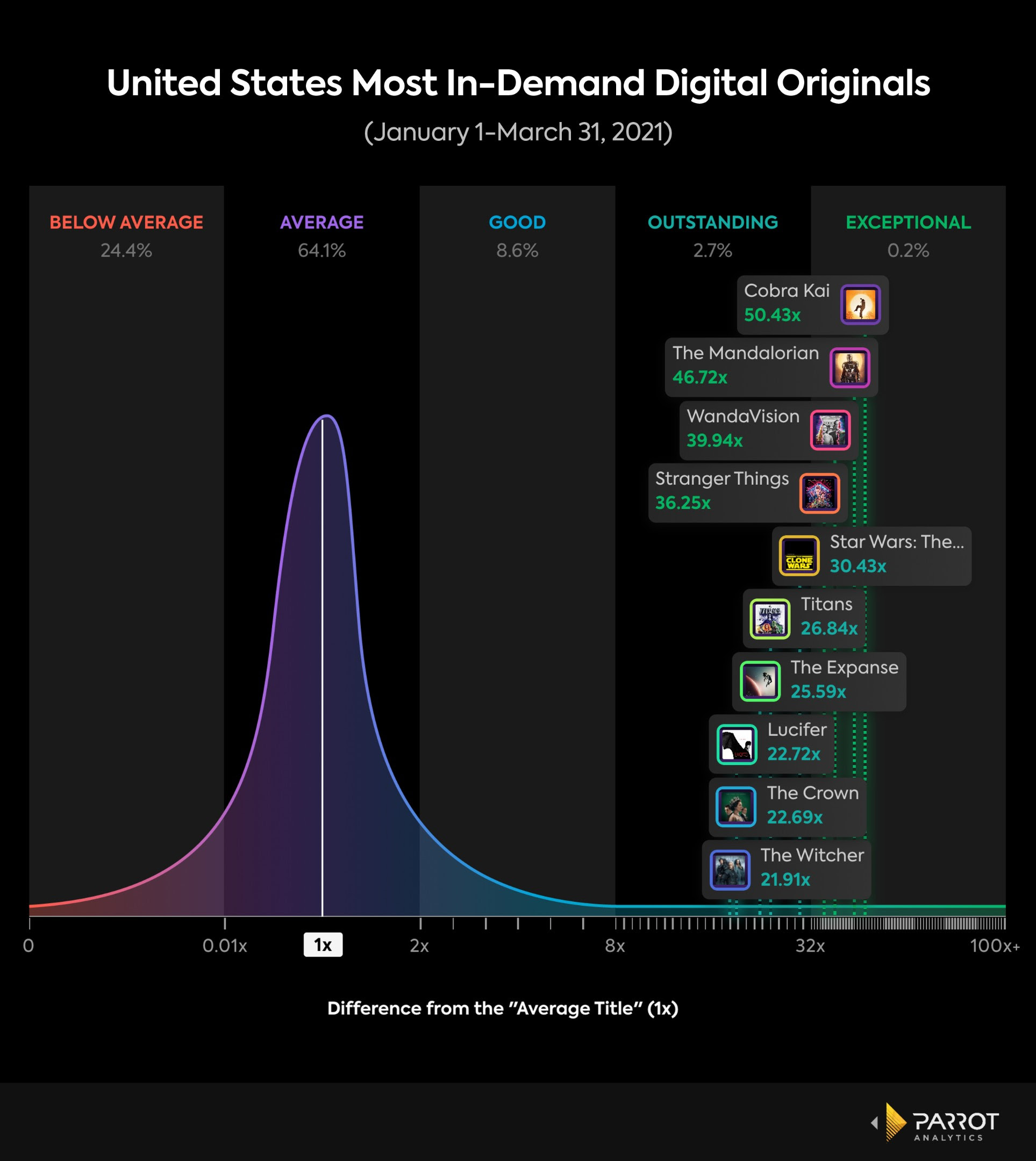 What are the most in-demand series in Canada — digital or otherwise? Parrot looks at TV shows with the highest demand growth rate over the past 30 days, based on what they call their global cross-platform TV demand data. According to Parrot, here's the current Top-10:
The Falcon and the Winter Soldier (+270.9%) Disney+
House Hunters International (+192.9%) HGTV
Superman & Lois (79.9%) The CW
WWE Wrestlemania (+72.8%) WWE Network
Big Brother Canada (+57.5%) Global
Keeping up with the Kardashians (+54.0%) E!
Manifest (49.3%) NBC
The Masters (+48.3%) CBS
My Little Pony: Equestria Girls (+46.8%) Discovery Family
Supergirl (+46.0%) CBS
Based on their data, Parrot says there is 27.4 times the demand for the Marvel Comics action series Falcon and the Winter Soldier than the average TV series in Canada over the past 30 days. Sebastian Stan (James, "Bucky" Barnes/Winter Soldier) and Anthony Mackie (Sam Wilson/Falcon) star in the series, which premiered March 19 on Disney+.
While the findings are an indicator, keep in mind that Parrot's methodology has a global sway. In measuring demand for The Masters, for example, Parott looks at how demand in Canada compares to a program's home market. They found that demand for The Masters in Canada was 63 per cent compared with demand in the United States.
There also seems to be a bias towards genre shows that travel better internationally. Parrot shows there is enough demand for horror series Clarice to rank it 14th out of all shows Canadians wanted to check out in the past 30 days. That seems entirely based on the fact that it was something new in March. The "Silence of the Lambs" spinoff is not performing well at all in the ratings and likely will not be renewed by CBS.
Based on that criteria, however, where is The Equalizer? The Queen Latifah vengeance drama is also new on CBS and performing much better on both sides of the border in the traditional ratings.
They also have Top Gear in their Canadian Top-20. That ranking for the BBC Two series seems largely influenced by it's enormous draw in the UK. Parott shows that demand for Top Gear here is just 35 percent what it is for the car show series in The UK.
The only non-sports show on the Parrot list that might also show up on the Numeris list would be Big Brother Canada. Yet that reality series, back after sitting out an edition due to COVID, is not quite the draw it has been i past years on Global according to Numeris.
Which raises the question: where are all the hour-long drama imports such as The Good Doctor and 9-1-1 that dominate Numeris' Top 30 in the Parrot findings? Can a series be watched by two million in Canada and still not be "in demand"?