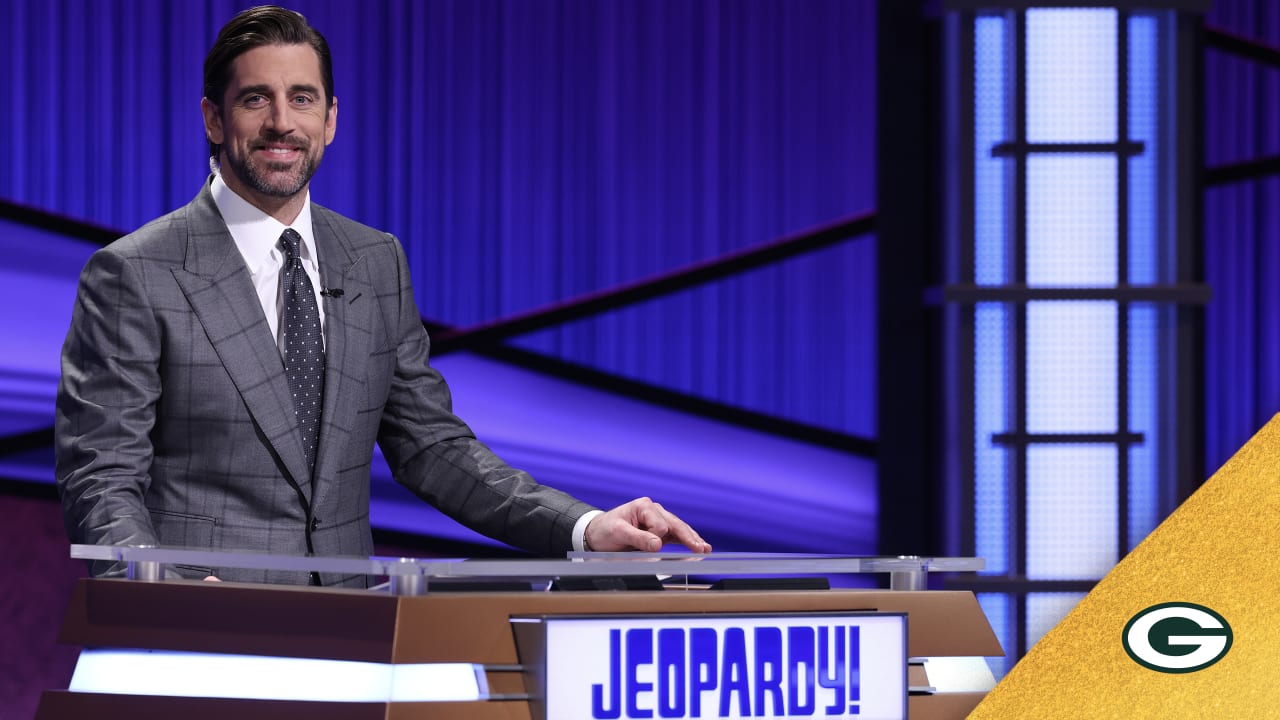 There's been a lot of discussion about the fallout from executive producer Mike Richards' abortive attempt to become the next host of Jeopardy! Was he ditched because of insider-y optics that suggested the fix was in? Or was he cancelled after insensitive comments from the past that came back to haunt him?
Either way, data just released from Parrot Analytics suggests that who hosts the long-running quiz show may not be that important after all.
Ratings have been high for Jeopardy! in Canada pretty much all year. In the wake of the news that Richards had emerged as a controversial choice, the series ranked 13th in Numeris' latest Top-30 weekly tally among programs watched in English Canada.
Raw numbers, however, don't always tell the full story. Parrot did a survey to try and determine which hosts have driven the most demand for the show to date. Factors such as social media interest factor into their methodology. No. 1? Ken Jennings, followed by Anderson Cooper and Aaron Rogers. Katie Couric came next, then Richards.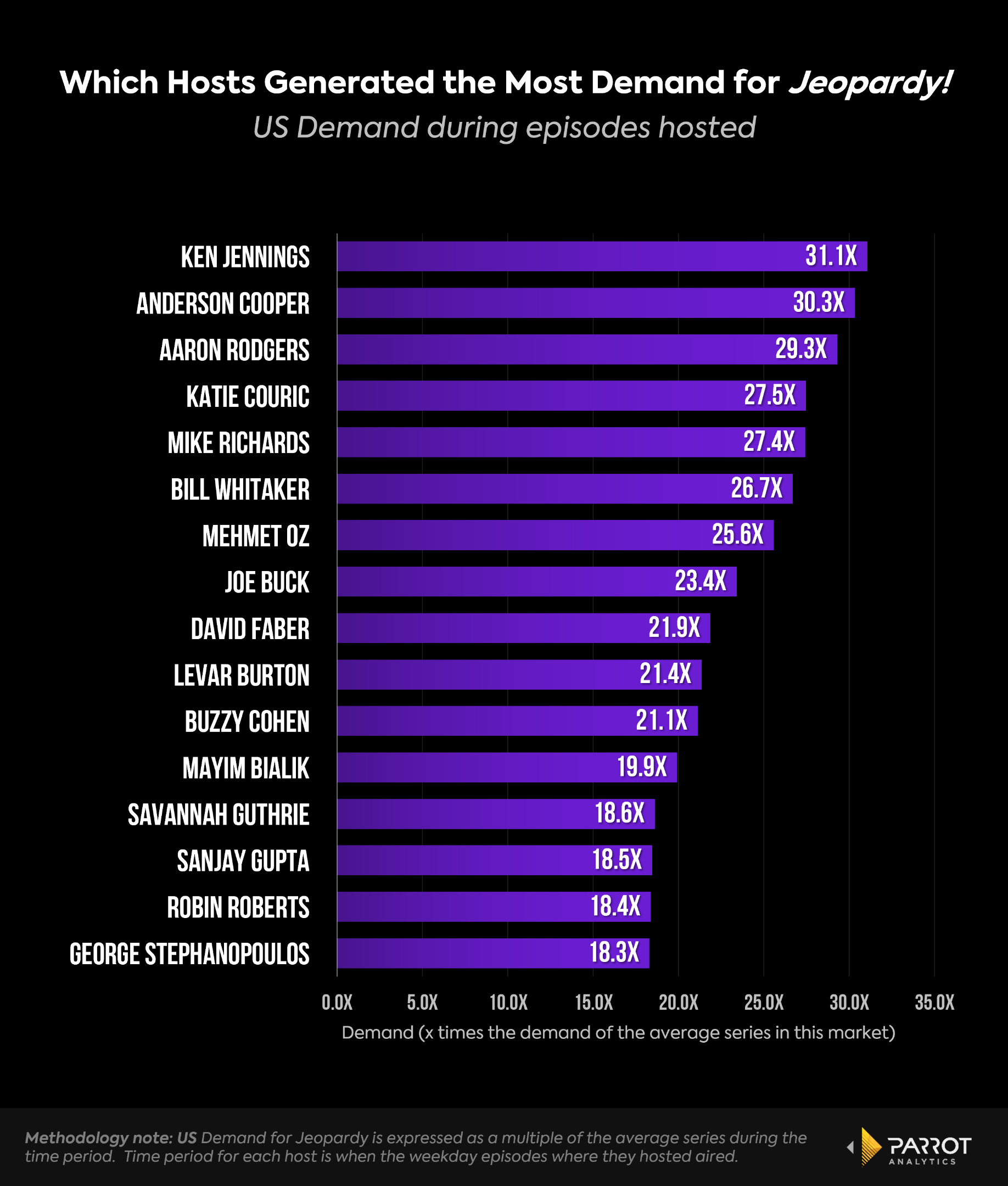 In 11trh spot: Mayin Bialik, one spot lower than Buzzy Cohen and two behind the people's choice (at least on Twitter), LeVar Burton.
Now, the survey fails to point out several variables. Who auditioned in the dead of winter, usually the high time for TV viewership (Jennings)? Who had the longest audition period (Jennings)? Who had to go up against the Olympics (Burton I think)?
More of an eye-opener, for me anyway, was the spike over the last few years in demand that had nothing to do with who is host.
The demand for Jeopardy!, according to Parrot, has been on a steady decline the past five seasons. Highest demand of all was recorded in 2019 when contestant James Holzhauer was defeated, ending his 33 episode run. Another spike in interest came a few months prior to that, when Alex Trebek went public with his cancer diagnosis.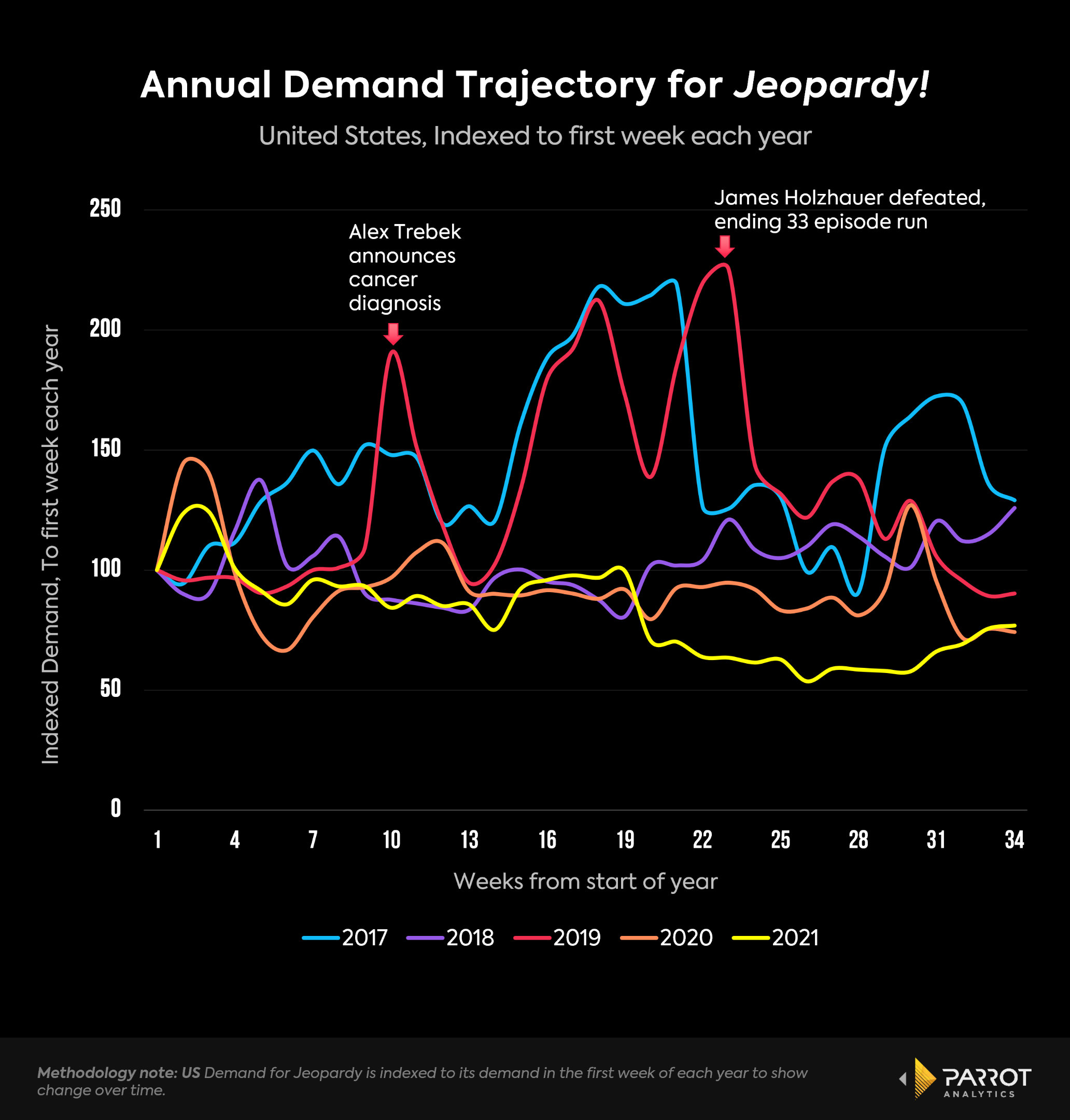 Parrot numbers crunchers came to two conclusions:
A lower level of demand for the show without the star power and familiarity of Alex Trebek isn't surprising, but the downward trajectory indicates that audiences are losing attention for the show as the season goes on and hosts come and go.
The upward turn in demand for Jeopardy! in the past few weeks indicates that as the show reached the conclusion of its guest host rotation and a decision was imminent, audiences began paying more attention.
Parrot also asked which guest host would have the greatest impact in expanding audience demand for Jeopardy! The answer: Aaron Rogers.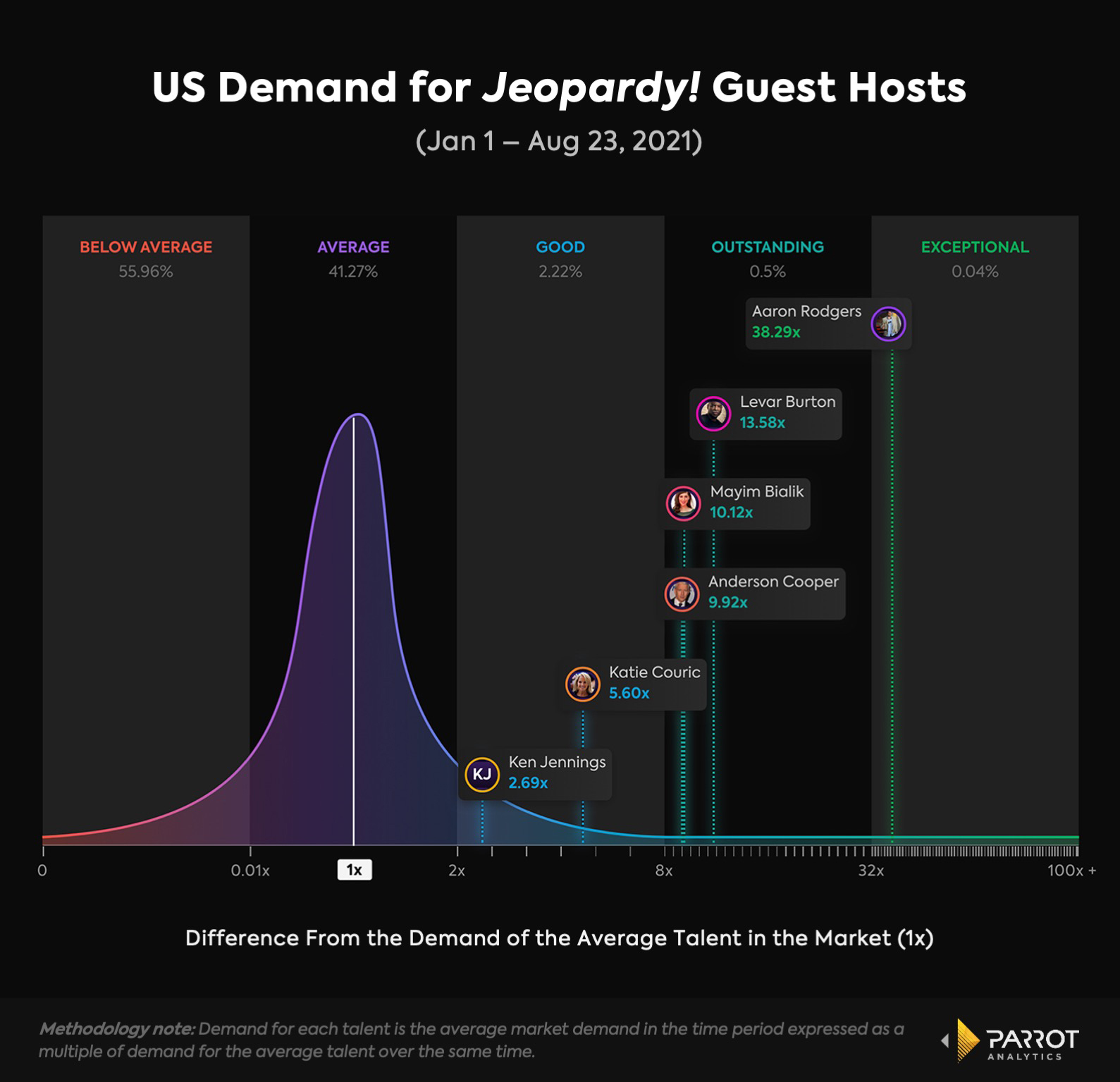 Concluded Parrot:
Aaron Rodgers is by far the most in-demand talent of these guests hosts, with 38.3x more demand than the average talent in the US so far this year. There seems to be a clear symbiotic effect between Rodgers bringing a new audience to Jeopardy!, and Jeopardy! giving him a whole new audience beyond his NFL performances and State Farm ads.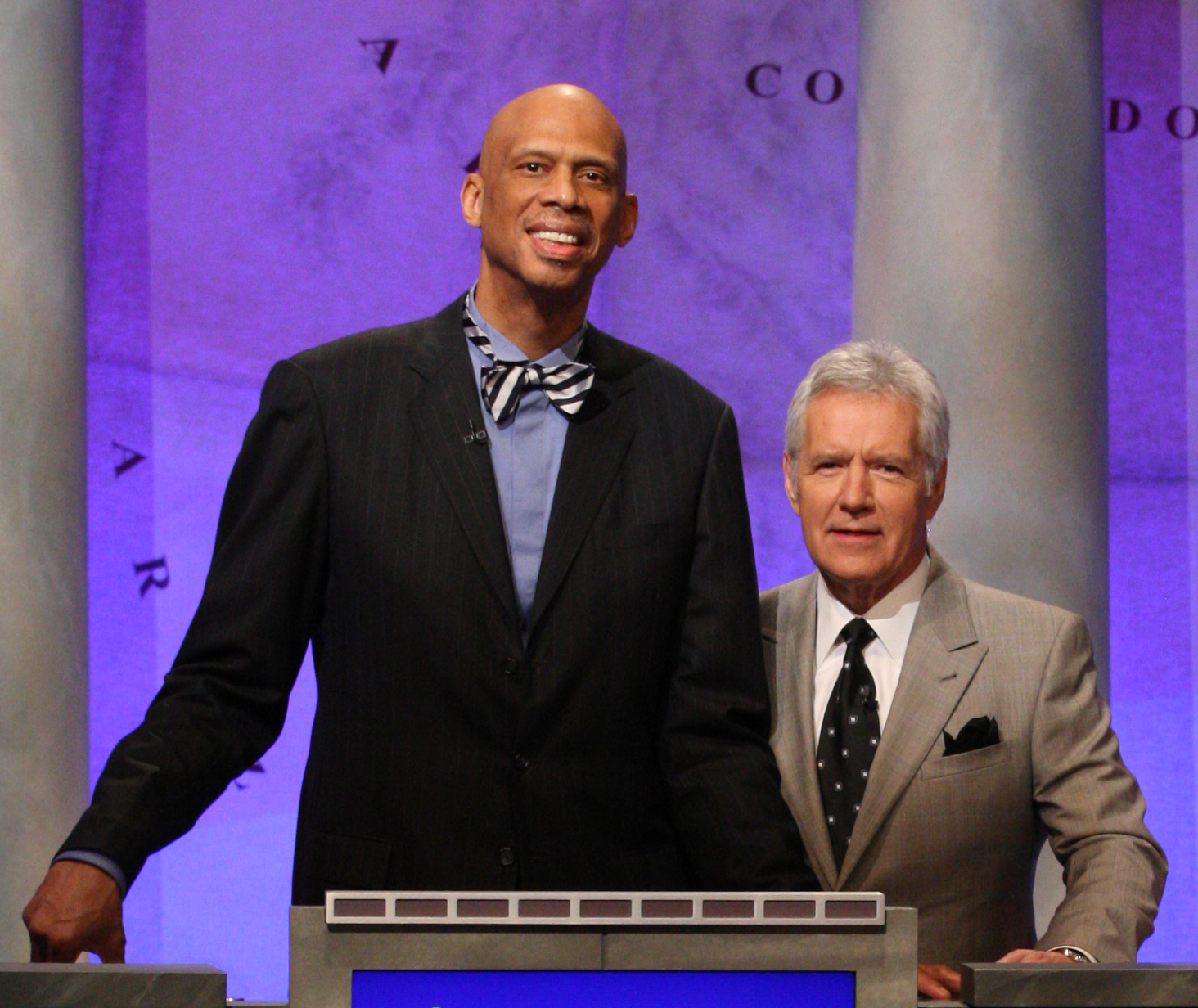 UPDATE: After I posted the above, along comes my favourite TV critic with the definitive answer as to why the choice of Richards to host Jeopardy! was flawed and how the ultimate solution to this mess should be approached. Take three minutes and read former contestant Kareem Abdul-Jabbar spell it out for us.