No doubt viewers will remember Jon Stewart's impassioned plea before the U.S. congress on behalf of the first responders. These were the people who fearlessly did their jobs at ground zero on those horrible days 20 years ago this September.
Now a Canadian-made documentary, shot over five years and chronicling the fight to gain compensation for these heroes, is set to premiere on the new streaming service discovery+.
The documentary does feature Stewart, but primarily focuses on John Feal and FDNY hero Ray Pfeifer as they tirelessly lobbied the U.S. government to provide healthcare and benefits for the thousands of responders who are suffering with life-threatening and financially devastating illnesses from toxins released at Ground Zero after 9/11.
As director Rob Lindsay points out, these are health care benefits most Canadians take for granted.
"The insurance companies down there, they just weren't covering what they were all sick from," says Lindsay, a former Air Farce films director and the producer-director behind "Go-Boy! Memories of Life Behind Bars." Not covered, for example, was the on-set of cancer or other long-term effects from the toxins many who worked near the World Trade Center site breathed or were covered in for days.
Lindsay's Farce colleague Kelly Zemnickis happened to catch Jon Stewart's passionate support of the first responders when he guested on The Daily Show after Trevor Noah took over as host. She tweeted out her support for the cause. A responder saw her tweet, got in touch and suggested she call John Feal. She did, the two connected, and Lindsay was pulled into the loop. A decision was made to head to Long Island with a camera crew and record Feal dedicating a park to the rescue workers of 9/11.
Feal, a heavy equipment operator, was injured on 9/11 when one of the beams from the towers fell and crushed his foot. He quickly realized he was not alone when it came to seeking medical compensation for injuries suffered at Ground Zero. He observed, for example, how trucks and equipment were sprayed down for toxins. The people doing the rescue work, not so much.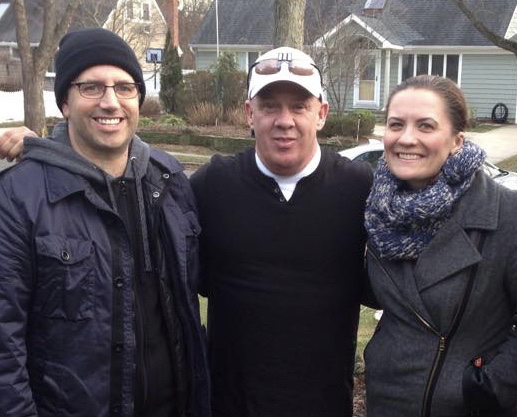 Lindsay didn't know it at the time, but recording Feal's initiatives at that Long Island park turned out to be the first shots of this documentary.
Stewart, as mentioned, helped the cause by drawing serious media attention to the plight of the responders. (His new series, The Problem with Jon Stewart, premieres Sept. 30 on AppleTV+.) He never gave up fighting on their behalf as the cause ran up against several political roadblocks. It all came to a head when the comedian and TV host's impassioned, "They did their jobs … 18 years later, do yours!" speech shamed congress into action in 2019.
So far, according to Feal,100,000 people have signed up for the compensation package finally provided by a congressional act. Another 30,000 to 40,000 could be eligible according to Feal.
"No Responders Left Behind" is produced by Lindsay's Paradox Pictures and is produced by Zemnickis, Kristine Yanoff and Jamie Sanchez. It premieres Thursday, Sept. 9 on discovery+.
When can Canadian's see it? Word is discovery+ will be available north of the border sometime later in 2021.