The worst part about bingeing through your favourite TV shows is that you immerse yourself in these fabulous worlds in a weekend and then have to wait 12 months to jump into them again.
At least with both Ted Lasso (AppleTV+) and Only Murders in The Building (Hulu; DIsney+'s Star in Canada), they were cleverly programmed in weekly clusters, spreading the joy over a few months. Lasso's second season finale can be streamed today and Murders can be viewered over the next two weeks.
I've seen both, and fans will cheer parts of each, quibble with other plot twists and then feel seduced and abandoned.
Which is way better than feeling indifferent.
Only Murders has two episodes left, next Tuesday Oct. 12 and then Oct. 19. There's a surprise character who joins the killer-hunting podcasters (played by Steve Martin, Martin Short and Selina Gomez), and this person, if you'll pardon the expression, kills it. More on that show in a later review.
Ted Lasso won big at the recent Emmy Awards, with Comedy statues going to star Jason Sudeikis, the magnificent Hannah Waddingham (soccer team owner Rebecca Welton) and Brett Goldstein (retired great Roy Kent). Other standouts are Jeremy Swift as Higgins, Phil Dunster as Jamie Tartt and Brendan Hunt as Coach Beard. Kudos, as well, to Juno Temple and Nick Mohammad.
For me, Ted Lasso is the Pfizer of TV shows — it makes you feel better and safer in very challenging times. There is plenty of humour and so many nerdy pop culture references you have to watch this show with Wikipedia. In the season finale alone Ted references Pauly Shore, Melrose Place and "The Hangover," among others.
It's not the jokes, however, it is the humanity that makes Ted Lasso special. This show cares. It washes away cynicism and advocates for joy.
Both Lasso and Murders gain enough good will to take chances with single episodes that might seem a tad shark jump-y to a lesser series. Lasso's comes late in Season Two when we follow Coach Beard into a nightmarish, after hours scenario. It becomes the Coach Beard show for 30 minutes. As a stand-alone series that would never sell, but as part of Lasso, it ultimately feels generous. The best shows — be they The Sopranos or Breaking Bad or Ramy — dare to indulge in secondary characters in a meaty way, letting the star sit one out and take one for the team. Lasso went all in with man-of-few-words Beard and Hunt steps up to the challenge.
Murders took the same chance with an episode that played out entirely as if heard by a character who was profoundly hearing-impaired. I kept checking the volume on my screen until I finally got it. It was a daring effect and one the series' creators earned.
One loveable character who emerged in Season Two of Lasso was Sam Obisanya, a winger from Nigeria played by Toheeb Jimoh. One of the youngest players on the team, he seemed wise beyond his years and was a ray of sunshine in a darker season. The storyline where he becomes Rebecca's sweet boy toy, however, was a soap-y move that seemed awkward and out of character for both.
More realistic, if also a big swing, was Sam being wooed by a Ghanaian billionaire (played by Sam Richardson). That storyline is rather hilariously resolved in the finale.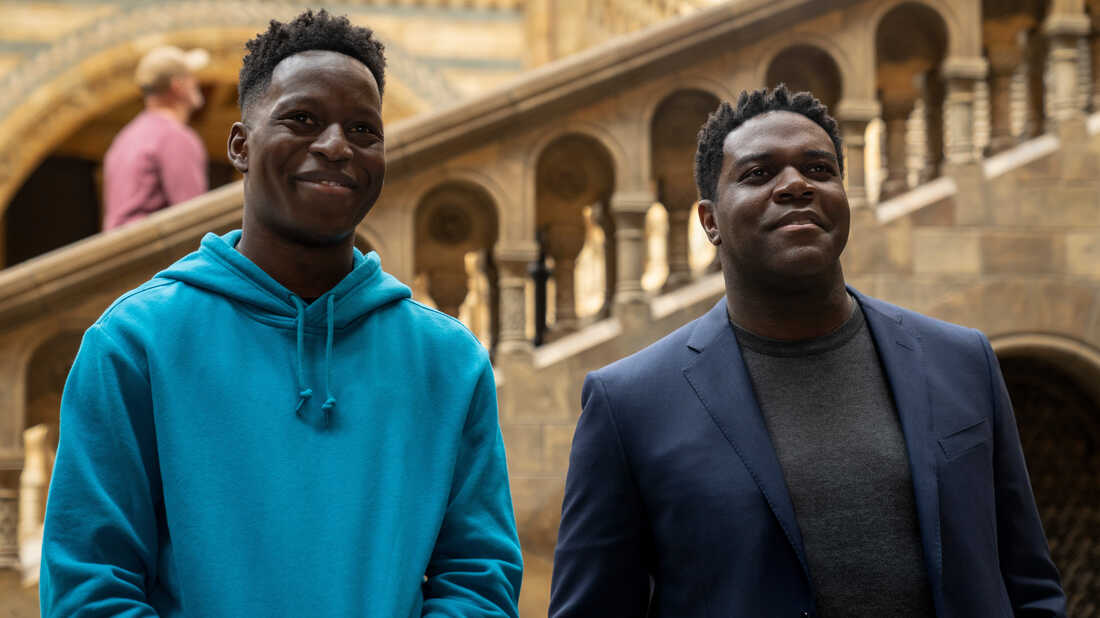 Lasso also added a character, team shrink Dr. Sharon Fieldstone (played by Sarah Niles), who brought some sneaky new dimension to this season. "Doc" helped viewers crack inside Ted Lasso's nimble noggin and go deep into the darker corners. That was a powerful move as it made Lasso as big and ugly as the rest of us, and thus even more admirable for his ability to ultimately cling to the notion that truth and kindness really can set you free.
It's a trick that dates back at least as far as th 1946 Frank Capra film "It's a Wonderful Life." If you want to show lightness and redemption, first plunge deep, deep into the darkness of a character and a situation. The cardboard "Believe" sign in the AFC Richmond dressing room has to be ripped in half before the power of the word can truly be felt.
Both of these shows tie up their season-long storyline and then, in the final minutes, introduce twists that leave you feeling unsettled and anxious. With Lasso, you had to wonder just how far Nate (Mohammad) would take this Brutus act that has been simmering all season. In the finale, you find out.
Those are cliffhangers, folks, and the good news is both of these remarkable shows will be back to take it from there — if we can somehow hang on until the middle of 2022 without them.