Some of these I've listed before, but I try to change it up a bit every December. You'll find some vintage Christmas episodes free to stream at CTV's Throwback channel. Hamilton's CHCH is also holding a daylone Christmas sitcom marathon Dc. 24 and 25th. Here, in chronological order (and heavy on the '60s) is my 2021 Twelve Sitcoms of Christmas list:
The Honeymooners (1955). In "T'was the Night Before Christmas." The story is as stark and simple as the Kramden's Brooklyn apartment: Ralph (Jackie Gleason) sells his beloved bowling ball to buy a present for his wife Alice (Audrey Meadows). By the end of the episode, you'll marvel at how much—after 65 years–four people (including co-stars Art Carney and Joyce Randolph) in one room can make you laugh and cry. (Some early "lost" episodes of The Honeymooners are available for streamimg on Tubi.)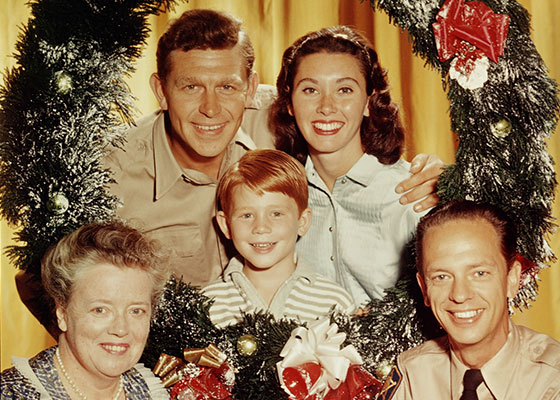 The Andy Griffith Show (1960). A town Scrooge forces Sheriff Taylor (Griffith) and Deputy Barney Fife (Don Knotts) to keep a family locked up over the holidays. When Aunt Bee (Francis Bavier) and Opie (future director Ron Howard) bring Christmas to the jail, you'll want to be locked up too. Griffith even gets to sing and play the guitar. You'll watch this and say, "Why can't they make TV shows like this anymore?" Seen weekdays on CHCH.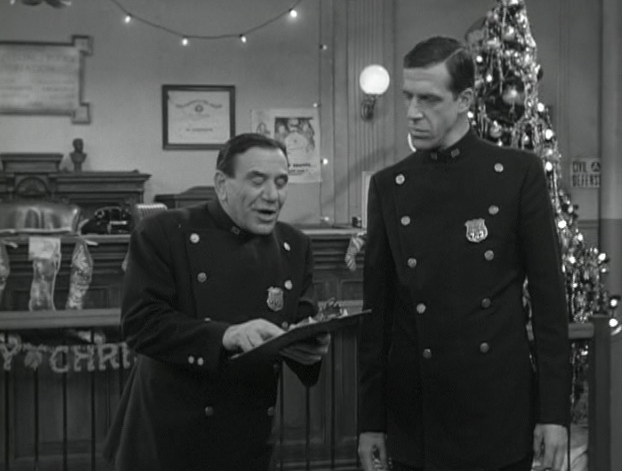 Car 54 Where Are You? (1961). In the episode titled, "Christmas at the 53rd," Capt. Block (Paul Reed) and officers Toody (Joe E. Ross) and Muldoon (Fred Gwynne) headline the precincts' annual Christmas show, and Gilbert & Sullivan fans are in for a treat. Gruff Ross offers a shockingly moving song, especially considering some consider him the worst human being on Earth. Bewitched fans will recognize a young Alice Ghostley as Muldoon's sort-of girlfriend. I love the energy of this episode which is like attending a live, holiday performance from the actors who make the show. If it seems as if the writers were taking the week off, they still had to pull together some terrific song parodys — and the actors had to be talented enough to put them over. As you'll see below, this formula was tried, successfully, by others. Stream it now on-demand on Tubi.
The Dick Van Dyke Show (1963). In "The Alan Brady Show Presents," we finally get to see the variety TV show writers Rob and Buddy and Sally all work on: The Alan Brady Show. Brady appears as Santa in a sleigh pulled by June Taylor-ish dancers while his writers step on stage and perform various musical numbers. There's Buddy (Morey Amsterdam) with his cello, Sally (Rose Marie) witrh her Jimmy Durante impression, Rob (Van Dyke) with his Laura (Mary Tyler Moore), adorable together in matching, hooped Santa suits. Even Mel (Richard Deacon) and Little Ritchie (Larry Matthews) gets into the act. CBS keeps colourizing Dick Van Dyke episodes — why haven't they colourized this one yet?
That Girl (1966). The first colour episode on this list, "Christmas and the Hard-luck Kid" finds Ann Marie (Marlo Thomas) telling boyfriend Donald (Ted Bessell) about the time she slept over at a school with one of her students who was missing out on the holidays. It's not as creepy as it sounds. The kid was played by Christopher Shea, better known as the voice of Linus from A Charlie Brown Christmas and other Peanuts specials. A very early effort from writer James L. Brooks. Can be streamd on Amazon Prime Video.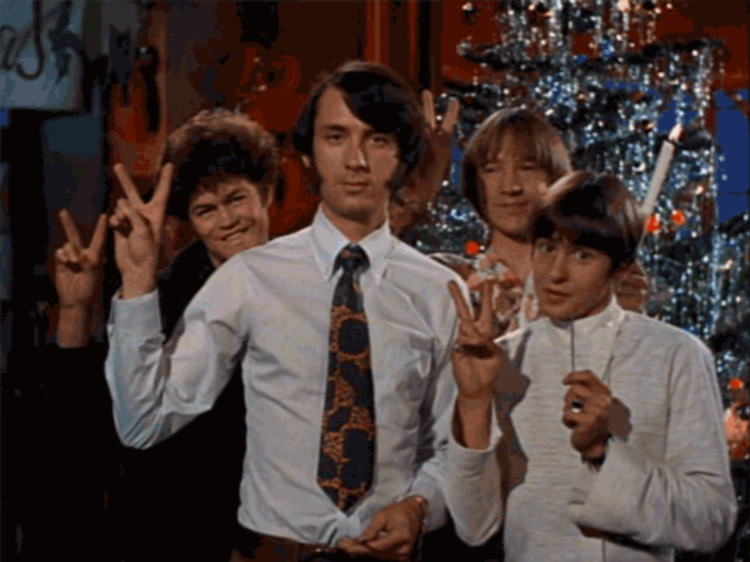 The Monkees (1967). "The Monkees Christmas Episode" will make you a believer, especially this year with the recent passing of Mike Nesmith. Butch Patrick (Eddie from The Munsters) plays a cynical lad who hates Christmas. The Monkees try to lighten the kid up. Th usual silliness, with plenty of cool toys and without a laff track for once. The ending is the best part, and probably the vocal highlight of the whole series, as The Monkees harmonize beautifully a cappella on "Riu Chiu." Then they welcome the real camera crew to come on the set and take a bow. Watch the entire episode on YouTube.
Family Affair (1968). "Christmas Came a Little Early." This is the strangest and saddest one on the list. A sickly child in Buffy's class, Eve (played by future Brady Bunch daughter Eve Plumb) is too ill to attend school. The teacher is literally phoning it in. This year it would have been a zoom call. Anyway, Eve is very sick. Buffy (Anissa Jones) wants to cheer her up. Uncle Bill (Brian Keith) decides they'll host a Christmas in July party. Mr. French (Sebastian Cabot) puts on a red suit. It all leads to a very sad scene between Keith and Jones. Weird and maudlin? Sure, but brave to deal with death and kids on a '60s sitcom — and Jones and Keith make you feel the loss. Stream it on-demand on Amazon Prime Video.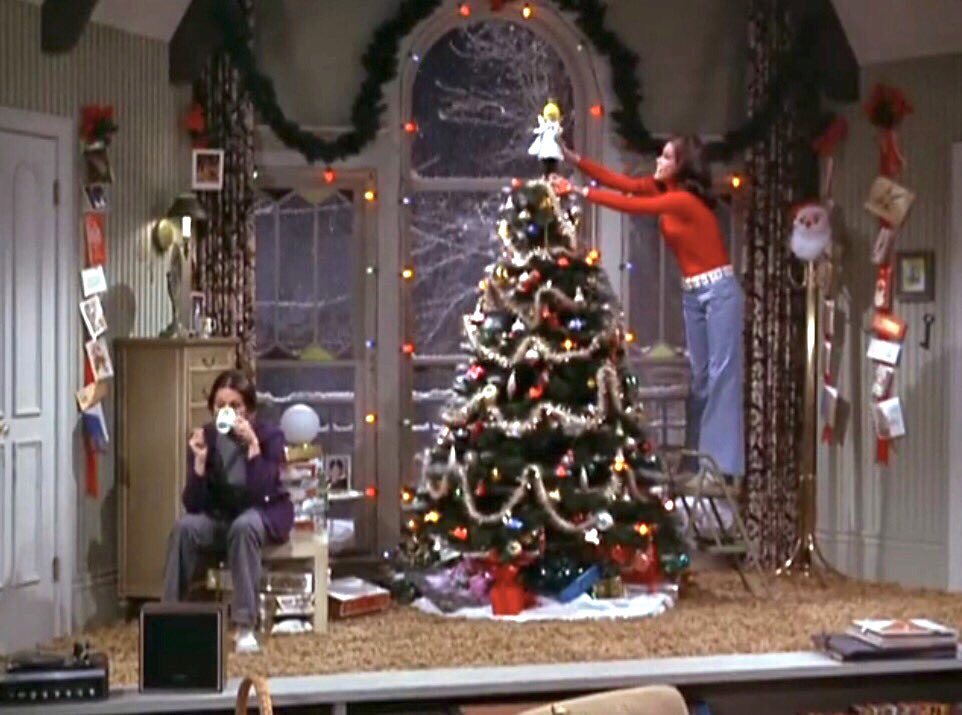 The Mary Tyler Moore Show (1970). Often the best Christmas episodes involve lonlinss and isolation — so perfect for re-watching through COPVID times. "Christmas and the Hard-luck Kid II" is a theme writer James L. Brooks returned to after writing a similar That Girl episodes a few seasons earlier. New to WJM, Mary learns from boss Lou Grant (Asner) that she has to work and can't go home for the holidays. You just know Rhoda and Phyllis and the others will bring Christmas to her before the final act.
Sanford & Son (1975). "Ebenezer Sanford" is yet another variation on the Dickens' classic. Scrooge-like Fred Sanford (Redd Foxx) can't stop insulting everyone, including Aunt Esther (LaWanda Page). "I have the feeling of Christmas," she tells him. "And the face of Halloween," he replies. When Fred falls asleep, he is visited by three ghosts, all played by his son Lamont (Demond Wilson). Funny and touching, with Foxx warming up at the end with a version of "The Christmas Song." Follow this link to stream it now on CTV Throwback.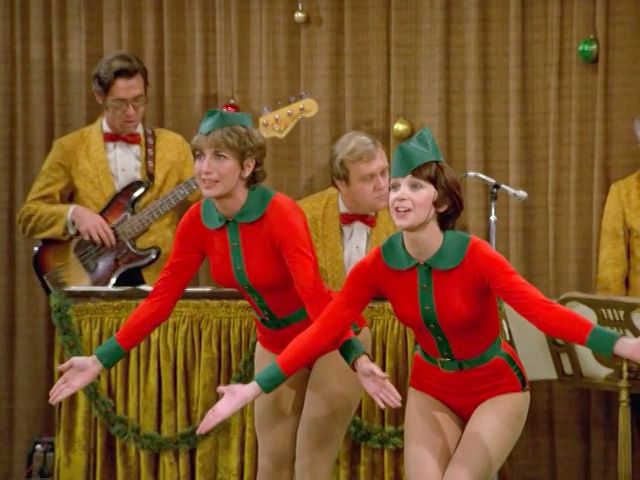 Laverne & Shirley (1976). "Oh Hear the Angels' Voices" is another, "Let's put on a show" episode. It's co-written by Garry Marshall, who was a writer-producer on The Dick Van Dyke Show. The charm of it is seeing Penny Marshall, Cindy Williams and the rest of the regulars cut loose with Christmas songs and sketches, including recently departed David L. Lander as "Squiggy." It is a tad iffy, however, that the show takes place in a "mental ward." Look for future WKRP standout Howard Hesseman as a doctor — or is he?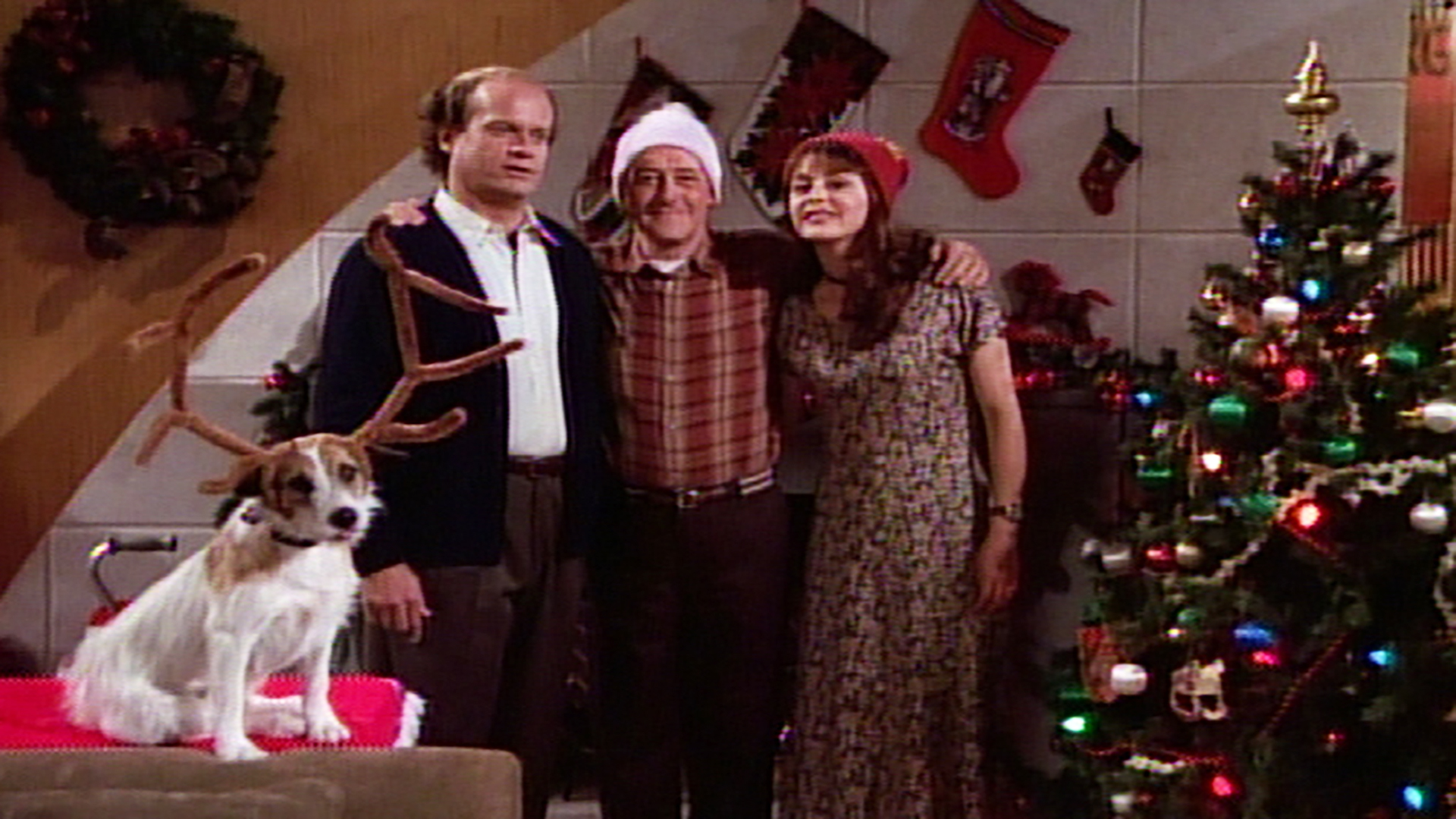 Frasier, like Bewitched, did several Christmas episodes — eight in fact. My favourite is the first season gem, "Miracle on Third or Fourth Street," (Dec., 1993). Crushed by the last-minute news that son Frederick will no longer be visiting for the holidays, Dr. Frasier Crane (Kelsey Grammer) volunteers to work Dec. 25th at the radio station. Features a stellar script by series co-creator Christopher Lloyd, the episode is funny, sad and moving and aggressively unsentimental. Listen for celebrity voices Mel Brooks, Ben Stiller and Rosemary Clooney among the depressed radio station callers who call the good doctor. Available for streaming on Crave.
Community (2010). Made in the style of those Rankin/Bass stop-motion Christmas specials, "Abed's Uncontrollable Christmas" finds Abed (Danny Pudi) and his study-group pals in a weird fantasyland, searching for the true meaning of Christmas. Available for streaming on Netflix.