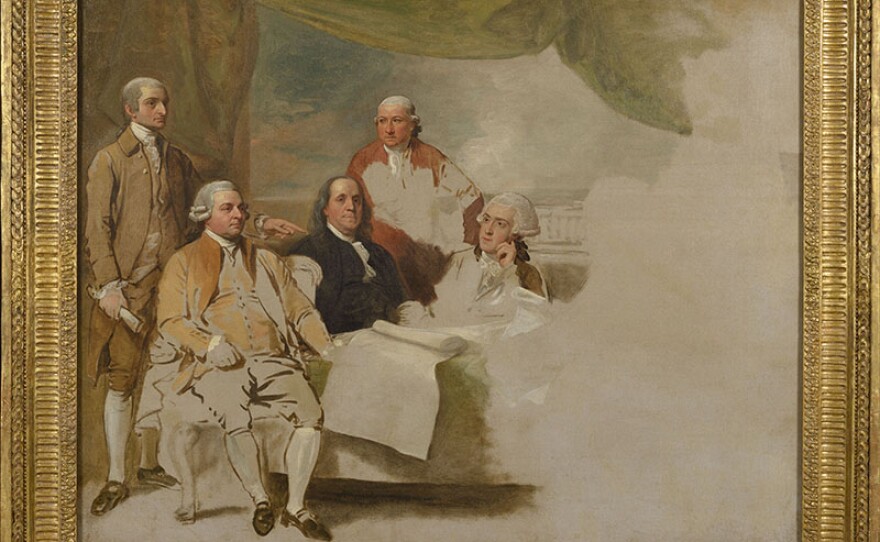 Documentary filmmaker Ken Burns has turned his attention of late to 20th century subjects such as Muhammad Ali and Ernest Hemingway. Besides the usual mix of historians and voice-over performances by actors, this has allowed for those stories, through film clips and other recordings, to be told by the actual subjects.
This week, Burns and his associates at Florentine Films travel back a few centuries in presenting "Benjamin Franklin." The two-part, four-hour study of one of America's founding fathers begins Monday night on PBS and concludes Tuesday.
Burns told reporters back in January on a TCA-PBS zoom call that he considered Franklin and Ali, "two of the most compelling humans of the 18th and 20th century."
Wonder if that has anything to do with them sharing the same birthday? Both Franklin and Ali were born on January 17. Ever the historian, Burns also pointed out that all of the issues Franklin and Ali faced in their days "are all the things that are playing out today."
Burns relies on existing paintings of Franklin in telling the man's story, as well as graphic, black and white woodcutting-style illustrations that were popular in the day. Samples of Franklin's many printing efforts, including images from Poor Richard's Almanac and The Pennsylvania Gazette, are also used.
For Franklin's voice, Burns had an epiphany that "there was only one person who would read the voice of Franklin," and that was Mandy Patinkin, "who I have adored and respected for a long, long time." He felt Patinkin did an outstanding job, elevating "the meaning for us as filmmakers beyond what we thought even imaginable."
Patinkin (below) was equally effusive in his praise of Burns and company. "I consider getting to be his voice for those sessions when we recorded it one of the privileges of my artistic life." Carolyn McCormick, Josh Lucas, Paul Giamatti and Liam Neeson also lend voice to the series.
The documentary shows that Franklin, almost entirely self-educated, was a person of great ambition but also of many contradictions. He was considered the greatest American writer of the period, the greatest scientist on this continent and the greatest diplomat in America's history. There were also, however, at least six enslaved individuals in the Franklin household, and his newspaper, The Pennsylvania Gazette, earned advertising revenue from the sale of enslaved people and notices for runaways.
Late in his life, Franklin did speak out publicly for the abolition of slavery.
Several historians also provide perspective on "Benjamin Franklin." Walter Isaacson, author of, "The First American: The Life and Times of Benjamin Franklin," noted how the newspaperman and publisher "invented" a classic form of American writing later popularized by such humorists as Mark Twain and Will Rogers. Franklin's almanacs were packaged with "a casual, cracker barrel type humour in which he's talking in an informal way."
One of Franklin's sayings was that he was dressing "not for company, but for family." Another saying that found its way in his publications was, "He who sleeps with dogs wakes up with fleas."
Another historian featured in the documentary is Erica Armstrong Dunbar, PhD, Professor of History, Rutgers University. She points out that, besides Franklin's immense skills and knowledge when it came to science and writing, "he had an incredible amount of emotional intelligence … He's someone who the common man can connect to, right? He liked to party. He liked women."
Written by Dayton Duncan ("Country Music," "The National Parks") and produced by Burns and David Schmidt ("The Vietnam War"), the documentary is narrated by long-time Burns' collaborator Peter Coyote. It premieres tonight, Monday, April 4 at 8 pm ET/PT and concludes Tuesday on most PBS stations (check local affiliates). It will also stream on PBS.org and the PBS Video app.