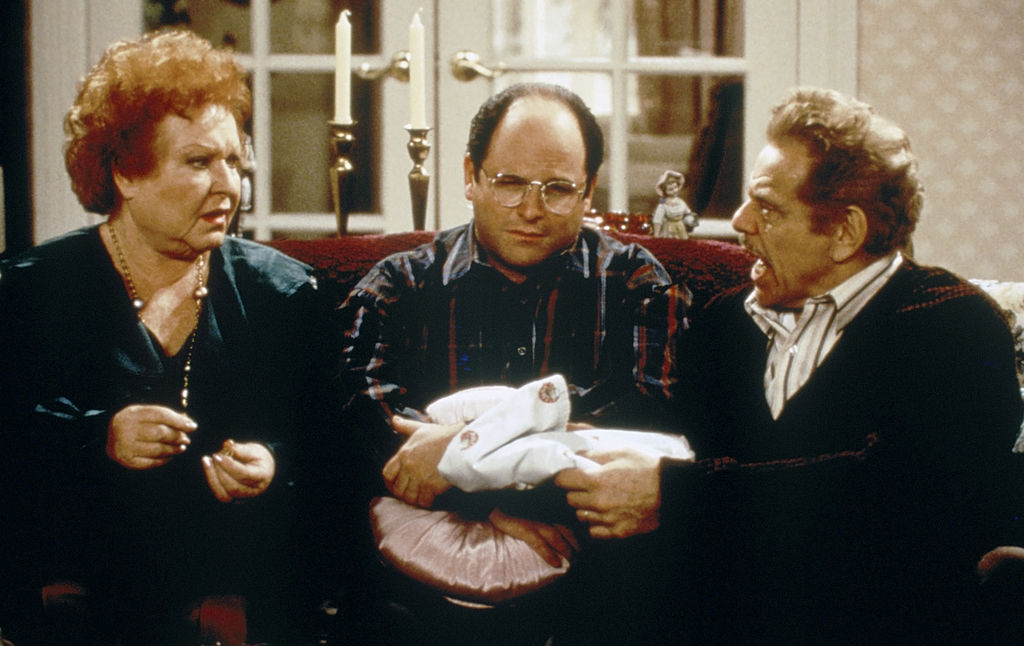 Estelle Harris, who passed away April 2nd at 93, will always be remembered for her role as George's mouthy and haranguing mother Estelle Costanza on Seinfeld.
For many viewers, Estelle Costanza became a morbid object of fascination. People had to know: how did George Costanza turn out the way he did?
Her impact was so indelible on that series that it is hard to believe now that she was only on 27 episodes of the series — which ran for nine seasons in the '90s.
Born in New York, Harris' TV resume didn't start with Seinfeld but the "Must See" NBC series certainly took her to a whole new level. Before that, she was best known as "The Queen of the Commercials," playing various characters who all had a little Estelle Costanza in them — so much so that when the Seinfeld role came her way she was ready.
That she was teamed with Jerry Stiller, of course, didn't hurt. Stiller, who spend most of his 93 years professionally and personally teamed with wife Anne Meara, knew how to play off another performer.
I don't recall ever speaking directly with Harris, but I did get the whole casting story once from Stiller, who died in 2020 at 92. He was not the first actor to play Frank Costanza. (That was John Randolph, who did one episode.) When it came time to shoot his first scenes opposite Harris, the director (or perhaps it was co-creator Larry David — the model for George) told him to dial his character down, to play it meek opposite Harris' shrill delivery, which was already loudmouth enough.
Stiller tried it their way and then pretty much ignored the note, yelling right back. A supporting comedy team was born.
As I told CTV News Sunday night, all the great sitcoms have great "second bananas," characters that come off the bench and widen a series' appeal. The tradition goes back to radio and continued in early television sitcoms.
As next-door-neighbour Millie Helper, Ann Morgan Guilbert was only in 61 out of 158 episodes of The Dick Van Dyke Show. Yet it is hard to think of that TV gem from the '60s without her. Same with Harris' strong contribution to the success of Seinfeld.
Harris went on to do a great deal of voice work on other shows. She was teamed with another comedy legend — Don Rickles — as Mrs. Potato Head on the "Toy Story" movies. To hold your own opposite Rickles and Stiller — that's quite a comedy epitaph.