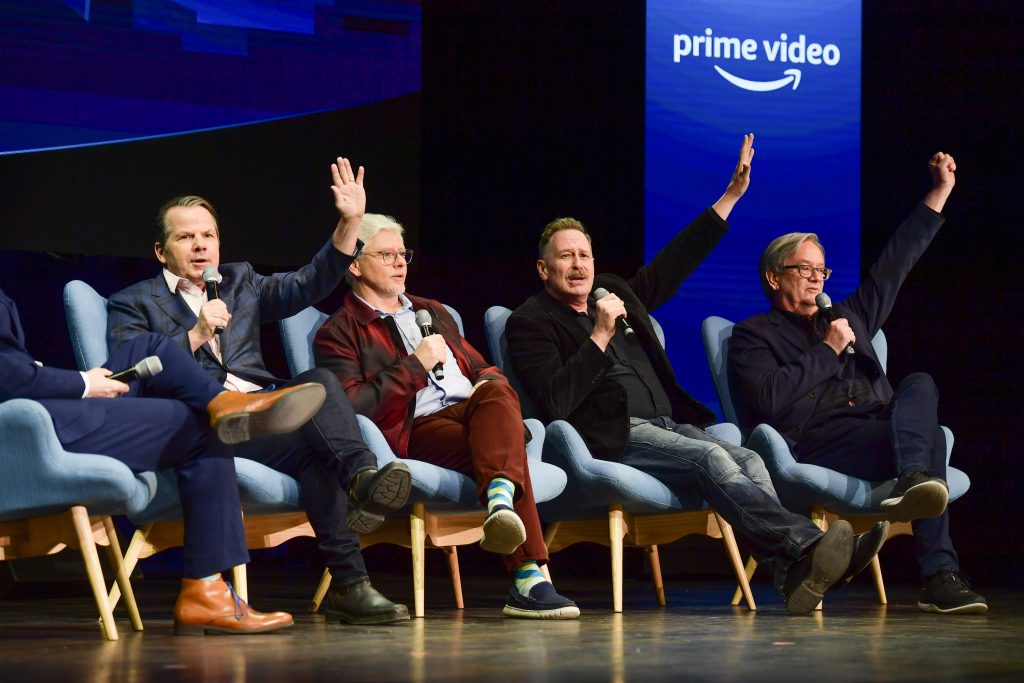 It's one of the oldest business practices in the book: go global, sell local. Nobody knows this better than Amazon, and they're applying it, big time, to their streaming service Prime Video.
That was made abundantly clear Wednesday in Toronto at a press event, ably hosted by Citytv's Liem Vu, and staged as "Prime Video Presents Canada."
The service had previously announced a new Kids in the Hall series (premiering May 15) plus the documentary, "Kids in the Hall: Comedy Punks" (May 20). They had four of the five sketch comedians on stage Wednesday at Massey Hall: Dave Foley, Mark McKinney, Scott Thompson, and Bruce McCulloch.
None of the other Kids seemed to know where Kevin McDonald was. He is in the series.
Among the new announcements were a Tragically Hip documentary, with three of the surviving band members and director Mike Downie, brother of the late lead singer Gord Downie, also at Wednesday's event. The doc will not premiere until 2024.
If that's not enough Can-con, they even have a new dramedy, set in Quebec and with Jamie Lee Curtis among the producers, called "Sticky." It is billed as being about the "Great Canadian Maple Syrup Heist."
Kids in the Hall, The Tragically Hip and maple syrup? All that was missing at the Prime Video event Wednesday were Mounties, beavers and Anne of Green Gables.
"We have already had success in Canada with local content including All or Nothing: Toronto Maple Leafs and LOL: Last One Laughing Canada," said Magda Grace, head of Prime Video Canada. "The slate shared today demonstrates our focus and investment in developing the highest quality content for our Prime members in Canada."
It is a strategy her competitors in the streaming world have worked with success in the past. Netflix, which shows Schitt's Creek, Murdoch Mysteries, Kim's Convenience and several other Canadian series, were quick to get in bed with the Trailer Park Boys. HBO Max, which has acquired the Degrassi franchise, has ordered a 10-episode new generation of the high school drama.
Streaming services have entered a new phase of maturity where the competition for consumer spending is no longer with traditional, heritage broadcasters, but with each other. Global brands such as Amazon, Netflix, Disney, Warner's, Paramount, Apple and others are spending billions to hold and expand their subscription bases, resulting in price increases for consumers. Netflix, for example, has raised their subscription fees twice since October of 2020, with HST taxes also becoming a factor in that time period.
At Amazon, they managed to hold the cost to consumers at the same level for ten years. Just last week, however, Amazon raised the monthly fee for their Prime Video streaming service two dollars to $9.99 per month or up $20 to $99 per year.
That is still relatively inexpensive for streaming. It hasn't hurt that Amazon is the world's most successful shipping business. Up till now, they have also kept a lid on price increases with a more curated, less of a volume approach, as stressed Wednesday by Grace and fellow Prime Video Canada executives Nav Saini, head of content, Brent Haynes, head of scripted originals, Canada, and Christina Wayne, head of Originals.
Haynes handled the hosting duties while the Kids were on stage. Joining the five original cast members on their Prime Video sketch series will be guest stars Pete Davidson, Catherine O'Hara, Kenan Thompson, Brandon Ash-Mohammed, Will Forte, Catherine Reitman, Samantha Bee, Fred Armisen, Paul Sun-Hyung Lee, Jay Baruchel, Eddie Izzard, Tracee Ellis Ross, Mark Hamill, and Colin Mochrie.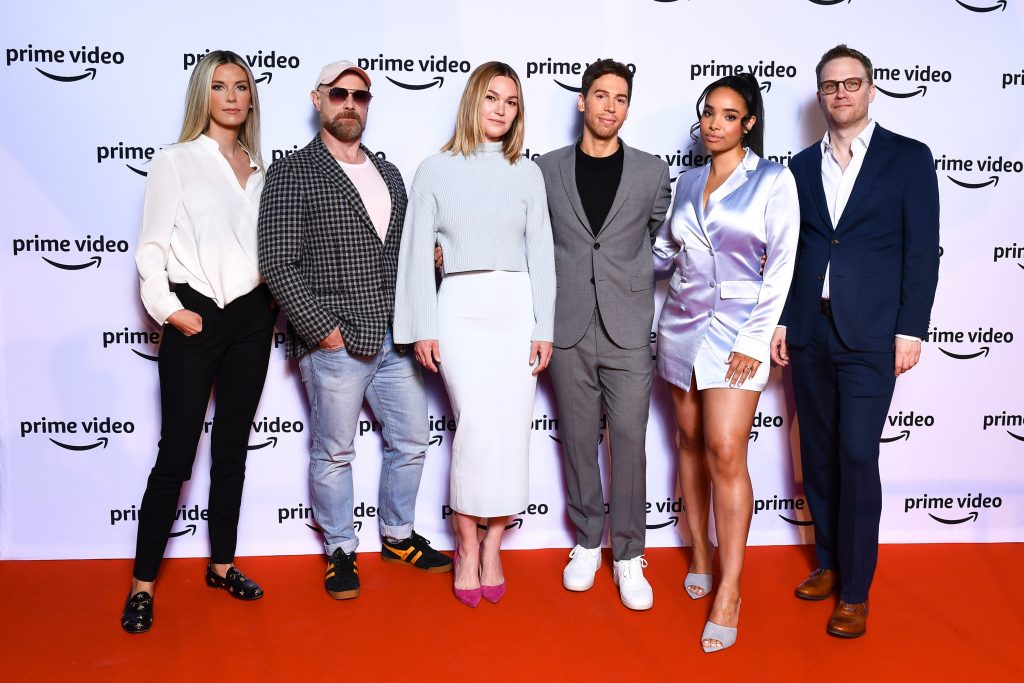 Premiering June 17 will be The Lake, a half-hour comedy from Julian Doucet and starring Jordan Gavaris (Orphan Black), Julia Stiles and Madison Shamoun. Shot in Ontario's cottage country last summer, the season stars Gavaris as a character inspired by Doucet's own backstory. He plays the birth father trying to re-connect with the teenage daughter he gave up for adoption by bringing her to the idyllic cottage community where his family used to summer. Secrets come tumbling out, including the fact his sister (Styles) and her family stole the waterfront property he should have had a stake in. Jon Dore is very funny in the pilot I screened as the sister's joker of a husband.
Another very Canadian sounding title, Three Pines, stars Alfred Molina and is based on Canadian author Louise Penny's best-selling Chief Inspector Armand Gamache novels. Molina, in a video shown at the event, praised the Montreal crews he worked with, saying it was the best production experience of his life. Penny said landing Molina for this part made her so happy she wept. Look for it in 2023. Seasons One and Two are coming this fall.
Mark Little (Mr. d) was also at the Prime Video event to talk about his animated series Gary and His Demons. He described it as about "a demon slayer who wants to quit." Besides writing and co-directing, Little also voices Gary, a reluctant "Chosen One" who is very good with a sword.
Prime also announced a new Quebec version of their LOL format, LOL: Qui Rira Le Dernier? Host Patrick Huard appeared via video, goofing on English Canada LOL host Jay Baruchel. The series will showcase a cast of popular French-speaking Canadian comedians, each trying to crack the other ones up for charity.
Also announced was the Canadian Amazon original "Sugar," a Canadian-Mexican co-production about two young Canadian women who get ensnared in a deadly drug smuggling operation. Sepia Films and Connect3 are in on the production, which is directed by filmmaker Vic Sarin.
Sphere Media is one of the production houses behind The Sticky, that syrup heist series. It features co-producer Jamie Lee Curtis as Ruth Clark, a tough, middle-aged Canadian maple syrup farmer who has had it with being hemmed in by Canada's bureaucratic conventions. Sounds more like she's in the Canadian media business.
Besides employing many talented Canadians coast-to-coast, the ten upcoming Prime Video projects will also share their efforts with Amazon streamers in more than 240 countries and territories worldwide.