Mike Myers calls his new Netflix series The Pentaverate but it should be called The Audacity. Who but Myers would have the balls to build an entire world-wide streaming series around former CFTO community news reporter Glenn Cochrane??
When I say former, I mean from the '70s. This is a guy a teenage Myers, who grew up in Scarborough, Ont., clearly saw and was hypnotized by on local TV. Cochrane would always be reporting from The Boat Show or a chicken cleaning contest and at the end of every damn hit, this funny little man in a rumpled, checkered sports coat would sign off as part of a Miss Evinrude and Miss Criss-Craft sandwich.
In The Pentaverate, a six-episode series currently streaming on Netflix, Myers plays Ken Scarborough (based on Cochrane), a reporter who is aboot (the Canadianisms never end) to get sacked at the fictional Toronto TV station CACA (which pretty much describes CFTO back in the day).
The Cochrane cloning pretty much tops Myers' theft of the theme from the CFTO game show Definition, played to great effect in his Austin Powers movies, and takes it to a whole new level of delicious obscurity. Cochrane, bless him, a fixture on CFTO for 25 years, retired in the '90s and died in 2013 at 84. You had to grow up, or never grow up, in ther GTA, at least 50 years ago, to have ever heard of him.
Elevating Cochrane, therefore, to this vaulted nebbish-who-saves-the-world status is somewhat heroic. It's right up there on the level of what Larry David did in his redemption of Bill Buckner on Curb Your Enthusiasm. It is we-are-not-worthy-able.
Scarborough, however, is but one of eight characters Myers plays in The Pentaverate, which is the name of a secret organization that has been running the world since the 1300s. Think Illuminati as cast by Benny Hill.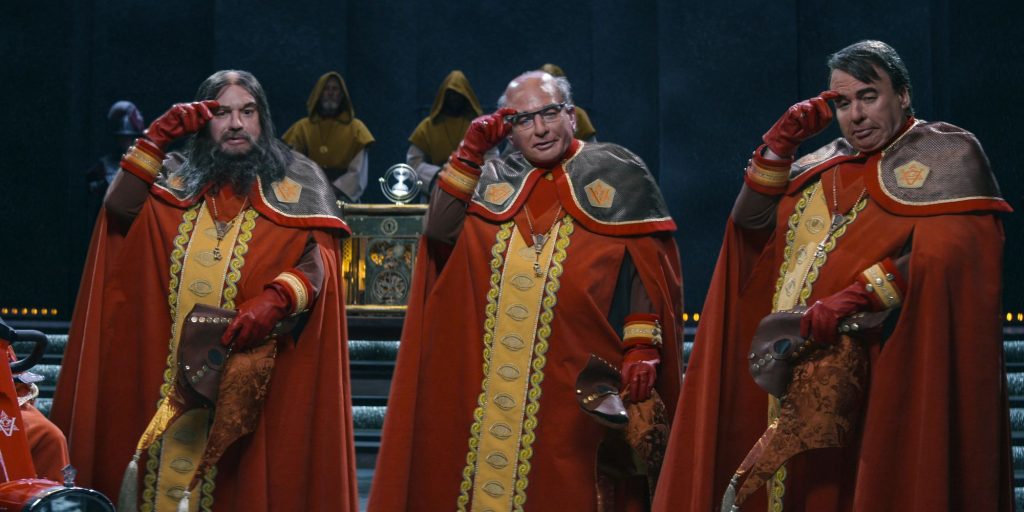 Myers plays four members of the Pentaverate: Lord Lordington, the oldest and highest-ranking (and best makeup job) member; Bruce Baldwin, pretty much Rupert Murdoch about fifty years ago; Mishu Ivanov, a Rasputin-ish ex-Russian oligarch; and Shep Gordon, based on the still active rock 'n' roll manager who guided the careers of everybody from Alice Cooper to Anne Murray. Myers, incidentally, produced the documentary, "Supermensch: The Legend of Shep Gordon," released in 2013.
The former Saturday Night Live comedian plays too many other characters, including one hygenically-challenged chap who drives a van with a barely-functioning port-a-potty on board.
Others in the cast include Jennifer Saunders, barely recognizable as the Master of Dubrovnik, the group's head investigator who is looking into suspicious deaths; as well as the Master's sister, who looks after the keys.
Those just playing one character include Keagan-Michael Key as a nuclear physicist chosen to join the Pentaverate and Ken Jeong as Skip Cho, another Pentaverate recruit. Debi Mazar, who never ages, plays Patty Davis, the group's top Executive Assistant. Rob Lowe appears as, well, Rob Lowe. As a palate cleanser, Jeremy Irons narrates.
The plot finds Scarborough, with the aide of young accomplice Reilly Clayton (Lydia West), trying to save the world and thus win back his journalist job at the station.
Not that the plot matters. The fun of The Pentaverate is watching to see how low Myers will go. Some of the writing is ripped off from naughty novelty cards, Bazooka Joe bubblegum wrappers and cheezy souvenir store plaques, the kinds of corny kitch I used to see on cottage outhouse doors when I was lad. One I remember was a sign on an outhouse door: "For my half-assed friends." On it was a picture of half a toilet bowl. There are jokes in this series that are just as dumb, but, trust me, you will laugh out loud even as you see them coming straight up Yonge Street.
Why is that? After the pandemic and war and Trump and inflation and really high-priced gas, the world does not need another dark comedy. Anybody pitching actual jokes, come on down. Plus, the fact that Myers stoops to spinning entire scenes around dick or poo-poo gags is actually quite exhilerating in this overly-sensative age of woke sterility.
One to look for: There is an extended gag based on an old Crystal Gayle song in The Pentaverate that should qualify as an Olympic event in the anals of joke gymnastics.
Beyond that, there is the spirit of Glenn Cochrane. Good times, Canada.