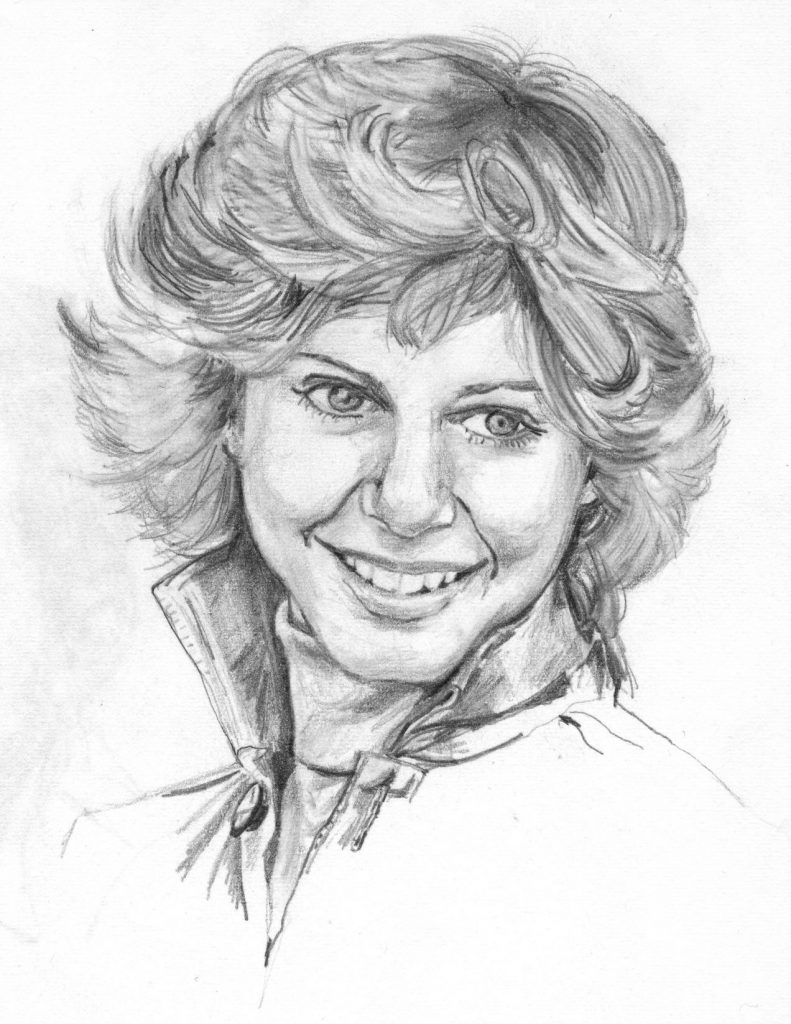 Tempus fugit, as my dad used to say. News of the passing of Olivia Newton-John has me thinking of how time does fly. The British-born, Australian-raised songstress was a big star back when I was in high school, with a string of easy listening hits including "I Honestly Love You," "Please Mister Please," and "Have You Never Been Mellow," the latter of which seemed to address nay-sayers who felt her sugary tunes were cavity-inducing.
Those of us with her pictures in our lockers didn't care; she was just so damn pretty, and her gaze and those lyrics did the rest. Some of us went so far as to buy the sheet music and try to learn "I Honestly Love You" on the piano. It was relatively easy to learn and even easier to forget. Some of us also found ourselves doodling out portraits of her, such as the one I drew above.
She went on, of course, to even greater fame in the movie "Grease" — the biggest box-office hit of 1978 — and later with the disco-era hit single "Physical." A string of other films pairing her with John Travolta followed. She got to dance with Gene Kelly in "Xanadu." Life was good, even when a film or song failed to connect.
Soon she was marketing Koala Blue sweaters and buying horse ranches in Australia and America. By the late '80s, however, she seemed as swept out of style musically as Donny and Marie, Helen Reddy, John Denver and The Carpenters. Thee tabloids were there to record the personal tragedies. In 2005, one long-time lover was apparently swept out to sea.
There were TV tributes in her latter years. Ryan Murphy was certainly a fan and showcased her in a fun storyline with Jane Lynch on Glee in 2010. That same year, she starred in the Canadian feature film, "Score: A Hockey Musical."
By then, Newton-John had become a mother and a cancer survivor, battling the disease for 30 years of her life. An advocate and fundraiser for cancer research, she created the Olivia Newton-John Cancer and Wellness Centre in 2008.
The four-time Grammy winner was very public with the news, in 2017, that the cancer had metastasized. She gained as many new fans with her grace, pluck and positive outlook. She died August 8, age 73. Far too young, as many of her "Grease" co-stars wrote in heartfelt tributes posted following news of her death.
For those of us who bought her albums for their covers, we were dazzled by her smile and later by her courage. We remain comforted by her voice. Rest in peace, Olivia Newton-John.