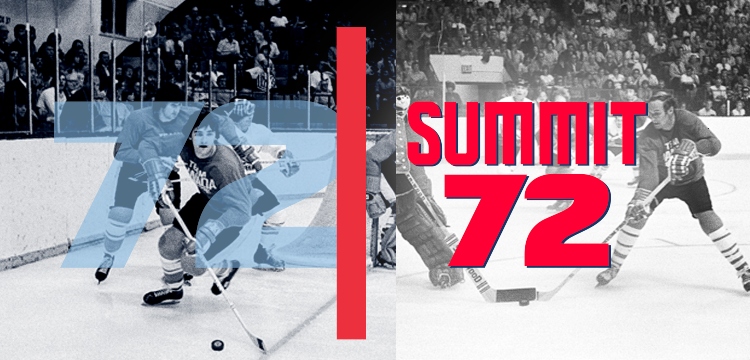 Wednesday night, the puck drops on a documentary about a hockey series that blew my teenagee mind 50 years ago.
Airing over four consecutive Wednesdays, Summit 72 is a four-part docuseries about the 1972 culture clash on ice known as Team Canada vs. The U.S.S.R. It pitted Canadian pros long-banned at the Olympics and in World Cups and the then perennial Olympic and World Cup winners, the Soviets. It was supposed to be a cakewalk in Canada but it came down to the last 34 seconds and it changed how North American pros trained for and played hockey ever since.
I was 15 at the time and me and my hockey-mad friends tore the roof off my parents living room watching the eighth and final game on September 28, 1972. We were there that mid-day because our high school in the Toronto suburb of Etobicoke gave up and sent everybody home to watch the series on TV.
The game was carried that day on both CTV, which had been the host broadcaster, and CBC, to a then guess-timated (ratings were not exactly an exact science back then) 16 million viewers out of a nation of 22 million. Streaming? Hell, there wasn't even cable back then.
I've written about that teen point of view for The Toronto Star and will post a link here once the story runs later this month.
I've recorded two podcasts looking back at the series: one with author/hockey commentator Scott Morrison, who has written an excellent book titled, "1972: The Series That Changed Hockey Forever." Thee other, just posted this week, features one of the key players for Team Canada, NHL Hall of Famer and ten-time Stanley Cup champion Serge Savard. He shares his memories of the epic ice battle. Also on that same podcast, Dave Bidini, the Rheostatics frontman, author and journalist who co-wrote and co-directed Summit 72. Links to both podcasts directly below:
If like me, you saw the series way back when, you are not going to want to miss a minute of this docuseries. If you are younger and don't quite get what all the fuss is about, drop your iPhone and get thyself in front of a big screen these next four Wednesdays.
The docuseries was crafted by producers Nicholas de Pencier, Robert MacAskill and Naveen Prasad, as well as writers and directors Bidini, Robert MacAskill and Ravi Baichwal.
Bidini told me they all felt they had struck the motherload early on when they learned there was 60 hours of film and videotape to draw from. Much of the 16mm film, shot in Canada and Russia, offers rarely seem angles on the game action as well as terrific scenes in and out of the arenas that provide context for the series. That's another Trudeau, Pierre, Justin's dad, dropping the puck in Montreal; Tommy Douglas, then leader of the New Democrats, is shown enjoying the games.
Then more footage came from the players and fans who traveled to Russia and shot home movies on Super 8 film. Team Canada forward Red Berenson's wife even dug out a few reels from their attic or basement.
All of the film footage was restored to vibrant colour and transferred to 5k digital, and these moving images are eye-popping. Fans of the series who last saw grainy and washed out VHS tapes of the action will cheer louder than the three thousand Canadians who traveled to Russia and rallied the players.
Speaking of the players, what a cast. Bidini says they tried to avoid the usual talking heads approach and they succeed. What he marveled at is how vivid the memories remain for Phil Esposito, coach Harry Sinden, Paul Henderson, Ron Elis, Ken Dryden, Yvan Cournoyer, Peter Mahovlich, Bobby Clark, Serge Savard and others, including Soviet teammates Vladislav Tretiak and Boris Mikhailov. These guys, most in their late seventies, early eighties, all feel every shift of that series.
Another great decision, says Bidini and I have to agree with him, was to not follow the puck so much as tell the full, contextual story of '72. This was a time when 97 per cent of the players in the NHL were Canadian. This was our game, our way of life, our politics, vs. a world power cast as the bad guys in a Cold War era that dates back to the Watergate break-in.
It is fascinating, therefore, to see wide-eyed Russian players walking into Sam the Record Man on Yonge Street and buying contraband recordings.
The early episodes also dwell on the cultural changes in Canada. At one point, P.K. Suban's dad, Karl Subban, a proud father of three NHLers, speaks to how this series, played across the nation in Montreal, Toronto, Winnipeg and Vancouver, reached beyond the usual hockey loyalists and into more multicultural neighbourhoods.
Then there's the music. Bidini made sure there were plenty of Canadian cuts from the times, including tracks from Rush and Triumph. On the podcast, he tells how he was able to land a key song from Leonard Cohen. "We got everybody we went after," says Bidini.
Canada was more of a Bob and Doug hoser hangout in the '70s. Our athletes did not win any gold medals, for example, at the Montreal Olympic games in 1976. We were happy to place, ecstatic to reach the podium.
Losing to the Russians at hockey in 1972, however, was simply not an option. Esposito, Henderson and others found gears they never knew they had, and the result was our miracle on ice. Summit '72 brings everything back in living colour but for the stubby beer bottles. Don't miss it, eh? The fun starts Wednesday night at 8 p.m. ET on CBC and CBC Gem.