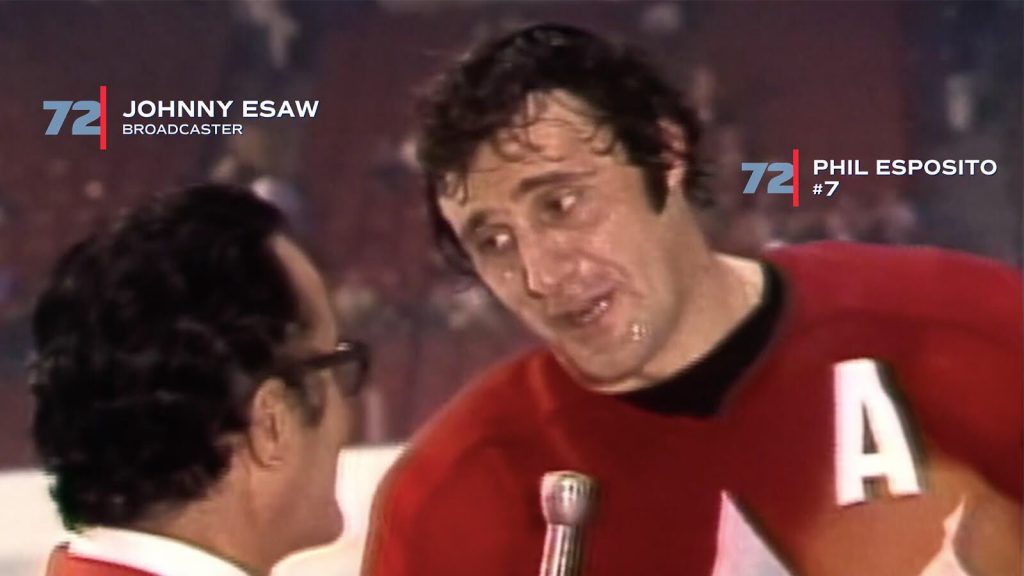 Wednesday night at 8/9c, CBC airs Part Two of the four-part series Summit 72.
For those of us who, as hockey-mad teenagers, watched this clash between the best of the Soviets vs Canadian all-stars, this is must see TV.
For the majority of Canadians born after the eight game event, it may be a tougher sell. Overnight numbers for last Wednesday's premiere were not impressive. Maybe few wanted to re-live that opening game shellacking, or many viewers chose to bank it and watch later. Some might even want to PVR the entire series before settling in for the full story.
For those of us who can't get enough, tonight's Part Two looks at Games two through four, the remainder of the Canadian half of the series. This includes Phil Esposito's famous rant to Johnny Esaw after Team Canada was booed off the ice in Vancouver.
Parts three and four, looking at the four final games played in Moscow, will air on the next two Wednesdays on CBC. All episodes can also be streamed on CBC Gem.
For those looking for more on this series, Massachusetts-based sports broadcasting veteran and occasional brioux.tv contributor Kevin Vahey — who was at Game One in Montreal — weighs in with his view from the States. Did you know that the 1972 Summit series aired in the US on PBS?! The American public broadcaster was only about a year old when they stepped up to bring the games to hockey fans south of the border.
Yes, brought to you by "viewers like you" and some bankers, NHL stars — many playing for US-based teams such as the Boston Bruins or the New York Rangers — faced off against the U.S.S.R. Olympians.
As Vahey suggests, the series might have been a tough sell in many US cities, but in his market, Boston, fans had just cheered on the Bruins' second Stanley Cup win in three years.
Vahey recalls that at Game One in Montreal, a panel of glass had to be adjusted in the first period, causing a short delay. "Team Canada spent the time relaxing by their bench," says Vahey. "The USSR did wind sprints."
By Game 3, The Boston Globe did a survey of local sports bars. Here's what they found: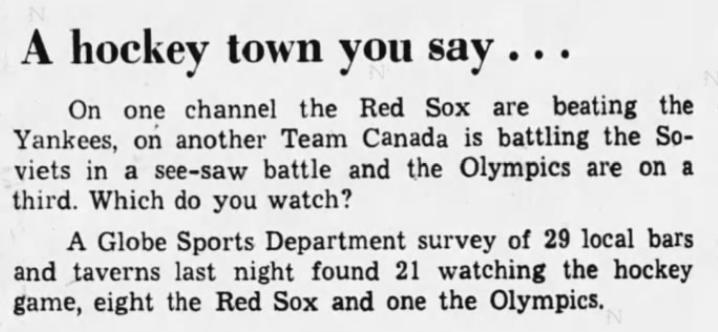 On the final day of the series, September 28, 1972, CBS news anchor Walter Cronkite aired Game 8 highlights on the CBS Evening News.
"I know that because that's how I found out Canada had won," says Vahey. The Moscow games aired live during the day in Canada but were carried in prime time on a tape delay in the US on PBS affiliates.
Before Cronkite's spoiler, Vahey says he tried to "block out the outside world and wait for the game on WGBH-TV and not even risk walking to the corner store because I knew the Evening Globe would have the score — and I was right."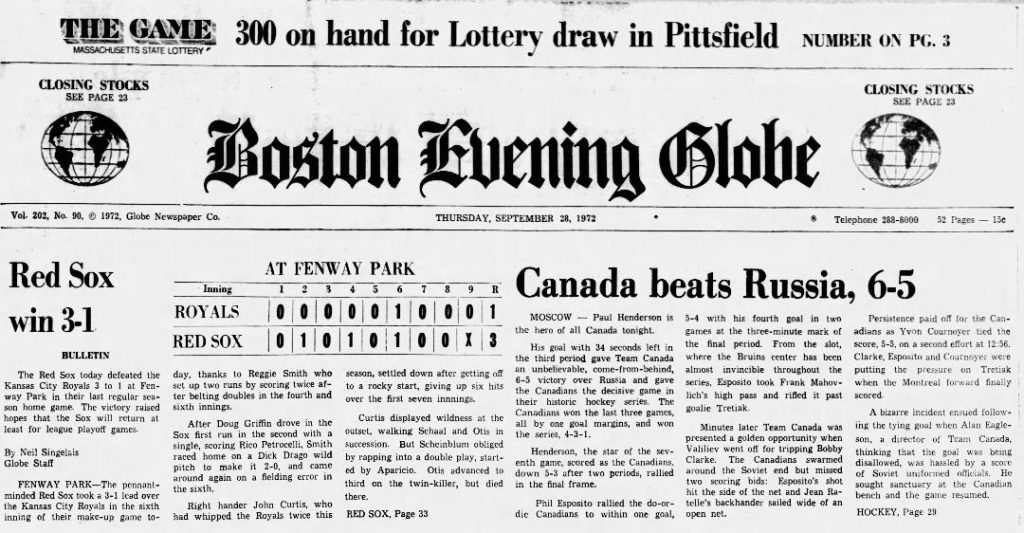 The game was also carried on Boston radio on WHDH, as advertised below: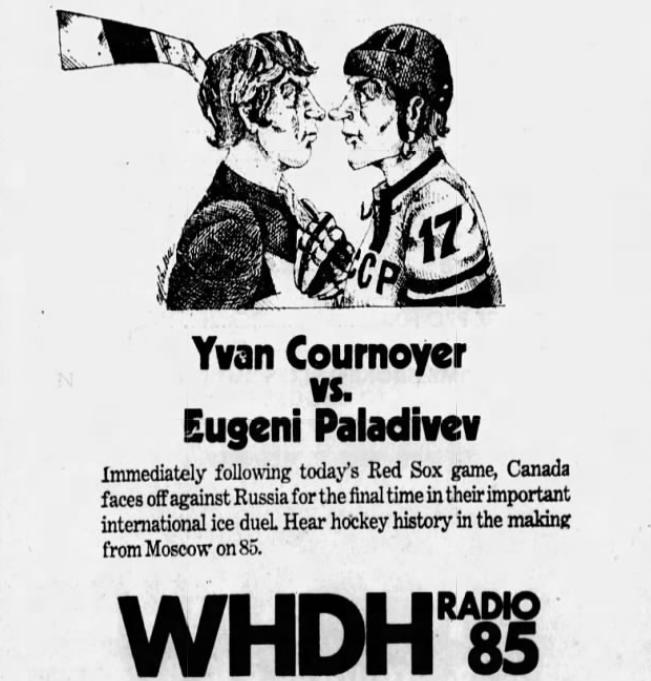 Vahey urges readers with fond memories of the series or those curious to learn more to seek out another documentary. "Cold War on Ice: Summit Series '72." Shown ten years ago to mark the 40th anniversary (as well as the launch of NBCSN), the NBC doc was executive produced by former head of HBO Sports Ross Greenburg (winner of 51 sports Emmys). Ken Burns' favourite Peter Coyote narrates, lending an air of gravitas. Many Canadians are featured, including Roy MacGregor, Ron MacLean and even Margaret Trudeau, as well as players Phil Esposito and Bobby Clarke.
It offers more of a East vs. West political view of the summit series, which truly was a Cold War on Ice. You can stream it on YouTube by following this link.