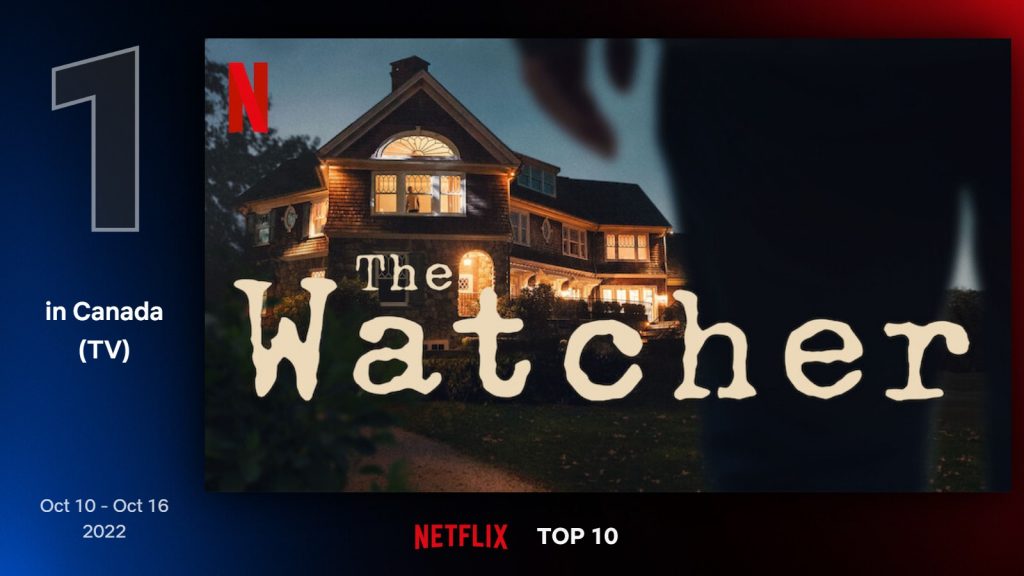 After three weeks, something finally knocked Jeffrey Dahmer out of the No. 1 spot on Netflix.
The Watcher, a Ryan Murphy series about a family who move into their dream home in New Jersey only to be terrorized by a stalker, was the most-streamed show on Netflix the week of October 10 to 16. Naomi Watts, Bobby Cannevale and Jennifer Coolidge star, with Margo Martindale, Richard Kind, Mia Farrow and Christopher McDonald also in the cast.
Meanwhile Netflix rolls out its new "Netflix Lite" economy tier November 1. It is their new ad supported platform (AVOD), with up to four minutes of shorter ads (15- 30-seconds) per half hour.
The ad supported Netflix will cost Canadian subscribers $5.99 a month, compared to ad-free Netflix plans that vary from about $10 to $20.
This as the streaming service tries to cauterize the bleeding of subscribers who have left for other platforms (Disney+, Prime Video, Paramount, AppleTV+, etc) or from households trying to balance higher costs at the pumps and at the grocery store.
Amazon launched a similar, ad supported service, re-branded as Freevee last April, which has shown steady growth. Tubi is another inexpensive streaming option where consumers can play less by sitting through shorter ad breaks. Corus is set to introduce a new version of ad-supported Pluto tv in Canada in December.
In the meantime, here is what is connecting with regular Netflix viewers over the past week:
OCTOBER 10 – OCTOBER 16, 2022
| # | TVIN CANADA | WEEKS IN TOP 10 |
| --- | --- | --- |
| 1 | The Watcher: Season 1 | 1 |
| 2 | DAHMER: Monster: The Jeffrey Dahmer Story | 4 |
| 3 | Grey's Anatomy: Season 18 | 2 |
| 4 | The Midnight Club: Season 1 | 2 |
| 5 | Conversations with a Killer: The Jeffrey Dahmer Tapes: Limited Series | 2 |
| 6 | The Mole: Season 1 | 1 |
| 7 | Bling Empire: Season 3 | 2 |
| 8 | The Sinner: Season 4: Percy | 1 |
| 9 | Dynasty: Season 5 | 3 |
| 10 | The Empress: Season 1 | 3 |