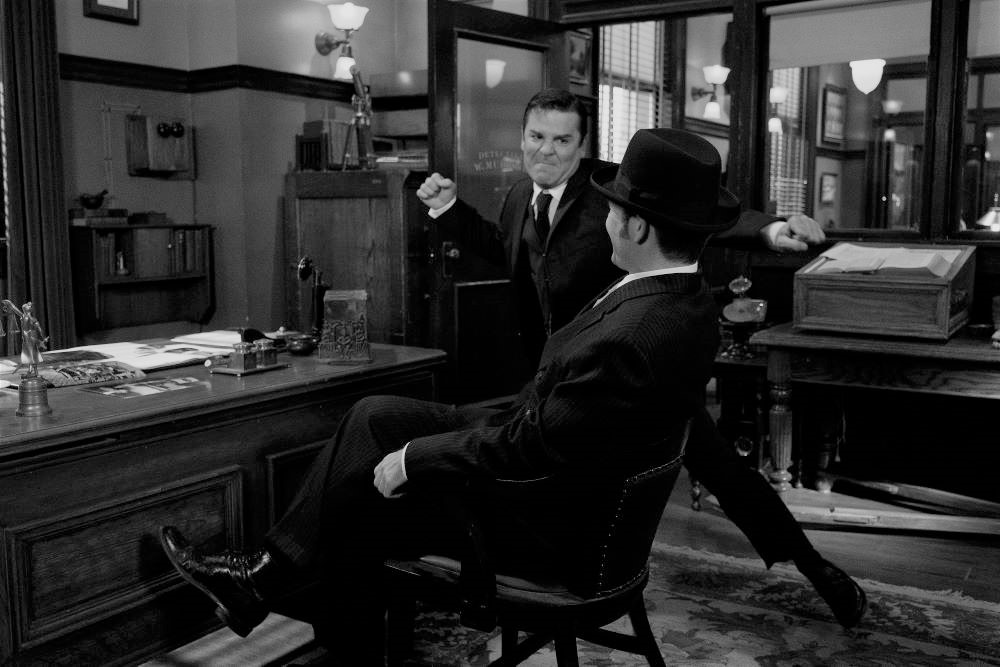 Do not adjust your set. Tonight's episode of Murdoch Mysteries is shot in sensational black and white.
It is a milestone episode, the 250th of the popular CBC drama, which is halfway through its 16th season. After tonight, the series will sit out the holiday season as CBC goes wall-to-wall Christmas right through until January.
This special episode is written by showrunner Peter Mitchell and has been on his "to do" list for years. Mitchell is a big fan of "film noir," those stylish Hollywood crime dramas of the '40s and '50s. These black and white melodramas had a distinct look and often featured cigarette-puffing PI's in fedoras and dames who understood a slap in the mouth or a slug from a 45.
Edgy, dangerous films, yes, such as "The Big Sleep," "Night and the City," "Gun Crazy" and one of Mitchell's favourites: "D.O.A." (1950). That film, directed by Rudolph Maté, starred Edmond O'Brien as a man who has been fatally poisoned and has but 24 hours left to find out who did him in.
"D.O.A." is one of those films where the copyright, like the protagonist, has long expired. Mitchell was able to borrow style and plot elements in fashioning his script for tonight's episode, which spells it all out for you with the title, "Dead On Arrival."
The guy poisoned in Mitchell's story, however, is none other than inspector Murdoch (Yannick Bisson) himself! He starts to fall seriously ill after a key witness in the murder trial of a Black Hand henchman falls dead right in the police station.
"The key is to embrace the gravity those movies embraced and not succumb to irony," Mitchell wrote as we exchanged messages this week. [You can hear much more from the writer-director-showrunner by following this link to a podcast conversation we recorded earlier this year.]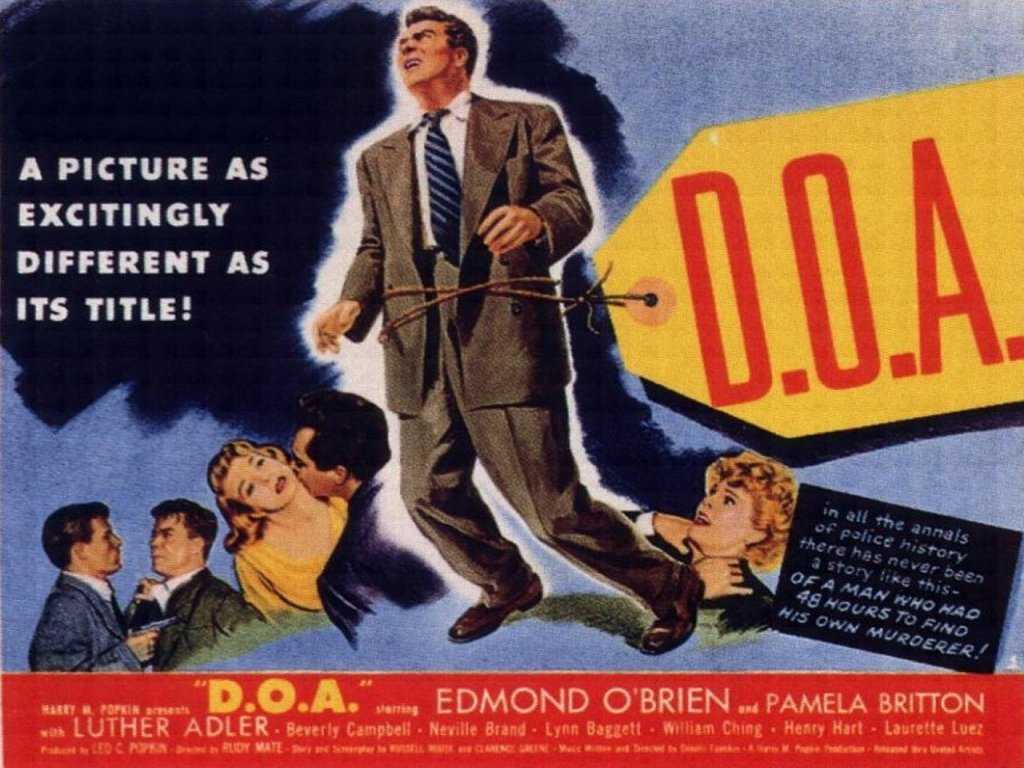 Besides "D.O.A.," Mitchell is a fan of pulp fiction authors of the noir period, referencing James M. Cain, Jim Thompson, Dan Marlowe and others as having been "a strong influence on everything I've ever done."
He also singles out a director who has been getting more attention of late, especially on TCM's "Noir Alley" program block hosted by Eddie Muller – Sam Fuller. Mitchell loves Fuller's weird dreamscapes and viewers will see a few in this special episode.
Another director Mitchell singles out is, in his words, "the criminally under-rated Robert Wise." No kidding – Wise had great success with big-budget crowd-pleasers such as "The Sound of Music" and "West Side Story" and cut his teeth editing classics such as Orson Welles' "Citizen Kane." He also directed spookier, B-movies such as "The Body Snatcher" (1945), "The Set-Up" (1949) and "The Day the Earth Stood Still" (1951).
Music is a big factor in setting the right film noir mood. Tonight's Murdoch works in a requisite night club scene featuring a blues-y trumpeter. Kyle Merkley for Arprix Media is singled out for music on the episode.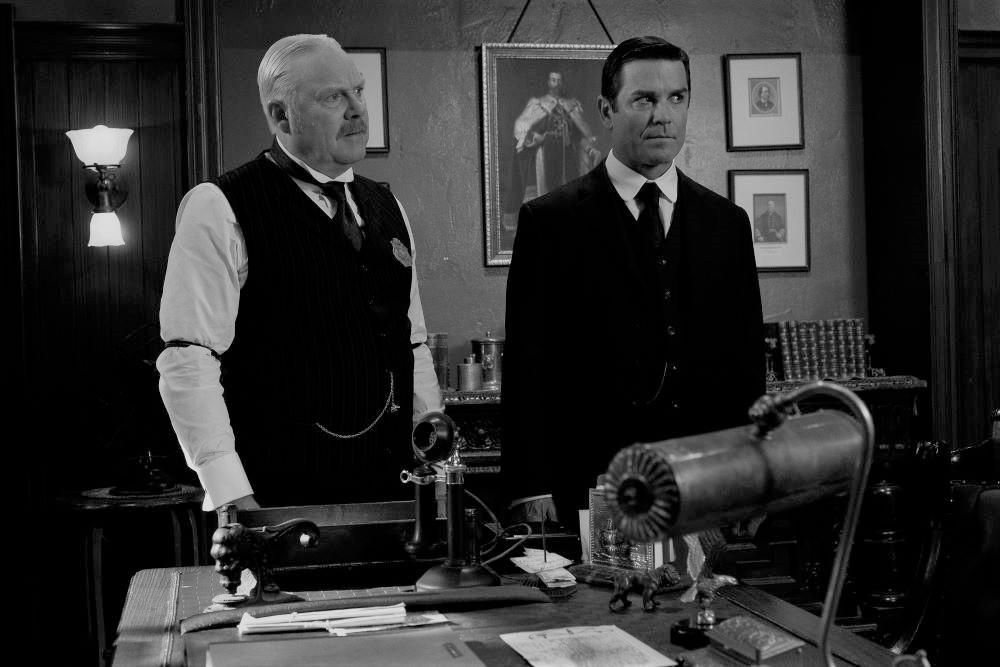 Director Elsbeth McCall gets into the noir spirit with several shots of Murdoch stumbling along dark streets. There are also shots of the Don Jail looking extra creepy. We know that there is something seriously amiss with our hero when Murdoch is spotted riding his bicycle without his trademark chapeau! There are some cool, low-light, store window shots of clocks running backwards just to ramp up the unease.
Kudos to two other friends of the podcast, Thomas Craig (Inspector Brackenreid) and Helene Joy (Doctor Julia Ogden), who advance much of the story this week. Neil Crone grabs some face time as Crown Attorney Gordon, with Brendan Murray adding to the creepy fun as evil Frank Rhodes.
As Mitchell recalls, the 1985-1989 dramedy Moonlighting once did a black and white, two-part episode, lighting stylish leads Cybill Shepherd and Bruce Willis to great effect. "The Dream Sequence Always Rings Twice," was set in the '40s. To their credit, the producers of Moonlighting went so far as to shoot it all on black and white film.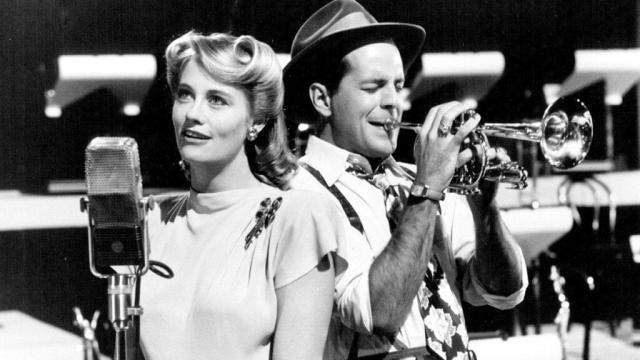 A 1997 episode of The X-Files, "The Post-Modern Prometheus," was also shot in black and white. Written and directed by series creator Chris Carter, the fifth season episode draws heavily on the 1931 horror classic "Frankenstein" with Mulder and Scully on the tail of a monster nicknamed "The Great Mutato."
More recent attempts to re-create black and white idioms on TV shows from this century include the Disney+ pandemic hit WandaVision (2021). That Marvel miniseries opened with a couple of black and white episodes – shot before a live studio audience — that cleverly aped such '60s sitcoms as The Dick Van Dyke Show.
Lucifer, Charmed, Smallville, Pretty Little Liars and Black Mirror also produced black and white episodes during the run of those series.
See how close Murdoch Mysteries comes to recreating the film noir experience tonight on CBC and anytime on-demand on CBC Gem.
BONUS: Should you be missing your Murdoch Mysteries fix over the next month-and-a-half, fear not. The Shaftesbury series being showcased at a unique museum exhibit in Kitchener, Ontario.
"Murdoch Mysteries: The Experience" is currently showcasing costumes, inventions, props and set recreations from the series, all on display at THEMUSEUM in the heart of Kitchener/Waterloo. The exhibit is an opportunity to see first-hand many of the amazing contraptions custom-made by the series very own "Prop Monkey" (as he's known on social media), Craig Grant.
The exhibit is on through February of 2023. Click here for more information.