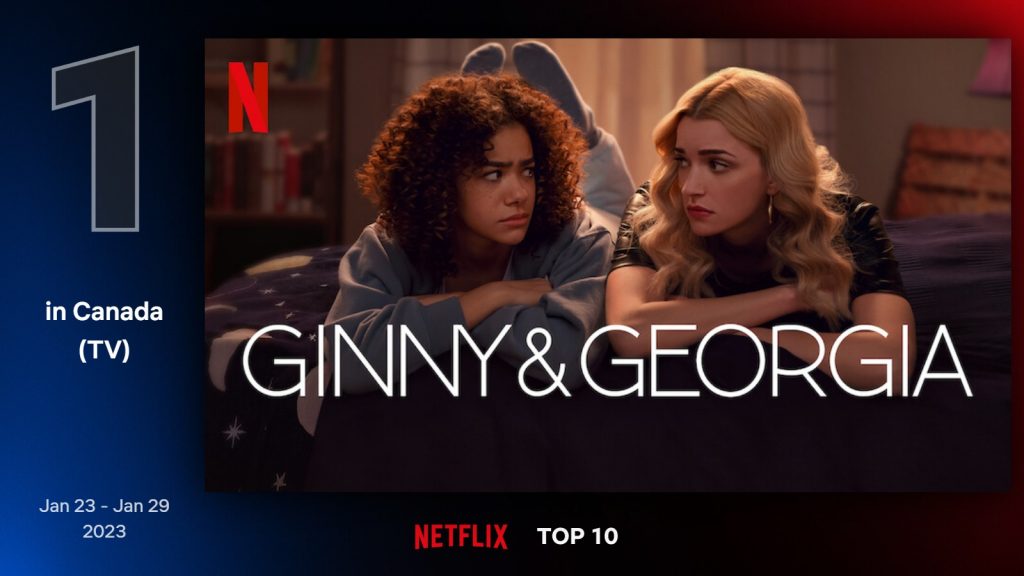 After one week in the top spot, the new sitcom That '90s Show slid down to second spot on Canada's list of the Top-10 most-watched TV shows in Canada.
Back at No. 1 after a one-week absence was Ginny & Georgia Season 2. The first season of this series was third overall Jan. 23-29 in Canada.
Worldwide on the English TV side, the Addams Family spinoff series Wednesday continues to thrive, landing at No. 2 worldwide after 10 weeks with 35.86M hours viewed. This after news of the passing of the original actress to play Wednesday on television in the 1960s, Lisa Loring. The 64-year-old actress, who also appearing in the soap As The World Turns, died Saturday of a stroke.
Here, below, is the list of the Top-10 most-watched TV shows in Canada on Netflix the week of January 23-29:
JANUARY 23 – JANUARY 29, 2023
| # | TVIN CANADA | WEEKS IN TOP 10 |
| --- | --- | --- |
| 1 | Ginny & Georgia: Season 2 | 4 |
| 2 | That '90s Show: Season 1 | 2 |
| 3 | Ginny & Georgia: Season 1 | 4 |
| 4 | Women at War: Limited Series | 2 |
| 5 | Bling Empire: New York: Season 1 | 2 |
| 6 | Physical: 100: Season 1 | 1 |
| 7 | Wednesday: Season 1 | 10 |
| 8 | The Walking Dead: Season 11 | 4 |
| 9 | Lockwood & Co.: Season 1 | 1 |
| 10 | Vikings: Valhalla: Season 2 | 3 |