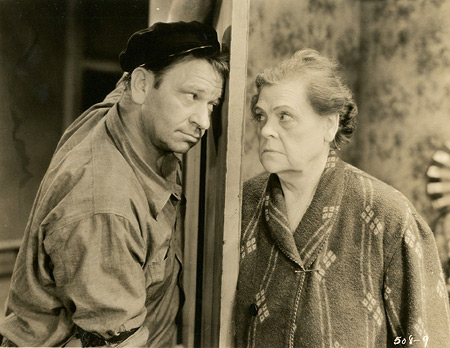 Hey, if Marie Dresler has waited this long, what's another nine months?
Nominations were announced Tuesday for the 2024 Canadian Comedy Hall of Fame.
Among the nominees is Marie Dressler, one of the biggest names from the early days of sound features. Dressler was the No. 1 box office attraction in the world back when she was making features such as "Min and Bill" (1930), "Dinner at Eight" (1934) and "Tugboat Annie" (1933), all three with her great comedy foil Wallace Beery.
That latter film, released 90 years ago, has a Rotten Tomatoes audience score of 91 percent! She even co-starred with Charlie Chaplin way back in the silent days in his first feature-length comedy, "Tillie's Punctured Romance" (1914).
Dressler was among several names held over from nominations last year. Famous names such as John Candy, Rich Little, Wayne & Shuster and The Royal Canadian Air Farce have already been inducted. Also on the ballot this year in the "Legacy" category are radio comedians The Happy Gang, who weren't so happy to be passed over last year.
Among performers, first time nominees this year include Jim Carrey, Eugene Levy, Martin Short, Billy Van and Mary Walsh. The casts of SCTV and CODCO, as well as Elvira Kurt, Steve Smith (Red Green) and Al Waxman (The King of Kensington) are also eligible.
In the "Producers" category are two worthy recipients. First there is director Perry Rosemond, whose television credits include everything from The Sony & Cher Comedy Hour to The David Steinberg Show and The Royal Canadian Air Farce. Then there is the late Joe Bodolai, a producer on The Kids in the Hall who helped launch many a career with Comics!
The CCHOF is member driven so visit their website to sign up. Membership includes the right to vote for your Canadian comedy favourites. For those wishing to do so, you have a scant four or five months, so don't just stand there! The Happy Gang can't wait forever!
CCHOF board members can choose up to two nominees per category, so go Marie Dressler (who died in 1934) and fellow Cobourg, Ont.-native Beatrice Lilly (d.1989). These two were bigger stars than Ryan Reynolds in their day but most Canadians have never heard of them, or of Cobourg either for that matter.
That is one reason the Canadian Comedy Hall of Fame exists. The mandate is to "celebrate, promote and preserve Canadian achievements in comedy."
Like the great Charlie Callas, the organization has had a bit of a stop-and-start history. They now have a three-year deal in place, however, with the city of Hamilton, Ont. Mayor Andrea Horvath and Ontario Minister of Tourism, Culture and Sport Neil Lumsden – a former Toronto Argo and The Amazing Race Canada contestant – attended Tuesday's announcement at the Hamilton Convention Centre.
The 2024 CCHOF inductees will be announced next February at a special ceremony in Hamilton. That's nine months from now. These guys know the secret of comedy is timing! Go here to find out more about the CCHOF and how to gain membership. Let the voting begin!