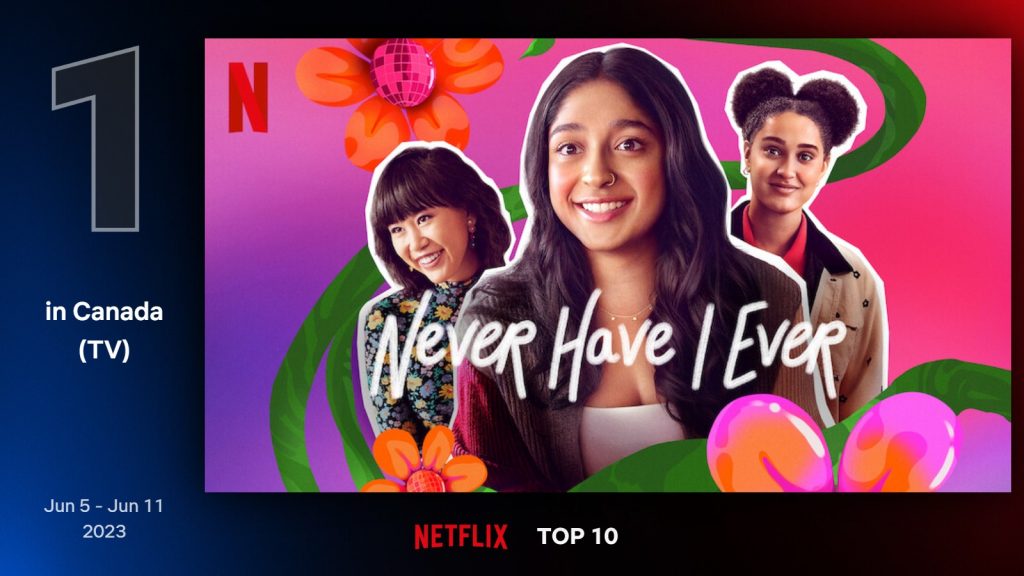 One of my favourite Netflix comedies — Never Have I Ever — returned last week and went straight to No. 1 on the streaming services most-watched shows list in Canada.
The fourth and final season of the Mindy Kalling-produced high school sitcom, which stars Mississauga, Ont. actress Maitreyi Ramakrishnan, had over 15 million views in its first few days. I especially love how tennis ace John McEnroe has been served up as the narrator of this series — they perfect comedic use of his naturally sardonic voice.
Never Have I Ever knocked the somewhat less inspired Arnold Schwarzenegger series FUBAR down to third most-watched in Canada. The shot in Toronto action adventure series feature Jay Baruchel as Arnie's character's potential son-in-law. Scott Thompson from the Kids in the Hall adds a spark as Arnie's unable to retire CIA agent character's shrink.
Here is how the Top-10 TV titles played out June 5 to 11 in Canada on Netflix:
JUNE 5 – JUNE 11, 2023
| # | TVIN CANADA | WEEKS IN TOP 10 |
| --- | --- | --- |
| 1 | Never Have I Ever: Season 4 | 1 |
| 2 | Manifest: Season 4 | 5 |
| 3 | FUBAR: Season 1 | 3 |
| 4 | The Ultimatum: Queer Love: Season 1 | 3 |
| 5 | Fake Profile: Season 1 | 2 |
| 6 | Arnold: Limited Series | 1 |
| 7 | Manifest: Season 1 | 9 |
| 8 | Queen Charlotte: A Bridgerton Story: Series | 6 |
| 9 | THE DAYS: Season 1 | 1 |
| 10 | Selling Sunset: Season 6 | 4 |