Sure, if you are plugged in at all to the world of TV, you've heard of George Schlatter. He was the big guy with the beard who, back in the late '60s, early '70s, produced Rowan & Martin's Laugh-In, right?
That's true, but boy, what a life beyond that one show. His new book, "Still Laughing: A Life in Comedy," is filled with showbiz stories connecting him to everyone from Frank Sinatra, Judy Garland and Cher to famous Canadians such as Norman Jewison and Lorne Michaels. He created another hit (and eventually sparked a key TV trend) with Real People. He produced, and is still proud of, one TV's biggest flop ever with 1969's "Turn-On." Can he still tell a great story at 93? You bet your sweet bippy! There are first-hand, hilarious stories on every page and he shares many of them on this podcast episode.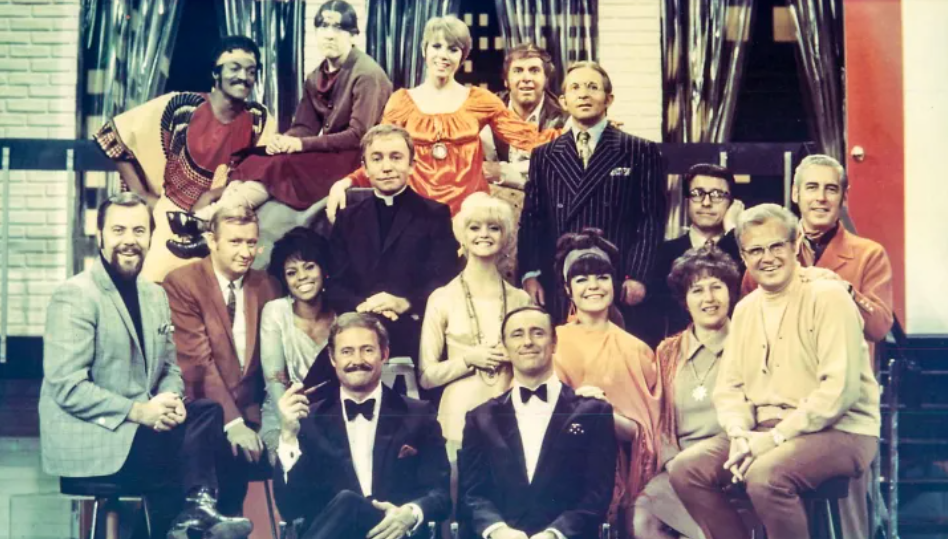 Schlatter went from being a Las Vegas bouncer (although he prefers the title, "executive in charge of emergency departures") to being a talent agent, where he struck up an early and valued friendship with Frank Sinatra. He eventually became a TV producer, handling top talent such as Dinah Shore, Judy Garland, Sammy Davis, Jr., Cher and many others.
When he wasn't meeting stars he was making them, especially as the producer of Rowan & Martin's Laugh-In. Almost overnight, the late '60s, early '70s comedy/variety hour made household names of Goldie Hawn, Lily Tomlin, Arte Johnson, Ruth Buzzi, Gary Owens, JoAnne Worley and many others. He gave a young writer from Toronto a shot — Lorne Michaels. Not sure whatever happened to him.
Phrases such as "You bet your sweet bippy," "Hear come de judge," and "Sock it to me," swept through schoolyards and suburban homes across North America.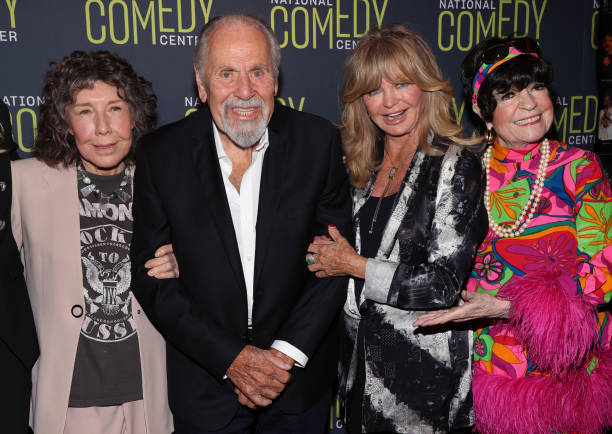 Not everything he tried worked. Schlatter has great stories about his flops, including Turn On, a 1969 experimental series that was canceled on the East Coast before the show was even seen on the West Coast.
Schlatter's Laugh-In stories are a highlight. He still feels guilty about humanizing Richard Nixon by coaching the 1968 Republican candidate through an awkward reading of "Sock it to Me?" A nation laughed and two months later, Nixon was president. Schlatter says he chased Democratic candidate Hubert Humphrey daily to be on the series but he never responded.
This wasn't Schlatter's first encounter with a future president. His tale of mounting a Las Vegas lounge act with Ronald Reagan — who he booked with a gang of unruly trained chimps — is, well, bananas.
Then there was the first female nipple ever seen in prime time on a US TV network. It belonged to Laugh-In's Judy Carne, who, as Schlatter puts it, could barely keep her clothes on at the best of times. If you blinked, you missed it, but it happened.
Schlatter also talks about his greatest achievement: his 67-year marriage to wife Jolene. The couple donated so many scripts and other artifacts to the National Comedy Centre in Jamestown, N.Y. the place named their theatre after them.
To listen to Schlatter's great showbiz stories, simply click on the white arrow in the blue dot above.