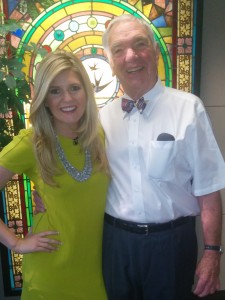 I was just exiting the CHCH news studio Tuesday morning after my Emmy report on Morning Live (you can watch here) when who did I run into but "Uncle Bill." That would be Bill Lawrence to those of us who grew up in the GTA and remember Lawrence from his many years as a 'CH weatherman but especially for his long stint as host of Tiny Talent Time. The series ran from 1957 to 1992 and featured a parade of kiddies forced to show off their accordion skills and other stuff their parents made them do. Many, many kids from across Southern Ontario performed on the show and Lawrence was always a kind, reassuring presence. There was no mistaking him this week in the green room at the Hamilton, Ont., station. He still has that familiar voice that sounds like a neighbour coming over to borrow a rake or wish you well.
Lawrence confirmed the horrible news I had already heard: no original tape of the Tiny Talent Time shows exists today. The series went live to air in its early years and later was recorded on two-inch tape, which was bulk erased and used over and over again.
That wipes out images of kids who went on to become famous, including Sheila Copps, Frank Augustine and Deborah Cox. Lawrence says he has a few old VHS tapes at home from the series, and parents in the '80s who had VCRs undoubtedly saved scenes with their precious darlings. Fellow TV critc Eric Kohanik was on the show along with one or two other friends. In a rare show of restraint, my parents never dragged me down to the CHCH studios. Lawrence says he was an original employee at 'CH, beginning his career there in 1954 as a technician. The station is celebrating its 60th anniversary. It started as a CBC affiliate but quickly went independent and made a ton of money in the '60s and '70s as a savvy superstation with a reputation for stealing blockbuster movie premieres away from network rivals such as CTV.
New hosts Jason Agnew and Jaclyn Colville launch a revival of Tiny Talent Time Sept. 6 on CHCH. Twelve new 30-minute episodes have been ordered. Hopefully somebody will save the episodes this time in a digital database.