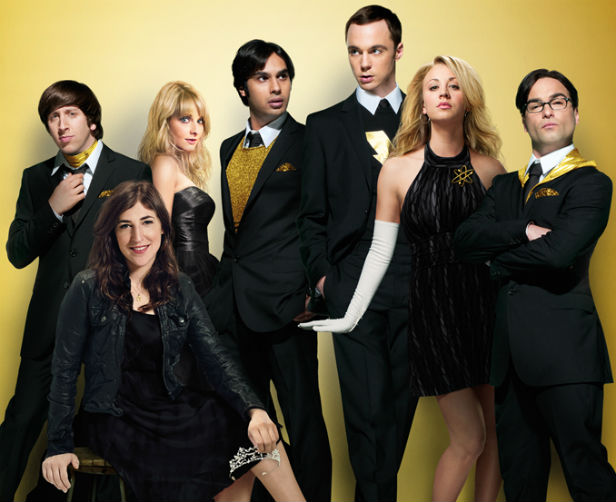 The fall season began in earnest the week of  Sept. 22 to 28. After some strategic moves by CBS and ABC, CTV faced three serious challenges. Canada's most-watched TV show–The Big Bang Theory–was temporarily bumped to a new night. CTV's No. 1 reality show–The Amazing Race–also got moved, as did CTV's No. 1 imported drama, Grey's Anatomy.
Among the new shows, Gotham got the most pre-launch buzz, but NCIS New Orleans, Madam Secretary, Black-ish and How to Get Away With Murder were also tagged as shows to watch this fall. How'd they do?
Find out below, although keep in mind these are all overnight estimates. As PVR use and streaming continues to be embraced by Canadians, the Live+7 data are the numbers that really count. Some shows will gain as much as 20% when those final totals are gathered:
MONDAY
CTV programming executives must have breathed a sigh of relief Monday as The Big Bang Theory came roaring back, almost as strong as ever. Pre-released at 7 p.m. to maximize eyeballs leading into Gotham, TBBT drew 3,168,000 and at 7:30 3,461,000 overnight, estimated viewers.  Most shows drop 20% of their audience when moved, but the CBS nerd herd barely shed 5% in overnights.
The strong lead-in helped boost the premiere of Gotham to 2,368,000 overnight, estimated viewers. How much audiences liked the pilot will dictate how the series does over the next three critical weeks. CTV's strong Monday continued with 1,087,000 flocking back to Saving Hope at 9 p.m. in the overnights, with Forever at 10 opening to 1,815,000.
Global won a lot of Mondays last season but not on this week. Under the Dome (964,000) got smoked by Gotham. At 9, returning Fox fantasy drama Sleepy Hollow (1,042,000) was edged by Saving Hope. Being off the air since the first 13 aired nine months ago didn't help. Blacklist returned strong with 1,487,000 at 10.
City was able to celebrate the surprise of the night: Scorpion. The CBS nerd drama drew 1,358,000 at 9, putting City ahead of both CTV and Global in the hour.
There were still plenty of viewers left over for CTV2's The Voice (756,000) and Dancing with the Stars, bounced all the way over on M3 (241,000).
TUESDAY
Global bounced back with a strong 2+ win on Tuesday, although CTV claimed victory in several key demos. The world's No. 1 drama, NCIS, came back strong with 2,474,000 overnight viewers, followed by newcomer NCIS: New Orleans (2,103,000). The latter did about what NCIS:LA would have done. Global capped the night with the return of Chicago Fire (1,188,000). CTV kept pace with the timeslot debut of Forever (1,207,000) followed by the return of last year's winner Agents of SHIELD (1,656,000). Person of Interest came back to 1,765,000 at 10.
The biggest dud of the season so far is Utopia, DOA with just 91,000 viewers Tuesday on City. New seasons of New Girl (226,000) and The Mindy project (290,000) continue to rely on streaming and PVRing to stick. The Voice results show drew 688,000 on CTV2. In specialty, The Jays batted 523,000 against Seattle on Sportsnet. An astonishing 461,000 took the Highway Through Hell on Discovery. DWTS drew another 274,000 to M3 with its results show. An NHL pre-season game between the Leafs and the Flyers scored 242,000 on TSN.
WEDNESDAY
Ninety minute versions of Survivor (1,881,000) and Big Brother (1,645,000) ate up the night on Global. CTV countered with The Mysteries of Laura (1,301,000), Law & Order SVU (1,451,000) and Criminal Minds (1,147,000). CIty was cmpetitive with Hell's Kitchen (873,000) followed by the season premiere of Modern Family (702,000) and promising new comedy Black-ish (790,000).
The Goldbergs brought 416,000 with them over to CTV2. In specialty, the Jays/Seattle drew 469,000 on Sportsnet. History pulled 407,000 with Ice Road Truckers. Two more pre-season NHL games netted 287,000 and 179,000 on TSN.
THURSDAY
CTV shifted Grey's Anatomy ahead an hour and found 1,806,000 fans. That premiere was followed by Saving Hope in its regular timeslot, where 1,193,000 checked in. Shonda Rhimes new drama, How to Get Away with Murder, killed at 10, pulling 2,399,000 in the overnights.
Global's big premiere was Bones, with 1,606,000 viewers again proving you can move this show anywhere and fans will find it. If City was hoping it had a homegrown hit with The Bachelor Canada, they were disappointed. Just 377,000 showed up for the cheesy two-hour premiere, about half the audience  this series managed when last seen a year-and-a-half ago. The return of Scandal drew 538,000 at 10 on City. In sports, the slumping Jays were down to 288,000 on Sportsnet. Meanwhile, a move that cost millions and upset schedules Stateside, CBS' Thursday Night Football, is a dud in Canada, where just 220,000 suffered through a one-sided game on TSN.
FRIDAY
The big story Friday was the relocation of The Amazing Race. CTV had it in simulcast at 8 and drew 1,517,000. That's almost a million viewers lost from CTV's usual Sunday night take with TAR.  Blue Bloods followed on CTV with 1,509,000. Global got its usual strong showing Friday from Hawaii FIVE-0, returning to 1,557,000 overnight viewers.
CTV2 did 330,000 with the return of Shark Tank. City tanked with Utopia (98,000), a show that has already been moved by Fox. Sadly, this left Canadian comedy Package Deal unprotected, with just 98,000 catching Harland Williams and company.
TSN's Friday CFL tilts drew 455,000 for MTL/OTT  and 716,000 for SAS/EDM. The Jays were back up to 401,000 on Spoertsnet.
SATURDAY
Saturday Night Live had its 40th season opener and 573,000 were waiting on Global. Too bad the show was such a bore. TSN scored touchdowns with its CFL double bill of HAM/PEG (676,000) and BC/CAL (784,000). The Jays batted 375,000 on Sportsnet.
SUNDAY 
How did CTV fare without their Sunday tent pole, The Amazing Race? Once Upon a Time, which was booted to a 7 p.m. start in earlier seasons, gathered 1,606,000 in simulcast at 8. Resurrection kept the 9 p.m. timeslot warm with 1,090,000 viewers and aging procedural CSI showed it can still draw in Canada, pulling 1,983,000 at 10.
Global's counting on Madam Secretary to steal this night and the NBC drama opened to 1,307,000 overnight viewers. The Good Wife got a boost from the Madam and returned strong to 1,221,000. That hour-long Family Guy episode featuring a cross over with The Simpsons did 669,000 at 10; okay but probably not what it would have gathered simulcast at 9. On City, the return of Brooklyn Nine-Nine did a respectable 511,000.
Remember CBC? They finally factored into this week of premieres with Heartland–Canada's longest-running TV drama ever–galloping back for an eighth season with 827,000 overnight viewers. The new CBC reality show Canada's Smartest Person was competitive in the Sunday mix, bowing to 573,000.
In specialty, a Leafs pre-season game did 472,000 on TSN. TSN's pickup of NBC's Sunday Night Football scored 444,000 for a Dallas/New Orleans tilt. The Jays batted 359,000 on Spertsnet and Outlander drew 257,000 lads and lassies on Showcase.