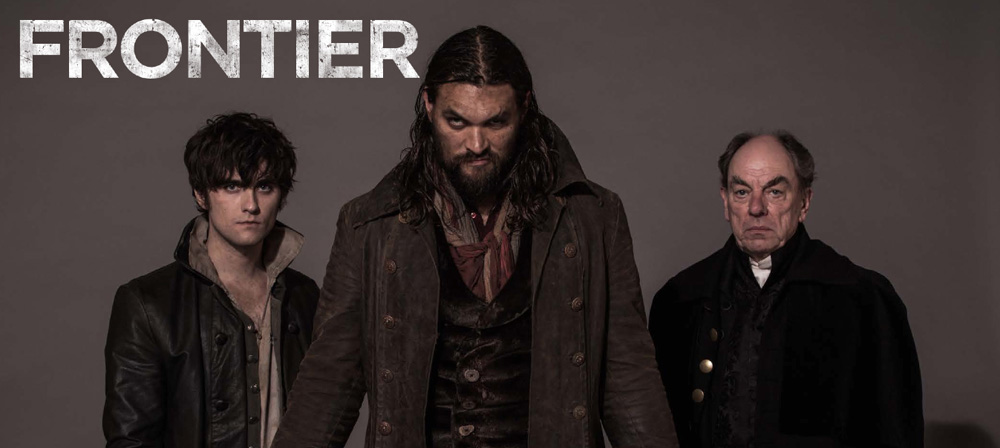 When Jason Momoa says he wants to play hockey, you find him some skates– quick!
The former Game of Thrones and Conan the Barbarian star takes on the Hudson's Bay Company in Frontier, premiering Sunday night on Discovery Canada. The rest of the world can follow along on Netflix.
Landon Liboiron (Hemlock Grove), Jessica Matten (Blackstone), Allan Hawco (Republic of Doyle) and English actors Alun Armstrong (New Tricks) and Zoe Boyle (Downton Abbey) are also in the cast.
Momoa was in St. John's last winter shooting Frontier. He looks like he enters cars by ripping off doors. I interviewed him on location in his great big trailer that was brought into Newfoundland just for him. He's thoughtful and kinetic in person, seems be be three steps ahead and just one of those guys you don't want to bore with the usual dumb questions. For me then, a challenge.
The subject of hockey came up and that was a great ice breaker. Momoa was born in Hawaii but grew up with his mother in farm country in Iowa. He'd been on a few frozen ponds but was really more used to roller hockey.
One of the guys on the set of Frontier — both as a crew member and as an actor — is ex-NHLer Terry Ryan. Ryan was a high draft pick who played briefly with the Canadiens. "He was constantly texting me about getting Momoa out to play," says Alan Hawco, the former Republic of Doyle star who is in Frontier as one of the Hudson's Bay Brits. He's also a partner on Take The Shot productions.
Ryan took Momoa to a local sports store in St. John's and they loaded up with gear. Despite his lack of skating skills, Hawco says Momoa's a pretty good hockey player.
"He genuinely scored with one second left– top corner, ringer," Hawco says of Momoa. "The whole time he was on the ice, full cage, you could see how big his smile was, just bursting out of his cage. Every time he'd pass me on the bench he was like a two year old, 'cause he hadn't played in a while and he loves to play hockey."
Hawco has a theory about anyone who plays non-professional hockey: "You can learn everything you want to know about a person while they play hockey; they expose themselves."
Frontier has already been renewed for a second season, and Momoa — despite a heavy schedule that has him playing Aquaman in the movies — has signed on to come back.
For more on Momoa and Frontier, follow this link to the story I wrote for The Canadian Press.