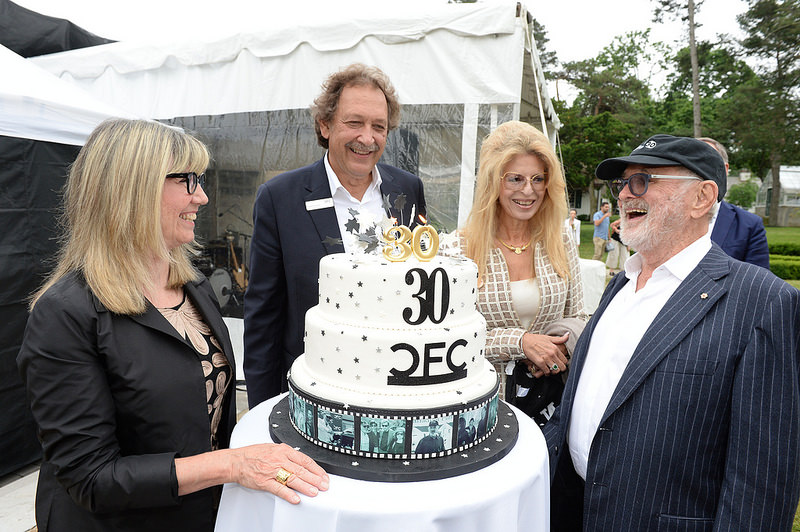 It was a pretty dramatic day Sunday at the Canadian Film Centre's annual TIFF BBQ. As storm clouds gathered overhead, CFC CEO Slawko Klymkiw stood at the podium on the wide, flagstone covered back patio at what was once the Winfield Farms Estates and announced a major money deal making Netflix the centre's chief patron.
Right after the announcement, there was a giant clap of thunder, then a bolt of lightening struck the roof of the historic building. Sparks scattered all over the shale shingles.
Well, that didn't actually happen. There were a few raised eyebrows out in the crowd, however. Netflix, those guys who will not contribute to Canadian programming funds, are now getting to put their name on one of the CFC bungalows?  Some of the folks on the back lawn almost dropped their free hamburgers.
Others, however, had no problem. These were mainly Canadian producers who are already in bed with Netflix, but that is a growing contingent in Canada, especially in the animation business. Netflix, as the OTT's boss Ted Sorandos once told me, is the largest employer of Canadian animators in the world.
The move has the unequivocal blessing of the founder of The CFC, Norman Jewison. Here's a 92-year-old movie making icon who has seen a lot of changes in his day. Embrace it, go forward with it, it is all good, he told what was probably the largest crowd in the history of these Sunday afternoon film centre soirees.
As he spoke, the clouds grew darker, the winds howled through the awnings and trees, but it did not rain on the CFC's TIFF BBQ. Those Netflix folks have pull.
Jewison is not a large man, but he's well rooted, and the winds failed to blow him off stage. Wrapped in a scarf, his trademark baseball cap firmly in place, he stood defiant, like King Lear. "Rumble thy bellyfull!" he seemed to say.
Actually, what he said was, "I never thought I'd be this old!" Then, he invited another Toronto legend to step towards the podium, Mel Lastman. Over 30 years ago, it was Lastman, the former "Bad Boy" furniture salesman, then mayor of North York, who controlled the Winfields estate. Owner E.P. Taylor had left it to the city. Jewison coveted it as an idea Film Centre headquarters, so he approached Lastman and said, "You can do this Mel." Mel did, but said it was going to cost the filmmaker — a dollar a year.
Lastman declined to speak at the event, but who else would sell such a property for such a ridiculously low price? "NOOOOOOBODY!"