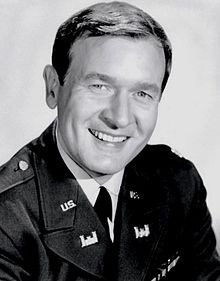 One of my favourite all-time phone interviews was with Bill Daily. A familiar and welcome face on TV through the '60s and '70s, the comedian and actor died Sept. 4 in New Mexico at the age of 91.
Daily played apartment-crashing neighbour and airline co-pilot Howard Borden on The Bob Newhart Show (1972 – 78) and, before that, astronaut Roger Healey opposite Larry Hagman and Barbara Eden on I Dream of Jeannie (1965 – 70). He became to many of us the guy you wished lived next door.
He retained his frazzled charm and was full of stories about all his former co-stars when I spoke with him five years ago. Daily was 86 at the time. The interview was timed to the release of a boxed set complete collection DVD of The Bob Newhart Show by Shout Factory. If you loved that show, or know somebody who did, buy the box set here.
Daily told me three funny jokes in the course of our interview. Read them below, or, better yet, listen to Daily tell me the jokes here.
"A priest a pedophile and a drunk walk into a bar — and that's just the first guy."
"Fellow walks into a  library and says, 'I'll have a cheeseburger.' and she says, 'Sir, this is a library,' and he says, [whispering], 'Okay, I'll have a cheeseburger.'"
Here's one he attributed to Phyllis Diller: "Hear about the guy who has five penises? His pants fit him like a glove!"
I'd thought a few times over the years that I should call Daily back to hear more jokes. He told me he knew them all. He grew up in Chicago and got work in bands and orchestras playing bass with the likes of Milton DeLugg. Delugg's was the house band on the precursor to The Tonight Show, Broadway Open House, and Daily told me he performed on that series, which ran from 1950 to 1951.
Later in the '50s, Daily did stand-up and performed on bills with another fledgling Chicago comic, Bob Newhart. Newhart, who worked in advertising, became Daily's accountant.
Daily called Newhart the "nicest guy ever. Just quiet, gentle." In the late '50s, Daily was directing a local Emmy telecast.  "Five minutes before that show began that night, the engineers went on strike," he recalled. Daily scrambled to find performers who could fill time on the broadcast and put in a call in to his stand-up pal. Newhart scrambled over to the station and did his bit about Abraham Lincoln's press agent, "and killed everybody," said Daily. "Standing ovation, got Hollywood contracts."
Over a dozen years later, Daily is hired to play the neighbour on The Bob Newhart Show. Daily claimed it was just a coincidence that he was cast. "You never allowed the star to pick the people…because he doesn't understand the overall, where they're going, the writing. But he was grateful that it was me because we're good friends.  They must have liked me on I Dream of Jeannie."
One of his co-stars on Bob Newhart was the late Suzanne Pleschette. Late in life, Pleschette married mutual friend Tom Poston, who co-starred on Newhart's '80s sitcom.
Daily claims Pleschette had a dark sense of humour. One time, he went with Pleschette to pick up Poston, who was in failing health in a hospital. "The doctor said, 'You can't take him home, he needs more potassium.'" recalled Daily. "She said, 'Well stick a banana up his ass and send him home.'"
The comedian told me that The Bob Newhart Show was a well oiled machine.  On taping nights, the star liked to get wrapped early and have the entire cast join him by 9 p.m. at a long gone Studio City restaurant called The Tail of the Cock. Daily recalls that — despite some excellent live music accompaniment — "everybody'd sit around, and no one was happy. And I was the only happy one."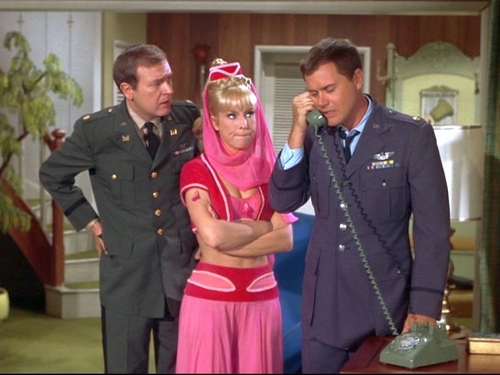 He had very fond memories of working with Larry Hagman on I Dream of Jeanne. Where Newhart was a perfectionist, Hagman was laid-back and full of fun. The two improvised much of their dialogue on the spot, and liquid refreshments were often shared on the set.
Daily felt that everyone was born with the happy gene, born to see the glass half full, and that life eventually drags a lot of us down. He claimed he willed himself to stay happy at an early age. Daily did have to contend with adversity early. His lasting memory of his father was of the old man leaving the house for a newspaper and never coming back. Daily himself was married three times, which can be a mood changer. Dyslexia was another challenge for the actor, throughout his schooling and especially when it came to learning lines.
If it looked like Roger Healey and Howard Borden were perpetually "up" people who were never in a bad mood, however, it was because they were played by Bill Daily. "I'm not that good of an actor," he told me. "I'm just likable."
Daily singled out comedian Shelley Berman as somebody who could make audiences happy but never himself.
"He did the telephone bit first," he said, comparing Berman to Newhart, "but he was such an ugly human being."
One might have expected Daily to have some bitterness. He starred in two of the most rerun TV shows ever, but both were made back before actors really cashed in on their contracts and on residuals. He told me he made around $750. a week doing The Bob Newhart Show.
"And we were grateful for it," he was quick to add. "You kidding? Oh my God. On with Newhart?"